Rent-an-M.B.A. Breathes New Life Into Freelance World
Harvard M.B.A.s use startup philosophies from Silicon Valley to create a new market--themselves.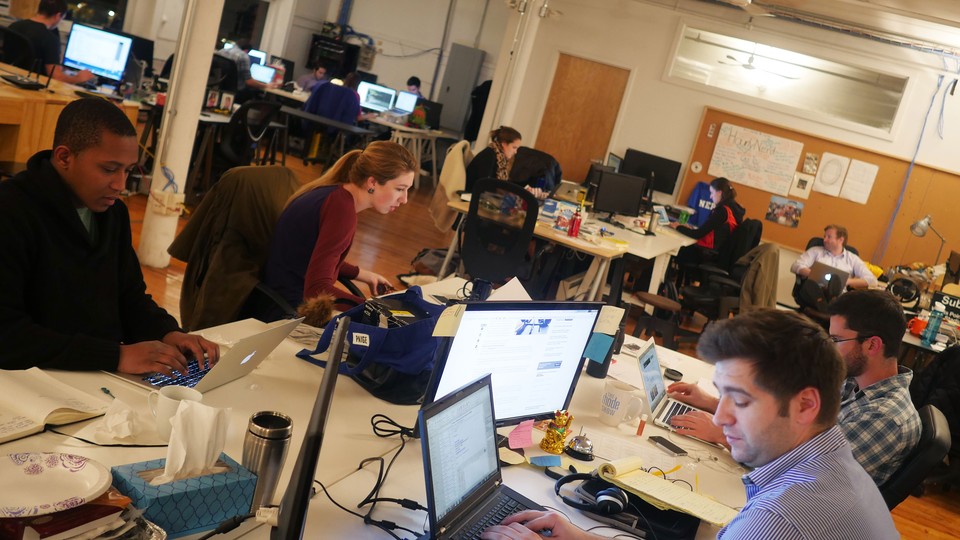 Shark Tank was a bridge too far. That's what Peter Maglathlin and his three business partners/classmates ultimately decided in the summer of 2013, after their first year at Harvard Business School. After several days of hustling venture capitalists in Silicon Valley for their online service, HourlyNerd.com, they had one investment nibble. But they needed at least one more financial backer. A colleague of Mark Cuban's, the businessman, owner of NBA's Dallas Mavericks, and star of the ABC reality show Shark Tank, told them they should come on the show with other entrepreneurs and pitch their ideas to a panel of investors, Ã  la American Idol.
"We were very reluctant," Maglathlin recalls. "You never know how you're going to be portrayed."
Even without the celebrity of national TV, the founders of HourlyNerd were pretty sure they had a good product, which was hatched from a business school class project. The HourlyNerd website culls from a broad network of M.B.A. students and graduates who bid on the consulting equivalent of "odd jobs," everything from analysis of a retailer's competition to setting up social media for a nonprofit. They are the kinds of jobs that small businesses can't afford because traditional consulting retainer fees are out of reach and big firms don't bother with because they want to reserve their employees for bigger projects.
HourlyNerd rejected the TV offer, but Cuban was personally interested in them. The team eventually pitched him off-camera, and he agreed to be their second investor. They were off and running, and they still had a year of business school left.
HourlyNerd now has 32 employees who connect employers with about 8,000 M.B.A. freelancers for various odd jobs. For bigger projects, HourlyNerd workers interview employers about their needs and recommend certain people with specific expertise. They help employers craft their requests for projects and recommend a price. Ultimately, the employer decides who wins the project and negotiates final payment with the consultant.
"What we have established is an open marketplace," Maglathlin says. "The cost of bringing on a full-time employee right now is very, very high. Companies are searching for other ways to grow aside from hiring a person full time. You still need skilled people in order to grow a company. We're giving companies that option."
The site is cultivating a new way to work, exploiting an emerging project-based economy that depends on highly specific skills that may shift from one project to the next. This new environment gives workers the freedom to market themselves based on their unique abilities without fear of being seen as overspecialized. They also have the enviable option to choose how and when they work. Employers, for their part, can be more nimble in exploring growth opportunities, knowing that the long-term costs of embarking on new ventures are minimal.
"We make our dollars go farther now because we can parcel out specialty needs," says John Shegerian, CEO of Electronic Recyclers International, which collects and safely disposes of discarded electronics. "They've democratized the process."
M.B.A. "nerds" must compete for projects and are rated by employers after completion, so their work is generally top-notch. Every consultant in the network is also vetted and must meet professional qualifications. Still, sometimes there's a misfire. Shegerian has used HourlyNerd for several projects over the last year, and only once has he been unhappy. "I picked the wrong nerd," he says.
Shegerian acknowledges that the project's failure was partly due to miscommunication and to his eventual lack of interest in it. He dumped the endeavor, and HourlyNerd worked out a partial payment system for the consultant. Everyone was happy. "They just stepped in and worked out a settlement, which I was totally cool with," he says.
Maglathlin and his partners initially thought HourlyNerd would be a welcome resource for small, traditional businesses to access relatively inexpensive consulting. For their first market research as Harvard M.B.A. students, they walked around Cambridge and asked local retailers—florists, bar owners, barbershops—if they would be willing to pay for an M.B.A. graduate by the hour. The business owners were thrilled at the idea. Someone could finally set up that automated accounting system or conduct that market analysis that they had been putting off for years.
What HourlyNerd founders didn't anticipate was the thriving professional community that their virtual marketplace would create. Business geeks (or, rather, nerds) of all stripes and all ages can pick up extra money on the side or leave their employers to work full time on a project-by-project basis. Business school alumni networks are already a potent resource for employers seeking talent and workers seeking contracts. HourlyNerd complements those business schools' networking efforts—in a way, it advertises for them—by tapping in to their student body and alumni pools. A big selling point for consultants on the site is their M.B.A. credential. M.B.A. students also can use it to find real-world projects to supplement their studies.
A steady stream of available projects can take the terror out of going freelance. "To be a freelancer you really have to be also a salesperson, because you really have to earn the work. This enables people who are not born salespeople to do really interesting work," says one HourlyNerd consultant whom we'll call Julie. She didn't want her real name used in order to preserve her long-term employment viability at a later date.
Julie's reluctance to go on the record about her wholly positive experience with HourlyNerd illustrates the tension that could make the startup disruptive for the business sector. In the world of Wall Street, freelancing still has a stigma attached to it. And yet many investment bankers and financial analysts at big firms would jump at the chance to work their own hours on projects that they choose. The overwhelming response that HourlyNerd has gotten in recruiting consultants is evidence the lifestyle holds appeal, even if it causes the Wall Street wolves to turn up their noses in disgust.
"I love that I can play tennis, which I love to do. I can go and grab a coffee at Starbucks and bring my computer if I want to. I can take a class with my daughters. I think it's amazing," Julie says.
Another drawback, true for all freelancers, is the nagging concern that the available work will dry up. There is no evidence that will happen with HourlyNerd, but the company is only a few years old. Julie is well aware that things might not look so rosy down the road. She only recently gave notice at her full-time job after taking a few months leave to try out HourlyNerd. And that decision came only after she and her husband determined they could manage on less than her previous salary or, if necessary, his salary alone.
HourlyNerd has its place in traditional employment transactions, too. It can take the risky guesswork out of hiring, if hiring is an employer's ultimate goal. That's what happened to Shegerian when he commissioned a business plan for a tech startup. The nerd nailed the assignment, and Shegerian soon realized he needed more than a business plan; he needed someone to run the company, which is separate from his electronic recycling business. "I went back to the founder of HourlyNerd and said, 'Listen, I like this guy a lot, and he sort of aced this exam, blew me away. Would you get upset if I kind of take him out your nerdosphere, hire him full time?' "
This is exactly the kind of outcome HourlyNerd founders are hoping for—a new paradigm for hiring and contracting that makes use of a traditional employment model but is not dependent on it. "There's never been a real marketplace that exchanged highly valued business expertise," Maglathlin says.
Work itself can become more efficient under a fee-for-service model such as HourlyNerd, another fringe benefit of a service that was originally intended to help the mom-and-pop shop file its taxes. "The product does a good job of aligning expectations up front," Maglathlin says. "It forces the consultant and the business to really think through what the deliverable is. That's a big challenge, especially for companies that have not historically bought consulting."
Bringing in new customers to purchase a resource they have never used but might become addicted to? What business school professor wouldn't love that idea? Maglathlin says he and his partners are still bitter that they only placed second in the interschool business competition. Some of the judges must have been jocks.