Plenty of Work, but Nowhere to Live
Can the Bay Area solve its housing crises by imitating the approach used by the mining industry?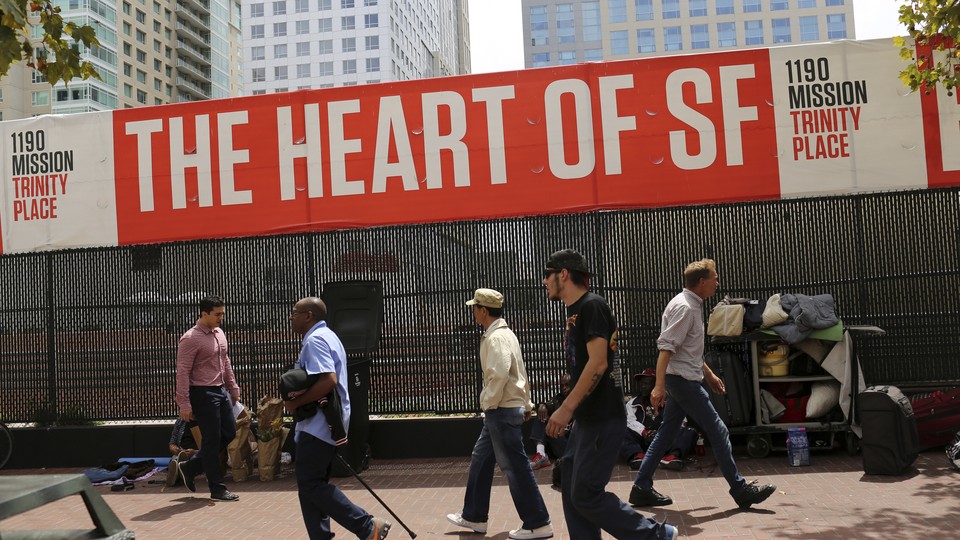 A booming job market is good news, right? Normally, but in Northern California, a growing tech sector in an area plagued with limited housing inventory has made what should be progress decidedly more tricky.
"If you're going to be adding lots of jobs but not adding lots of housing it's inevitable that housing will get more expensive," says Gabriel Metcalf, the executive director of SPUR, a nonprofit public-policy research organization in the Bay Area.
Across the nation, rent climbed 3.3 percent between the start of 2013 and 2014. In the top 10 technology hubs, that increase was about 5.7 percent, according to research from real estate website, Trulia. In the priciest of these cities, San Francisco, the cost of rental units jumped 12.3 percent between 2013 and 2014. In August, the San Francisco Bay Guardian reported that median rent for a one-bedroom apartment in the city had topped $3,000.
Jess Silber, a 26-year-old who works for a travel adventure company knows all too well how hard it is to find an affordable home in the Bay Area. Originally from Connecticut, Silber started plotting her move to the Bay while she was in Tanzania, working for an NGO and volunteering. When she arrived in 2012 she was, by her own admission, woefully naive about the realities of the market. "The intention was to stay with my great aunt and uncle for like a week or so while I found an apartment. But then that became three months," Silber says, laughing at the memory. She quickly became acquainted with the demanding process of apartment-hunting, in which multiple application questionnaires and roommate interviews were commonplace in addition to the high cost.
Silber says that apartments in some neighborhoods that would have rented for between about $800 and $1,000 when she first got to the Bay two years ago can now go for as much as $1,800. Her original hope of finding a spot for $500 a month? Laughable. Silber doubled her planned monthly rent—and even then she says she was still pretty limited when it came to finding available rooms.
"I didn't realize in addition to the expense, there's just so little space, there's such a density of people who want to live here and so little space available," Silber says.
High-priced rent, picky landlords, and difficult roommates aren't a story that is unique to San Francisco and it's surrounding areas. But what makes the Bay Area's housing shortage so problematic is the confluence of a growing population and the historically slow pace of building, which exacerbates rental price growth. "The problem isn't with the job creation, it's with our failed housing policy," says Metcalf.
* * *
In San Francisco, the speed of construction in the area is one of the slowest in any of the 100 major metro areas. Since 1990, the city has allowed construction of only 117 units for every 1,000 units that existed in 1990. In nearby Oakland, the pace is similarly sluggish, 216 units for every 1,000. Seattle's pace is double that and Raleigh allows for 1,118 new units for every 1,000 that existed in 1990. Why is it so slow? Building regulations around the city and its surrounding areas can make it hard to get plans for large residential projects approved. Zoning restrictions prevent residential building in some areas near large tech campuses. And the city also has height restrictions in many locations, which limits the number of floors, and apartments, that can be created in any single building. To get around such rules, changes to regulations or approval by government entities are generally required.
San Francisco's mayor has set a goal to build 30,000 housing units within six years, which would represent slightly less than 10 percent of housing in the entire city, according to Ted Eagan, San Francisco's chief economist.
That, along with recent uptick in apartment building will help, but the relief won't be immediate.
Does the mining industry have a solution that could work for Silicon Valley? In areas with growing fracking operations mining companies have erected so-called "man camps"—often made up of trailer parks, or blocks reserved in nearby motels.
A couple of big tech companies have attempted Bay Area-style adaptations of this model: In 2013, Facebook announced that it will add a 394-unit apartment building near its headquarters in Menlo Park. But just a year earlier, Google's proposal to build almost three times as many apartments near its Mountain View campus fell apart. Why?
"We've created rules designed to protect neighborhood character in communities all across the Bay Area. The unintended consequences of those rules is that we have disallowed new housing in huge stretches of the Bay Area," Metcalf told me in an interview. Google's plan was nixed by city council members who compared the doomed plans for company-owned housing to dorms and outdated mining towns, according to local paper, the Mountain View Voice.
* * *
As the price of housing continues to rise and companies continue to grow, one solution might be funneling more workers to campuses in other parts of the country says Jed Kolko, chief economist at Trulia. Another would involve simply paying incoming workers more to keep up with the rising cost of living. But that means more middle and lower-income dwellers getting the boot as prices for both rentals and homes grow.
But some residents don't have many options and are forced to move farther away from city centers, or into more precarious housing units. Ellis Act Evictions in San Francisco, while still a small share of total evictions, have increased at a rapid rate. Under the Ellis Act, if landlords and building owners are going out of business they can evict all tenants from a building. From 2010 to 2013, all evictions increased by 38.2 percent. Evictions under the Ellis Act, increased 169.8 percent, from 43 in 2010 to 116 in 2013.
The battle over the evictions has been heated, with critics accusing owners of pushing out longtime, low-rent tenants in order to turn buildings into market-rate condos or other high-priced housing options, rather than closing up shop for financial hardship. For their part, landlords have made headway in their challenge to an ordinance that would have required them to pay the difference between evicted tenants' current rent and a market-price unit of the same size as a relocation expense.
Some Bay Area residents have developed a dark humor when talking about the rental housing situation, where price hikes can be swift and prohibitive. During a recent walk, Silber and her roommates spotted an abandoned dog crate on the side of the road and jokingly wonder how much that space would cost to rent. They settled on $1,200 a month. After all, it was downtown.