Is There Hope for Local News?
Tim Redmond was another casualty of the shrinking news business. But he's not going to give up on covering his city.
SAN FRANCISCO—Tim Redmond is a local news guy. He stops his bicycle to interview taxi drivers protesting Uber on the streets. He attends accreditation trials about a local community college—by choice. He knows how to pull building permits, interview city council members, and uncover shady dealings between the city and its most profitable businesses, such as Google.
But there are fewer and fewer places for news guys like Redmond these days. He was forced out of the editor's chair at the San Francisco Bay Guardian last year because he refused to lay off more staff. He had worked at the left-wing weekly for 31 years.
Redmond left just before the end: The Bay Guardian was abruptly shuttered last month for financial reasons. But it was far from the first local paper to close its doors. Others include The Cincinnati Post, The Rocky Mountain News, and The Albuquerque Tribune.
The local papers that still exist are shrinking. Professional newsroom employment fell by 2,600 or 6.4 percent in 2012, the most recent year for which there is data available, according to an annual report on the state of the media by the Pew Research Journalism Project. Newsroom employment currently stands at around 38,000 jobs, down from a peak of 56,900 in 1989.
"Democracy cannot survive without reporters," Redmond told me, at a table in a dark coffee shop in San Francisco's Mission District. Redmond, 56, who has a bushy gray mustache, often speaks in a fast, clipped voice, as if there's a deadline to be met, which there usually is. "You have to have people whose full-time job it is to go out and follow politicians around, to try and hold corporations accountable."
Between 2003 and 2012, the Pew report found, there was a loss of 16,200 full-time newspaper newsroom jobs. But not all journalism enterprises are struggling.
Pew found that are now nearly 500 digital outlets  mostly started in the past decade, which together employ around 5,000 journalists. BuzzFeed added 170 editorial jobs last year, according to the Pew report. Gawker's staff is double what it was two years ago, and in the past year, new sites have sprung up, like FiveThirtyEight and Intercept.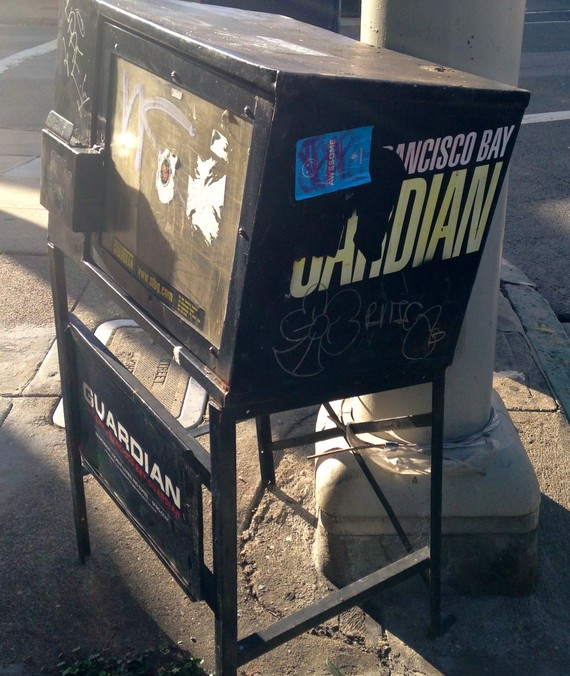 Few, if any, of those places would be a good fit for a guy like Tim Redmond. After all, the fastest-growing sites focus on national or international topics like Congress's agenda, military interventions in the Middle East, economic trends in the U.S., or more salacious news, like a woman who was run over by her own car when her dog lifted the brake. It's a necessary part of doing business: If you want to attract enough readers to lure companies into paying for web ads, it's tough to limit your coverage to just one city or neighborhood.
But as local newspapers shrink and broader-based national sites grow, who's going to cover the local news? It's something that, as a journalist, it's hard not to fret about. Many of us came up in local newsrooms, where our first assignments were calling local cops and bugging them for information about items on the scanner. Many of us now work for sites that don't have anyone calling the local cops, or even listening to the scanner.
"There are organizations and events and actions that will never get any attention if I'm not there paying attention to them," Redmond told me. During his time at the Bay Guardian, for instance, the paper uncovered stories that led to major policy changes in the city. It produced a series of investigative stories about San Francisco Mayor Willie Brown and his shortcomings, exposed a plan by the National Park Service to turn the Presidio into a business park, and drew attention to a lack of oversight on how San Francisco spent on nonprofit contracts.
There's evidence that local officials could take advantage of the lack of oversight. "Goodbye to the Age of Newspapers (Hello to a New Era of Corruption)" was how Paul Starr, a Princeton professor of communications, put it in a New Republic article. Corruption in the city of Bell, California, which has no local newspaper, went on for four years before the Los Angeles Times (my alma mater) exposed it in a Pulitzer Prize-winning series in 2011.
It's not just small cities or towns that are being overlooked as newspapers contract—coverage of state politics is shrinking, too. A Pew study on statehouse reporters, for example, found that there were consequences for the precipitous decline in the number of organizations with full-time statehouse reporters.
"When you don't have anybody in the room, it impacts the way legislators speak, the questions that they ask themselves," said Amy Mitchell, director of journalism research at Pew. "Not only are citizens potentially not going to find out about issues or events that are happening, but it can impact the legislative process."
Like some others across the country, Tim Redmond is trying to fill the gap with very little money or resources. In January of this year, he launched a new site, which he calls 48 hills, to cover local stories in San Francisco with a progressive twist. (There are 47 named hills in San Francisco, he said, but "in the social justice movement, we know there's always one more hill to climb.")
Rather than try to cobble together enough money from advertisers to launch the site, Redmond went a different route: He structured the site as a nonprofit and asked friends, family, and private donors for money. He held fundraisers at Bay Area restaurants and put a "donate" link on his website. He got donations as small as $5 and as large as $15,000, and after six months, he had raised $85,000.
The site employs one person full-time: Redmond, who does the reporting, the editing, the bookkeeping, the fundraising. He hires freelancers to do pieces for him, but says he nevertheless works seven days a week, 12 hours a day. Still, he's already been able to do some good accountability journalism, using skills he developed over his long career. He exposed allegations of sexual harassment filed against a Catholic Church official, which led to the official's termination, wrote about a local golf club that doesn't allow women, and investigated just who was snapping up all the luxury condos in San Francisco.
He doesn't earn much money for his labors, but he was able to launch the site faster and more cheaply than he would have been able to a decade ago. That means Redmond is able to produce accountability journalism relatively quickly—and cheaply.
"Twenty years ago, this would have required multiples of tens of millions of dollars," he said. "I would have had to have a large press, a large amount of paper, a distribution system. But now, for 500 bucks, I can just set up a WordPress site."
Nonprofit online journalism is a promising model, if only because for-profit local journalism has failed so miserably. There was Patch, a startup that aimed to cover local communities on a hyperlocal level, which was acquired by AOL in 2009, but which has had hundreds of layoffs in the past year. There was Main Street Connect, which sought to cover local news in Westchester County, New York and Fairfield County, Connecticut, whose parent company, The Daily Voice, filed for bankruptcy last year. There was Outside.In, EveryBlock, Placeblogger, all of which were folded into larger companies and faded away.
Even the Huffington Post, which has 575 editorial employees and huge traffic numbers, is only "flirting with profitability," according to Pew.
"When you get down to the economics of it, it just seems like nobody has come up with a credible business plan that depends on any combination of subscription revenues and advertising that would support online accountability journalism on a local level," said Peter Shane, an Ohio State professor who was the executive director of the Knight Commission on the Information Needs of Communities in a Democracy (the commission found, in a detailed report, that journalism is essential to community health).
But some online nonprofits have covered just local news—and have made it work, including Voice of San Diego, The Texas Tribune, and The New Haven Independent.
Paul Bass founded The New Haven Independent in 2005. Like many other public interest news nonprofits, Bass relied on national foundations at first. But then, he told me, the foundations started pushing him and other sites to find local sources of funding. While 75 percent of his funding came from national foundations in the beginning, he was able to recruit local donors: Now 75 percent of his funding comes from the New Haven area.
The site doesn't have any ads, and doesn't charge for subscriptions.
"We would never do that," he told me. "The whole idea of being a public interest nonprofit is to democratize information."
The Independent covers the type of local news that is most relevant to people who live in New Haven. Recent stories have detailed redevelopment efforts in the city, highlighted problems at the polls and profiled a new Indian fast-food restaurant opening in town.
The site doesn't do investigations as old-school newspapers did them, Bass said. Rather than producing a few long stories that run all at once, the site does shorter pieces on a topic and links them all together: During the foreclosure crisis, for instance, reporters visited one foreclosure a week for a year and wrote about the fate of the neighborhoods and people affected by them. It's done in-depth pieces on mortgage fraud and absentee landlords and labor's relationship with City Hall.
But with five full-time staff and 10 to 15 regular writers beyond that, it can't cover everything. They don't go to crime scenes anymore, and try to focus on city government, zoning, and public education.
"We don't cover as much as we'd like to," Bass told me.
Still, in its decade of existence, the site has managed to thrive, and developed loyal readership, which Bass says is also the most economically and racially-diverse readership he's had in his thirty-plus years of journalism. Not that the model will work everywhere.
"It can happen in some cities and towns," he said. "But we're finding there isn't a model that fits everywhere. It depends on whether there's a philanthropic base, how people relate to the news, the size of the city."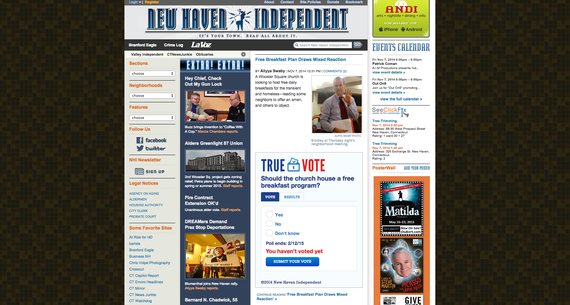 But the "NPR" model, as Bass calls it, may be on its way out, because local sites aren't able to come up with local funders the way Bass did. And it might be a stretch to think that foundations can support NPR stations, national investigative news startups, and online news startups.
Many nonprofit news sites are seeing their start-up grants ending, and are trying to find ways to bring in new revenue, Mitchell said. Two-thirds of news nonprofits surveyed by Pew began with a startup grant, but less than a third of those outlets had their funding renewed. Most aren't even asking for that much money from donors: Only 15 percent generated more than $1 million in 2011. Nearly 20 percent of the nonprofits generated $50,000 or less.
But funding isn't the only question: Is it possible that people are just less interested in local news these days, not just for funding it, but for reading it too? Earlier this year, Silicon Valley entrepreneur Marc Andreessen predicted that the news business was going to thrive on the Internet, but that local news would not be included in that growth.
"I think the main problem with local news is most people don't care. Sad but true," he tweeted in February. "Too many local news efforts now are 'eat your spinach' school board meetings etc. etc." he wrote.
It's hard to gauge interest in local news with data. According to the Pew report, local morning news viewership grew 6.3 percent in 2013 after years of decline, but late-night newscasts have lost more than 25 percent of their viewers over the last six years. Circulation for alternative weeklies, which were traditionally seen as a venue for local investigative reporting not covered by dailies, has shrunk significantly in each of the past few years.
What's readership like online? The New Haven Independent, for example, grew from an audience of nothing to 150,000 or so unique visitors a month. The New England Center for Investigative Reporting, by contrast, had 2,632 unique visitors in October 2012, up 87 percent from 2010, according to Pew. But, Bass argues, statistics about hits are "useless and fake and unrelated to the reality of who is reading and what impact you have."
People care about local news if you make it interesting, he said: Writing about people and how they're affected by policies passed on a local level, rather than what is said at a meeting in a stuffy room. The reason people like Andreessen think no one cares about local news, he said, is that traditional media outlets stopped putting reporters on the ground, and coverage suffered.
"People care passionately about economic development and bike lanes, they care deeply about rules for cyclists vs. drivers, about historical preservation, zoning rules, elections," he said. "But you have to care, and you have to show up."
Tim Redmond thinks people care about local news, too. Even in cities like San Francisco, where many younger residents take a bus to a corporate campus every day, eat their meals there, and interact mostly with people there. As proof, he points to the donations he's been able to raise from people in San Francisco who think that his efforts are important.
"People live in communities, people live in cities," he told me, looking across the street at the shuttle stop where the Google bus picks up its workers every day. "Ask people in San Francisco what bothers them the most, and some will say the situation in the Middle East, but many people would say it's that the MUNI buses aren't running on time, and that the rents are so high."
To be sure, Redmond and Bass both spent their careers as local journalists, and both care passionately about local news. The question of whether others feel as passionately about it as they do will be tested over the next few years. Will readers flock to them, because they're producing good stories about communities? Will donors fund them because they think local news is important? And what will happen to our communities if Redmond and Bass are wrong?