How to Crush Unemployment Like a Boss
Colorado, Utah, and Idaho have outperformed the national average in unemployment recovery. How'd they do it?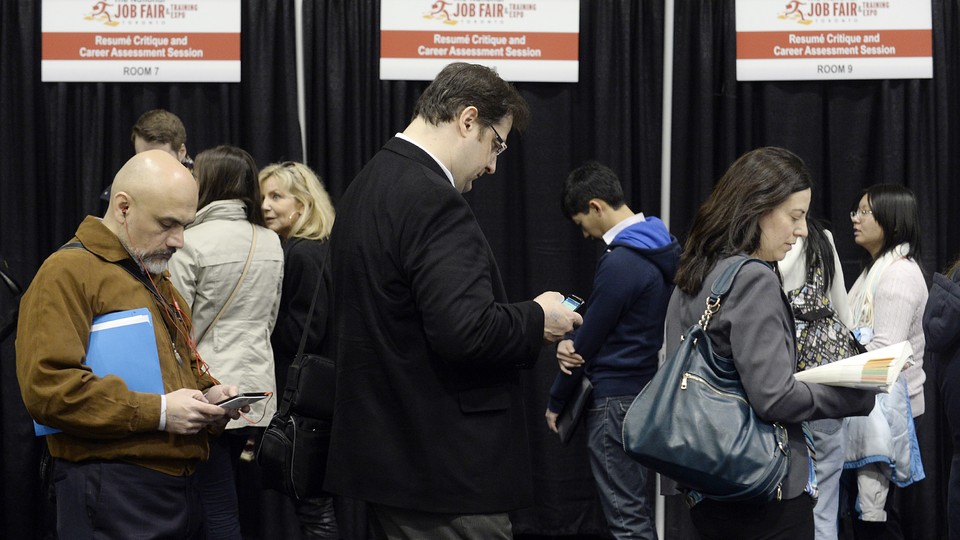 When it comes to unemployment rates, a large improvement can often be misleading. Vast reductions in the rate of unemployment are usually the product of states that had—and still have—the most work to do. And even a large reduction can still leave a significant portion of the workforce without a job in the most troubled states.
Nevada, for instance, has chopped nearly 7 percent off the state unemployment rate since 2010, while North Dakota has barely made a dent—improving its jobless rate by less than 1 percent over the past four years. Though the decline in Nevada's unemployment rate seems impressive, it's largely due to the fact that in 2010 the share of unemployed workers in the state hovered at just under 14 percent, while North Dakota's unemployment rate was only 3.7 percent, leaving little room for a significant drop.
It's rare that a state with below-average unemployment manages to outperform states that have so much ground to makeup. But in three states that's the case: Idaho, Colorado, and Utah had average unemployment rates at around 8.5 percent in 2010—one percentage point lower than the U.S. average. In the years since, all three have nevertheless seen drastic drops in their unemployment rate, managing to whittle them down by an average of 4.3 percent, while unemployment for the U.S. as a whole has decreased by only 3.6 percent.
So why have these states had so much success when it comes to improving their unemployment rates while others have struggled to make significant change? What can other states learn from their examples?
The answers are—of course—varied, but there are a couple of patterns worth noting.
While cuts to state and local governments were rampant around the country, Colorado, Idaho, and Utah all took the opposite approach, maintaining or growing their public sectors during and after the recession. According to David Cooper, an economic analyst at the Economic Policy Institute, this may be the key reason these states have seen so much success when it comes to chipping away at unemployment. "The budgetary choices that states make in terms of supporting their public sector workforces are pretty significant," says Cooper. "One big takeaway is: Don't take the hatchet to your public sector."
Many states, including Michigan, Louisiana, Rhode Island, and Connecticut, made a different choice, slashing their public-sector budgets by more than 5 percent over the past seven years. The results haven't been as promising. All currently have unemployment rates that remain higher than the national average. And the inability to make significant reductions in unemployment may cost several political candidates their jobs during this year's midterm elections. The majority of states with tight gubernatorial races have unemployment rates that remain above the national average, including Michigan, Rhode Island, and Connecticut.
---
Changes in Unemployment Rate by State, Sept. 2010-Sept. 2014
---
A flourishing nearby industry, like fracking, is also helpful when it comes to reducing unemployment. Both Idaho and Colorado have been able to benefit from their proximity to the booming energy market in the Dakotas. But investing in growing sectors is an important tactic for any state seeking employment growth. Since 2010, Idaho, Colorado, and Utah have all increased the size of their healthcare and education sectors, areas with significant growth potential thanks to an aging U.S. population, the introduction of Obamacare, and an increasing focus on labor-market skills and childhood education.
The ability to attract newcomers is also hugely important. Colorado, for instance, had population growth of about 11 percent over the past seven years, nearly double the pace for the U.S. overall, according to the Economic Policy Institute.
There is, of course, still work to be done. In Utah, the total number of jobs remains below pre-recession levels despite improvements in unemployment figures, indicating that the state may suffer from a common post-recession issue: discouraged workers. And all three states, though vastly outperforming the national average, have unemployment rates that remain higher than they were before the economy tanked. Though challenges remain, states struggling to make meaningful progress in their unemployment figures may be able to take a cue from these areas, where progress in reducing unemployment is seemingly more than an illusion.