A Golden Age for Japanese Whiskey?
Brands like Yamazaki, whose single malt is now ranked the world's best, are poised to make an impact on the American drinking scene.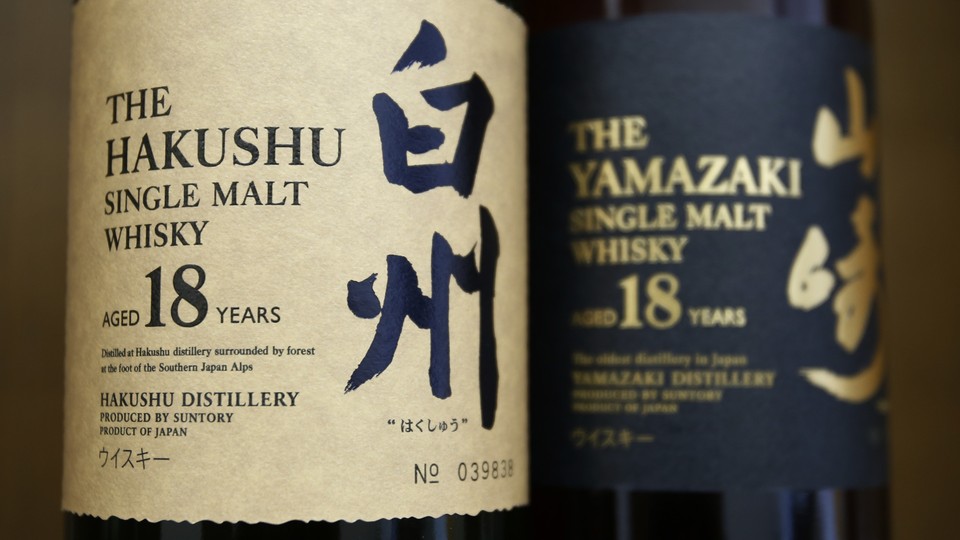 The best whiskey in the world isn't from Scotland, England, or Ireland. It isn't Canadian or American. It is, rather, from Japan.
That's at least the opinion of Jim Murray, an aficionado who presides over the World Whiskey Bible guide. For the first time in the publication's 12-year history, Murray—who sampled over 1,000 different whiskeys—awarded the top prize this year to the Yamazaki Single Malt Sherry Cask 2013. No Scottish whiskey even finished in the top three.
"It's a single malt which no Scotch can at the moment get anywhere near," he said.
While Japan's success in making great whiskey may surprise your average barfly, the country has a rich history with the spirit. The Yamazaki distillery was created in 1923 under the direction of Masataka Takatsuru, a Japanese chemist who had learned about whiskey production while living in Scotland. Upon his return, entrepreneur Shinjiro Torii (who would later found the beverage conglomerate Suntory) hired Takatsuru to establish a distillery in Yamazaki, a town near Kyoto.
"A lot of American distilleries suffered setbacks because they could not operate during Prohibition," said Nick Korn, an expert who regularly holds seminars on Japanese whiskey. "But in Japan, you've had over 90 years of high-quality, uninterrupted production."
In recent years, Japanese distillers have refrained from flooding the U.S. market with mass-produced, inexpensive brands. Just 18,000 bottles of the victorious Yamazaki whiskey exist, and each bottle retails for a cool $160.
"To use a car analogy, the Japanese decided to focus on exporting high-end Lexuses rather than Toyota Corollas," said Kurt Maitland, assistant editor at Whiskey Reviewer. "Doing that raised their profile."
Both Maitland and Korn believe that Japanese whiskeys will only become more popular in the U.S. Suntory's acquisition earlier this year of Jim Beam, a manufacturer of American bourbons, will create opportunities for cross-branding. In addition, specialty cocktail bars have proliferated across American cities, and bartenders are eager to experiment with new, distinct flavors in order to attract skeptical customers. Maitland believes that publicity surrounding the World Whiskey Bible award will raise the profile of Japanese whiskeys that might otherwise have languished in obscurity.
"People are always looking for something new and will want to give these whiskeys a chance," he said.