Does Social-Media Sharing Count as Community Service?
When it comes to being charitable, most Americans agree: In-person action trumps monetary donations and online engagement.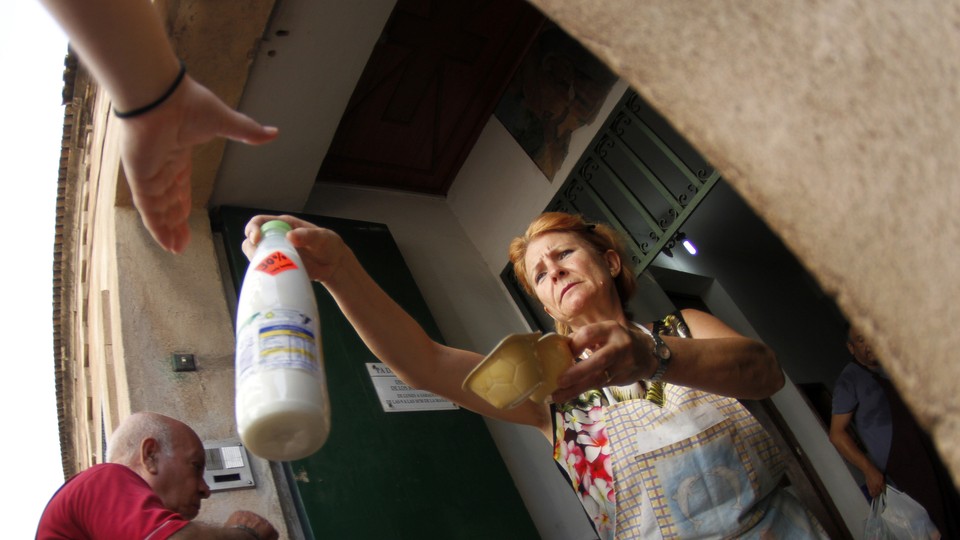 Social media has made it easier than ever to spread the word about a cause. Whether it's a reminder to vote in a local election, an Instagram video challenging you to dump a bucket of ice water on your head in the name of ALS research, or a less serious call-to-action, like a petition to create a taco emoji—promoting and donating to causes that matter to you has become pretty simple. But has that changed the way Americans view giving back?
William Winter, a 32-year-old language arts teacher from California says that sometimes requests for money or volunteers via Facebook, Twitter, or other social media mediums, like Kickstarter, can simply feel like too much. "I'm overwhelmed with people requesting donations, or people saying that they need funds," he says. "It feels like there's a greater need when they're reaching out to me in-person."
According to the most recent Allstate/National Journal Heartland Monitor Poll, most Americans, 70 percent in the survey, said that volunteering in-person was the best way to create real change. About 16 percent said that donating money was the optimal way to support a cause, and only 9 percent thought that online engagement—like petition signing or sharing content through social media—was the most helpful. Americans across all age groups are in agreement that volunteering is most likely to have a meaningful impact and that online efforts were probably the least effective.
When it comes to donating time for volunteer efforts, there were some differences in how demographic groups participate. For instance, minorities—particularly black survey respondents—were more likely than their white counterparts to use volunteering as their sole method of charitable giving. And Democrats were more likely to have used volunteering as their primary means of civic engagement over the past year, while Republicans were more likely to have given some combination of both time and money.
The desire for trust and a personal connection when it comes to community service may be part of the driving force behind the preference for in-person versus online action. For 57-year-old Georgia resident Eric Jebson, knowing the people who run the programs at his local church gives him peace-of-mind when it comes to participating in charitable activities, especially when that involves giving money. "I know the people personally, so I have confidence that the money that I send to them will get where it's supposed to go," he says. Jebson says he's been let down in the past, finding out, for instance, that at some charities only a fraction of his contribution actually made it to a person in need.  That made him more vigilant about where he puts his money and his time.
Winter also lists personal interaction or experience with an organization as something that matters deeply when it comes to his choice to participate in a charitable cause. "If I don't have a connection it's very difficult for me to donate. It's very important for me to have some type of connection with the organization," he says.
But that doesn't mean that Winter doesn't donate. In fact, like 49 percent of poll respondents, he's given both time and money within the past year, donating about $100 annually to each of his alma maters and helping to oversee an after-school running club for middle school kids. And he sees his participation ramping up in the future: He now volunteers at running events outside of the middle school and hopes that as his salary increases, he can give more to the two schools that he attended. "I'd definitely donate more, but as it is right now, it's very easy for me to donate $100 and not worry about my bank account," Winter says. "If I were to donate more I know that I would have to budget."
The fact that he hopes to do more when it comes to volunteering or charitable giving may actually put Winter in the minority of poll respondents. The majority of Americans surveyed, about 68 percent, said that the amount of service they currently do feels like enough. And only 31 percent said that they wish they could do more.
So what's the chief reason that some people don't spend more time on charitable endeavors? Of those who said that they wished they could spend more time on charitable causes, most people, 43 percent, said that their work schedules were the primary hindrance. That's not surprising given the fact that 51 percent of employed survey respondents said that they worked more than 40 hours a week. And 47 percent of those who are currently employed have hours that fall outside of traditional nine-to-five work days, which can make participation in volunteer efforts that take place on weekends or weeknights more difficult.