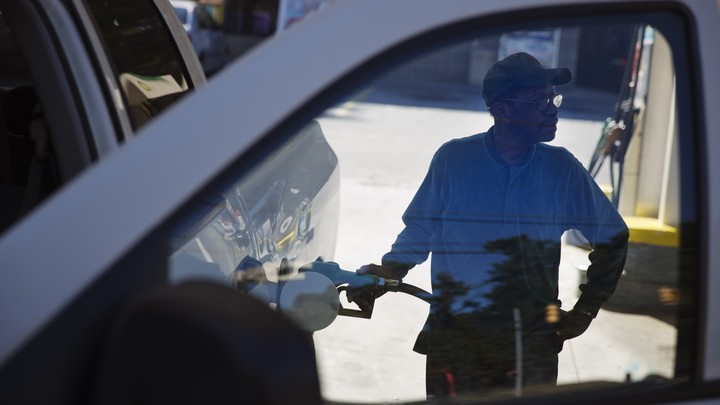 This week, the United Nations called upon the global community to curb fossil fuel usage now or risk irreversible environmental damage in 2100. But with oil prices falling to a four-year low in the United States, any urgency may be voided by the absolute excitement over cheap gas.
Prices at pumps across the country dipped below $3 a gallon, while the current price for Brent crude, the reference for crude oil trading, fell to $82 a barrel in the United States on Tuesday. The plunge comes after Saudi Arabia unexpectedly cut its export prices to the United States, and follows a global trend that has seen oil prices drop 25 percent since June, according to Reuters.
The price drop comes just days after the UN declared that fossil fuel emissions must drop to zero by the end of the century in order to keep global temperatures in check. These low oil prices may undermine the message from the UN's climate panel, Anthony Perl, a political scientist from Simon Fraser University in British Columbia, said. He studies the intersection of transportation and the environment in countries like the U.S. and Canada.
"I don't think people will see the urgency of dealing with fossil fuels today," Perl said. Instead, he explained, people may choose to fill up their cars and burn fuel while the costs are low. Falling oil prices may also deter businesses from switching to energy-saving technology, as a 2006 study in the Energy Journal suggested. Saving several pennies at the pump, Perl said, may tempt Americans away from actions that can lead to a sustainable, post-carbon future.
Indeed, in the past month some automakers noticed a jump in gas-guzzling car sales. According to CNN, October saw a 52 percent jump in Jeep SUV sales and a 36 percent rise in Ram trucks. Some hybrid and electric vehicle sales fell at the same time.
"This is like putting a Big Mac in front of people who need to diet or watch their cholesterol," Perl said. "Some people might have the willpower to stick with their program, and some people will wait until their first heart attack before committing to a diet—but if we do that at a planetary scale it will be pretty traumatic."
We want to hear what you think about this article. Submit a letter to the editor or write to letters@theatlantic.com.