Broken Beyond Repair?
New Heartland Monitor poll shows little hope for political compromise or action to help average Americans.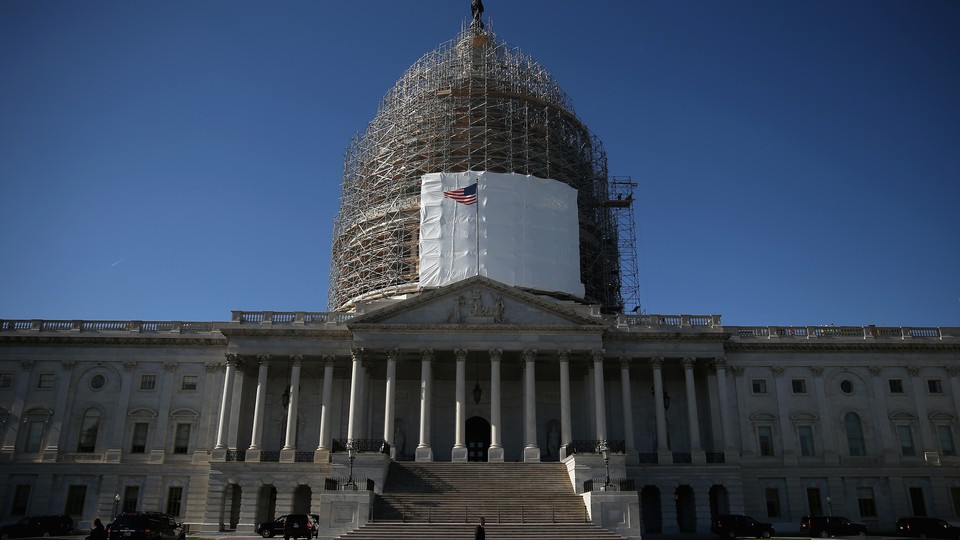 Far more Americans believe the country would benefit from greater compromise between Republicans and Democrats than from either party amassing unified control of the White House and Congress, the latest Allstate/National Journal Heartland Monitor has found.
But, across party lines, few Americans expect such cooperation to increase after a bruising election that left Republicans holding both congressional chambers for President Obama's final two years.
The survey, conducted in late October just before the GOP's electoral sweep, found that even among Americans who identified with either party, only a minority believed that unified control by their side would "make life a lot better" for people like them.
Only about two-fifths of self-identified Republicans said that unified control of the White House, House, and Senate by their party would significantly improve life for people like them; almost exactly the same share of Democrats agreed. Among independents only one in nine thought unified Democratic control would benefit them "a lot"; only one in 20 independents thought the same about unified Republican control.
Americans were much more likely to say their lives would benefit from "Democrats and Republicans compromising more to solve problems in Washington." Just over half of those surveyed though such cooperation would make life a lot better for people like them. Brynn Lobato, a Farmington, N.M., homemaker who did not identify her party allegiance was among them. "It doesn't really matter if it's Democrats or Republicans [controlling Congress]," she said in an interview after the GOP takeover. "We just need to work together, period. We just have to work together and find out what is working and what isn't working and tap on the strengths and move forward with those. I hope they'll be able to do good, positive things for our nation."
The belief that more cooperation could produce greater benefits united groups that often diverge on political questions, including 53 percent of whites, 58 percent of nonwhites, 66 percent of Democrats, and 53 percent of independents. The big exception: Just 42 percent of Republican partisans said they thought they would benefit much from more compromise--a reflection both of the resistance to Obama and the demands for ideological purity among many GOP activists.
The results were part of the 21st Allstate/National Journal Heartland Monitor Poll. National Journal and The Atlantic are releasing the poll's findings over the next week.
Whether they favor or fear compromise in Washington, few Americans are expecting to see more of it. Just 13 percent of those surveyed said they believed that "as a result of [the] election, Congress and the president" will cooperate more than before to get things done. A slightly larger 21 percent thought the president and Congress would work together less, while exactly three-fifths expected no change in the current level of cooperation.
Few things more united Americans than the expectation that their representatives won't come together in Washington: only 19 percent of Democrats, 11 percent of Republicans, and 10 percent of independents said they expected more cooperation along Pennsylvania Avenue after the election. Anna Fox of Chester, Md., a political independent and co-owner of a tree-removal service, captured the very cautious optimism that ran through many conversations with poll respondents. "I like to think it can't get any worse," she said, also in an interview after Senate control flipped. "These are tough times right now. I'm feeling good that things will move in a different direction—if people do what they say they are going to do."
More of those surveyed looked outside the political system for changes that might improve their lives. The poll offered respondents a list of seven possible systemic changes in American life that might benefit people like them (including unified party control in Washington or greater bipartisan cooperation). Two options clearly topped the list: 62 percent said "U.S. companies investing more money in America and hiring more Americans" would make life a lot better for people like them. Sixty percent said the same about "more Americans taking the responsibility to work hard, improve their skills and education, and provide for their families."
Lobato was one of many who placed more weight on business than government decisions. "We need to keep jobs here," she said. "I don't think we need to be shipping them overseas. We need to build our own nation up, instead of finding cheaper labor elsewhere in other countries. I think that's one of the biggest problems that we have. People are willing to work."
More compromise between the parties ranked third (54 percent a lot better), followed by greater voluntarism from average Americans (36 percent), and more support from U.S. companies for community groups and charitable organizations (30 percent); unified political control for Democrats and Republicans finished last.
The survey found a broad consensus on the value of greater responsibility from both employers and individuals. Exactly the same 60 percent of both whites and nonwhites said greater individual responsibility would benefit people like them a lot; almost exactly three-fifths of Republicans, independents, and Democrats concurred as well. Whites and nonwhites were also almost equally likely to see benefits in greater domestic investment from U.S. companies-and Republicans (at 67 percent) were actually slightly more likely than Democrats or independents (63 percent and 59 percent respectively) to view that as a major benefit.
That convergence, not surprisingly, quickly dissolved on questions measuring Obama's performance and agenda. Just 41 percent of those surveyed said they approved of his job performance, with 49 percent disapproving. Obama's approval rating has varied little in the past four Heartland Monitor surveys dating back to September 2013, though his disapproval rating has moderated somewhat from its 55 percent level last November.
Irene Belozersky, a social worker and a Democrat in Brookline, Mass., who responded to the survey said Americans frustrated about the economy are unfairly blaming Obama for global changes no president can control. "I don't think one leader or group of leaders can change that much," she said. "I think the laws which govern economic development in the world right now are too complex for one person." Obama's health reform law, she says, is providing "tremendously important" benefits to the low-income families she works with. But Robert Shew, a broadband technician in Wilkesboro, N.C., believes the president's agenda is compounding the country's problems. "Obama is supposed to create jobs; we have less jobs," says Shew, an independent. "He's supposed to help all these people with Obamacare, but that's hurting my health care, it's hurting other people's health care. It's hurting business."
Among whites—who again decisively preferred Republicans in last month's election—just 34 percent approved of Obama's performance, while nearly three-fifths disapproved. Among minorities, the numbers were virtually reversed, with almost three-fifths approving and about three in 10 disapproving. Obama received positive marks from only about half of Hispanics, though, as well as fewer than three in 10 whites without a college degree, and only about two-fifths of college-educated whites.
Obama saw only slight improvement on another long-term trend question. Just 25 percent of those surveyed said they believed his agenda would increase opportunity for people like them to get ahead. That number, which peaked at 40 percent the first time the Heartland Monitor asked the question in July 2009, has changed little since September 2013. But the share who said Obama's agenda is diminishing their opportunities dropped in the latest survey to 37 percent, from 46 percent last spring. The proportion that said he's having no impact on their prospects increased from about one-fourth last spring to one-third now. Nonwhites (at around two-fifths) remain twice as likely as whites (one-fifth) to say Obama's policies are improving their prospects; but the share of whites who said his agenda is actually reducing their chances dropped 10 percentage points since April, with the difference almost entirely shifting toward saying he was having no effect.
That tracks the very modest thaw evident on other questions of economic health. The 44 percent who said their finances today are excellent or good was unchanged from polls in September and November 2013; the 55 percent who described their finances as only fair or poor was statistically unchanged from those surveys too. Skepticism remained widespread about the real benefits of the unemployment rate's steady decline over recent months. "There's a lot of talk of jobs being created, but the reality is, most of those jobs are underemployment," said Martin Tozer of Ellensburg, Wash., who was recently laid off from his job as a wholesale distribution manager and does not identify with either party. "The reality i, the jobs are part-time, the jobs are low-wage, they are not career jobs. There have been no career jobs that have been created, essentially, in the last six years."
Looking forward, though, the survey captured a very slight decline—albeit still within the margin of error—in the share of Americans who expect their finances to deteriorate over the next year, and a corresponding increase in the share who expect it to remain the same. Still, only about two in five Americans say they expect to gain ground over the next 12 months, with about one in nine expecting to lose it, and just under half believing they will remain in place. Minorities express considerably more optimism than whites.
Consensus returns on a final measure, though around a profoundly negative judgment. Just 9 percent of those surveyed said they approved of Congress's job performance, while 80 percent disapproved. That tied the lowest congressional approval rating the Heartland Poll has ever recorded, and it united Americans of all partisan proclivities: only 10 percent of independents, 9 percent of Democrats and 8 percent of Republicans gave Congress a positive grade in the survey. A unified Republican Congress now has the opportunit—and the necessity—to demonstrate it can improve on that dismal verdict.
The latest Allstate/National Journal Heartland Monitor Poll is the 21st in a series examining how Americans are experiencing the changing economy. This poll, which explored how Americans rate their progress at navigating their obligations at work, home, and their community, surveyed 1,000 adults by landline and cell phones October 22-26. The survey was supervised by Ed Reilly, Jeremy Ruch, and Jocelyn Landau of FTI Consulting's Strategic Communications practice.
---
Janie Boschma contributed to this article