A New Business Strategy: Treating Employees Well
While some companies squeeze staff to make more money, a growing number are testing the theory that they can have both profits and happy workers.
NORWICH, VT—Call centers are not, typically, very happy places—especially around the holidays. Workers have quotas to make, and often sit in bleak cubicles, headsets on, plowing through calls from stressed shoppers, as they count down the minutes until lunch.
But the employees in this call center in Vermont are rosy-cheeked and—can it be?—smiling. They field calls about misplaced packages and gluten-free dough, while surrounded by orange and red Thanksgiving decorations and a wall lined with baking gear that they're allowed to borrow. They still have quotas—10 calls per hour, per agent—but they know they won't get fired if they spend 45 minutes talking to a woman with cancer about baking, as one agent recently did.
"People just really care about each other and look out for each other," said Julie Porter, a call center employee. "This is the company where somebody left a dollar bill on the floor, and sent around an email being like, 'I found your dollar bill in the hallway if you're looking for it.'"
Welcome to King Arthur Flour, a 225-year-old company that prides itself on treating its employees well. It's not just lip service: King Arthur is one of a growing number of companies that has incorporated as a new type of business called a benefit corporation, which means its mission is to consider the needs of society and the environment, in addition to profit. There are 27 states that have passed legislation allowing companies to incorporate as benefit corporations since Maryland passed the first such law in 2010. Delaware's governor signed a benefit corporation law last year, opening up the designation to the thousands of businesses incorporated there, which include nearly half of all publicly-traded companies.
There are also Certified B-Corporations, a separate process available to companies in every state: The companies pledge to think about people and the planet in addition to profit, and an outside nonprofit inspects them and makes sure they're doing so. The assessment process begins with companies filling out an extensive questionnaire about how they are governed, how workers are paid and evaluated, what their mission is, what types of people (women, minorities) they employ, and what sustainability practices they have in place. Then the nonprofit inspects their books and scores them on each category, and if they fail to receive a certain grade, they lose certification.
Last year, King Arthur had the second-highest "worker" score of any Certified B-corporation, signifying it is one of the best places to work. Employees get one paid week of parental leave, 40 hours of paid volunteer time that they can take during company hours, and both free and subsidized baking classes. There is exercise equipment in the company's manufacturing and office buildings, which are spread out across a small plot of land just across the river from Hanover, New Hampshire. For Thanksgiving, every employee will receive a locally-sourced turkey, or a vegetable basket. It's not just white-collar workers who benefit: Lower-income employees receive a subsidy for a CSA where they can get farm-grown vegetables, and pay less for their health and other benefits.
Treating employees well can be expensive. But the company is always looking for more benefits to offer, said Suzanne McDowell, the VP of Human Resources.
"We take care of our people—the whole person that comes into work every day," she said. "It's the employer that we want to be—it feels right. It feels balanced. And it could probably be more."
As I've written about before, this used to be the standard way American companies treated their employees. In the heady, post-World War II years, companies offered free turkeys at Thanksgiving and gave employees perks, hoping to recruit and retain the most talented workers. But as the pool of available labor grew, companies figured out that they didn't need to keep employees for life: If one person left, they could hire someone else. And as activist investors pushed companies to downsize and distribute profits back to shareholders, many employers gave up on considering the needs of their employees when deciding how to run their business.
Now, some economists say there may be a move the other way. Just look at what happened this summer, when New England grocery chain Market Basket forced out its longtime CEO—who had treated employees and customers well—reportedly because the company wanted to give more money back to shareholders. Employees protested and customers boycotted the store until the company gave up and allowed the CEO to return.
Economists like Robert Reich, the one-time Labor Secretary, wondered if the Market Basket saga was a sign that the country was "witnessing the beginning of a return to a form of capitalism that was taken for granted in America sixty years ago." He wrote that he hoped it was a return to "stakeholder capitalism," in which employees and customers are also part of a company's decision-making, as opposed to the "shareholder capitalism" of the last few decades that has focused on maximizing shareholder value.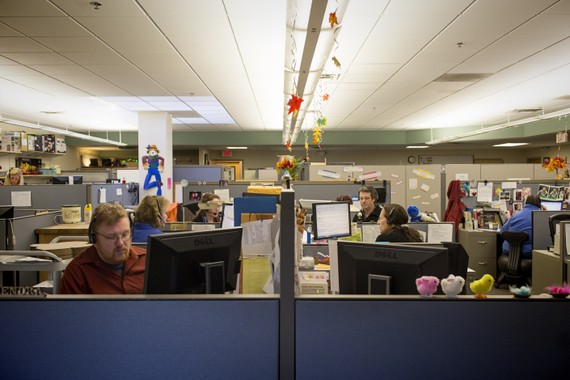 "If we learned anything from Market Basket, it's that there are large numbers of people who resonated with the basic idea that companies have to work both for owners and employees, and for customers," Thomas Kochan, a professor at MIT's Sloan School of Management, told me in an interview.
Millennials want to work for companies that do good, Kochan said. And the financial crisis has led many other people to wonder if there's a way to structure business that doesn't lead to such wide gaps in income inequality.
"People are beginning to ask questions about the financialization of the corporation—has it gone too far, and is there a more equitable way to reward people for the hard work that they do," he said.
To be sure, most companies still operate on the old model of doing business, where employees come last. The day I visited King Arthur, workers across Vermont, Maine, and Massachusetts were still on strike from FairPoint Communications, which they say has proposed an increase in outsourcing while cutting benefits and pay for workers. Hourly workers at Walmart, McDonald's, and other national chains are still organizing for higher wages and more predictable schedules—many Walmart employees plan to protest again on Black Friday this year.
But B-Corporations like King Arthur, shoe company Dansko, tea maker Numi and Seventh Generation, which makes cleaning products, have found that making employees happy makes financial sense.
Paying for nice employee perks might not produce the type of unrestrained short-term growth that investors like, but it promises value in the long run, said Ralph Carlton, a one-time investment banker and Coca-Cola vice president who now serves as King Arthur's CFO.
"We're playing long ball—we want to be around in 200 years," he said. "We have a definite bias towards sustainability and long-term success."
Of course, there's another piece to King Arthur that might make it easier to treat employees well. It's 100 percent employee-owned. The company, which has been around in various iterations since 1790, was a family operation until its owners decided to retire in 1996 and sell the business to the employees. It was a long process that was finally completed in 2004. There are twin advantages to being employee-owned: There are no outside investors pushing for quick profits and the company doesn't have to pay any federal taxes.
But being employee-owned doesn't mean that King Arthur can just relax and hope people buy its product, and that its employees make a little money on the side, Carlton told me.
"First and foremost, we are a business, and no one is embarrassed about being a business," he said. "The rules of markets don't suddenly go away because we're a B-corp or employee-owned."
The company still has to make good products—customers wouldn't buy King Arthur Flour, which is more expensive, if they didn't like it. But it does seem to produce stuff that people like: Many customers know King Arthur for what it sells, rather than how it treats its employees. Good Housekeeping named its self-rising flour the best for biscuit makers, for example, and the company's products are consistently rated highly on Amazon.
"They have the best quality—I trust their judgment," said Lee McDavid, a local resident who had stopped by the King Arthur bakery and café for lunch, and who also shops from the King Arthur catalog. She didn't know the company was a B-Corporation, or even what that designation means.
The café has become a popular dining spot in town, and customers come in for pizza specials, soup and fancy pastries, or just to watch bakers make bread in a test kitchen. More tourists ask McDavid how to get to King Arthur than how to get to Dartmouth College, just a few minutes away, she said.
Employees have a motive to make sure quality is good, since they share in the profits. Every year, they receive a statement with their share price, and are attuned to how the company is doing, knowing that they'll earn less money if the company isn't doing well. An effort to send fruit baskets to offsite employees, for example, was met with some resistance from the employees receiving the baskets because they cost too much. And there would surely be pushback if employees flew around in corporate jets or if everyone got free sushi and steak every week, Carlton said. But that doesn't happen.
There are some things about an employee-owned, B-corporation that may run a little bit slower than a traditional company. I talked to Frank Tegethoff, a longtime employee who now works as a new-product-development baker in one of the company's well-stocked kitchens. Tegethoff used to work as a pastry chef at a Ritz-Carlton hotel, he said, which was very "old-school, hierarchical. You have a very defined role. When you talk about King Arthur and the way we operate, it's more of a cloud, rather than a straight line. It's all very experiential."
It can take awhile to make decisions because everyone has such strong opinions and buy-in, he said—it took three years for the company to get gluten-free mixes to market. On the other hand, it's nice to be involved in company decision-making, he said.
Because they run in this new way in which profit isn't everything, B-corporations that are seeking capital or investors might have a tougher time than if they were structured as a traditional corporation.
B-corporations weren't taught in business school until a few years ago, which might make investors skittish about becoming a part of such a company. The investor Marc Andreessen famously expressed his distaste for B-corps at a Forbes conference, saying that he would "run screaming" from a B-corp, because they have two separate motives. "It's like a houseboat. It's not a great house and not a great boat," he said.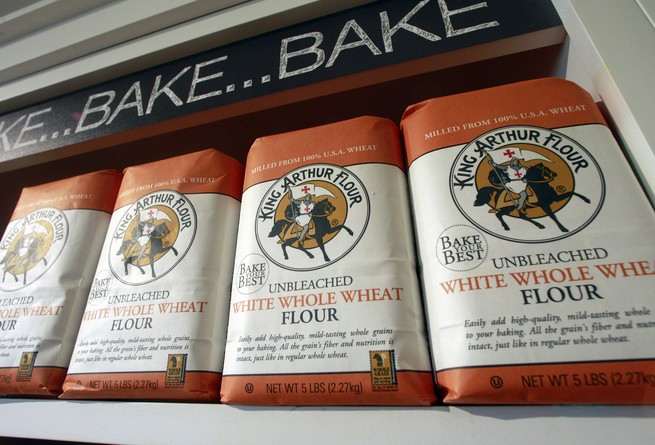 The next challenge of B-Lab, the company that certifies B-corporations, might be to prove that companies can be public, and make a profit, and still consider society and the environment. One study of the benefit corporations that incorporated in Delaware in the 90 days after the state changed its laws found that many are new small businesses that could very well fail. Many of those companies' charters failed to state a specific public benefit, although they were legally required to do so.
Rally Software, a Boulder, Colorado company, became the first B-corporation to go public last year. Shares started off at $18, ticked up to $31 by September of 2013, and have slowly fallen since then, to below $10. Rally gets a higher-than-average score among B-corps for how it treats its workers, but every financial report is picked apart by investors looking at its short-term potential, who may then advise clients to get rid of stock if business slows. It's probably not an accident that none of the investor information on Rally's website mentions its B-corp status. (I reached out to Rally for comment, but they have earnings coming up soon and aren't talking to the media.)
But many investors are starting to look at more than just profit, said Andrew Kassoy, one of the founders of B-Lab. They learn to trust a company that says that it is becoming more valuable to consumers by treating employees well, and by doing good for the planet.
"We're in the early stages of a transformation of how people think about the role of business in society," he said. "But I don't think this is a transformation in capital that will happen overnight."
It is a transformation that has already begun, he said. More and more companies put their B-corp certification on their labels, and business schools have started giving loan forgiveness to students who work at B-corporations. And non-traditional companies are trying to become B-corporations too: Green Mountain Power will announce on December 1st that it will become the first public utility certified as a B-Corporation.
Studies show that companies that behave "ethically" outperform their peers. Companies that put society and their employees first have a 25 percent higher stock value than their peers, Kassoy said. And Zeynep Ton, an MIT professor, found that companies that look out for long-term employee happiness can actually be more efficient and profitable.
King Arthur did not share its financial information with me, but the company has not had any significant layoffs since 2003, when it had to let go of 15 people, McDowell said. Rather, the company is growing, and now employs 381.
King Arthur products sell at a premium over other baking products, which helps the bottom line. But talking to the company's employees and wandering around the campus made me think that there was something else there too. That perhaps employees cared a little bit more because they knew they had good jobs.
The buildings are named things like Camelot and Excalibur, but on the day I visited, the campus felt more like Santa's workshop in the North Pole. Snow flakes were falling outside, and inside, employees snacked on sample goods like berry scones, packed baking products into boxes in the spacious warehouse, joked with one another as they made baking mixes, and cheerfully loaded bread in the ovens in the company's restaurant and bakery, which are open to the public.
That kind of atmosphere draws talented people. Just ask Julie Porter, the call center lead, who used to work as an events coordinator at a club in nearby Queechee, Vermont. She was working 80 hour weeks, and with two young kids at home, she was getting more and more stressed, she told me, as a colleague nearby advised a caller about baking with marshmallows. Then she helped plan a holiday party for King Arthur Flour at the club where she worked. Usually, holiday parties are awkward, and employees act like they can't wait to leave. But Porter remembers walking into the King Arthur party and sensing something different, she said.
"Everybody was talking, it was like one big family," she said. "The atmosphere just stayed for the entire event, and I said to myself, 'I've got to get into that company.'"