Why Can't People Feel the Economic Recovery?
Unemployment may be down, but getting ahead remains out of reach.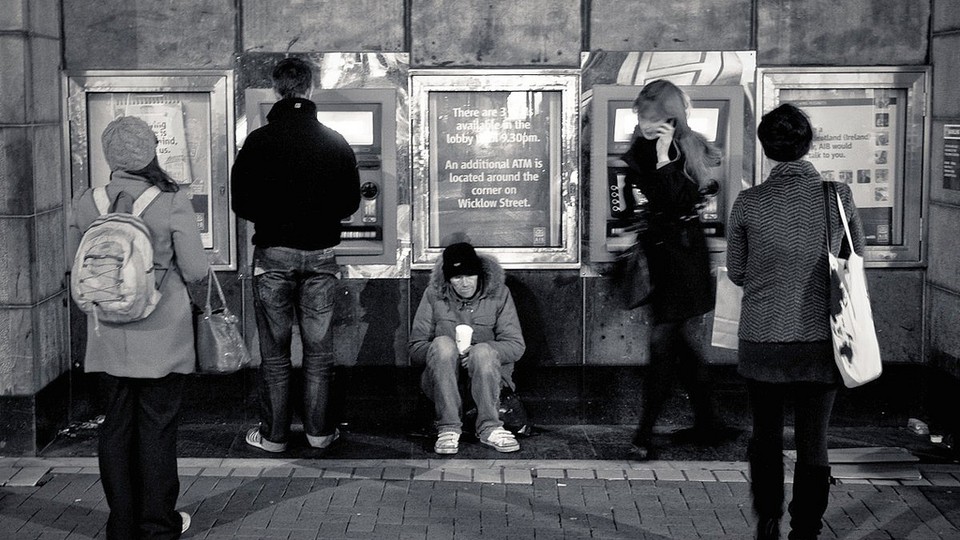 The economy may be coming back, but to many Americans, it doesn't feel that way. Or, at least, that's what two recent speeches by a current and a former president suggest.
"Nobody believes it yet," said Bill Clinton, back home in Arkansas. Meanwhile, President Obama told a crowd in Chicago that "millions of Americans don't yet feel enough of the benefits where it matters most—and that's in their own lives." He said people deserve more from the recovery than "reading about it in stats on a page."
At a time when the unemployed rate has dropped below 6 percent for the first time since 2008, it might come as a surprise that Obama and Clinton need to warn people that the recovery might not be detectable. And, by certain measures, the presidents are wrong: Surveys from Pew Research Center have found that the percentage of Americans saying jobs are difficult to find has declined steadily over the last four years, roughly tracking the unemployment rate.
---
Job Situation: Perception vs. Reality
---
So, in one sense, people are noticing that the economy is doing better. Nevertheless, about 50 percent of Americans still say they feel like the economy is not improving.
How can this be? For one, while it may be the best measure out there, the unemployment rate is a rather limited indicator, measuring the percentage of job seekers who are unable to find jobs. The labor-force participation rate, by contrast, measures the percentage of adults who are either employed or actively looking for work. That number has been falling since the recession, from 66 percent in 2007 to around 62 percent today.
---
Labor Force Participation Rate (LFPR)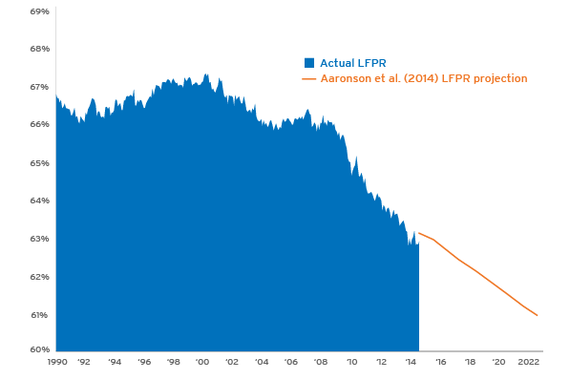 ---
---
Trying to interpret the labor-force participation rate has its own complications. Economists disagree as to how much of the decline is structural in nature—baby boomers are retiring en masse—and how much is the result of temporarily low worker morale. Whatever the explanation, the rate hasn't been this low since 1978. If people don't feel confident about the economy, perhaps they are feeling the wind-down of the labor-force participation rate more strongly than the change in the unemployment rate.
Just 54 percent of Americans say they are satisfied with their opportunities to get ahead by working hard. In 2002, that number was 77 percent.
What's more, there is the troubling fact that wages barely grew faster than inflation in the past year, which is consistent with how they've been doing since the recession. Job rolls may be growing, but paychecks aren't, which is bad news for the majority of Americans who rely primarily on wages for their income. Median household incomes are down about 8 percent since 2007.
And even for those Americans who are working for their stagnated wages, rising costs for crucial services that might enable them to get ahead—healthcare, childcare, education—may make the good life feel increasingly out of reach.
---
Costs for Americans (2005-2014)
---
At the same time, stocks and bonds have rebounded more quickly than the job and housing markets, exacerbating income inequality. Wealthy Americans, who keep more of their wealth in financial assets, simply experienced a different recovery.
---
An Uneven Recovery
---
As my colleague Derek Thompson has noted, the strong job numbers reported earlier this month are nothing to be disappointed about. The fact that 248,000 people found jobs last month is certainly cause for optimism. Some have argued that the U.S. has recovered better than almost every other advanced economy. But, while the economy is coming back, getting ahead remains difficult. And no one's going to feel too upbeat about that.