When 'Collaboration' Is More Than a Buzzword
The story of a business partnership that stands to boost the economy of Columbus, Ohio, and the surrounding region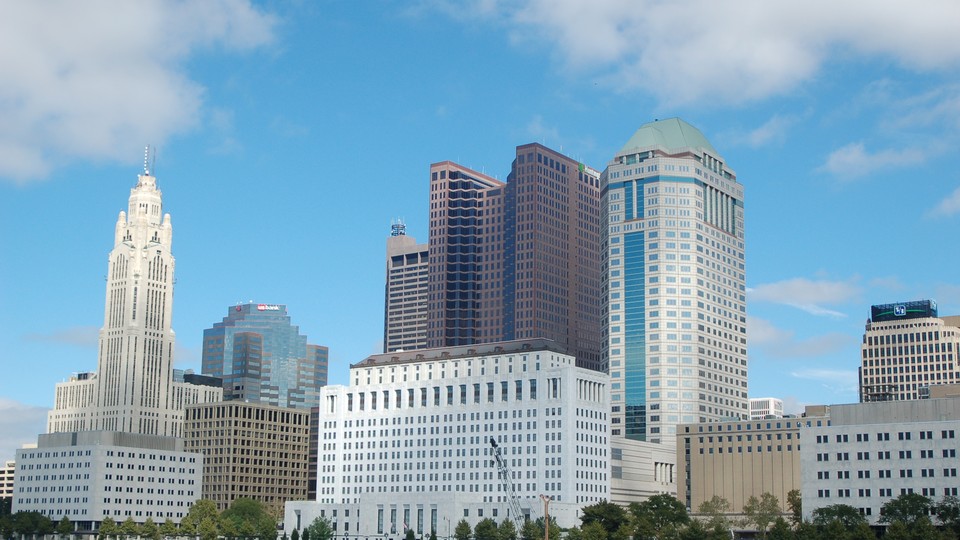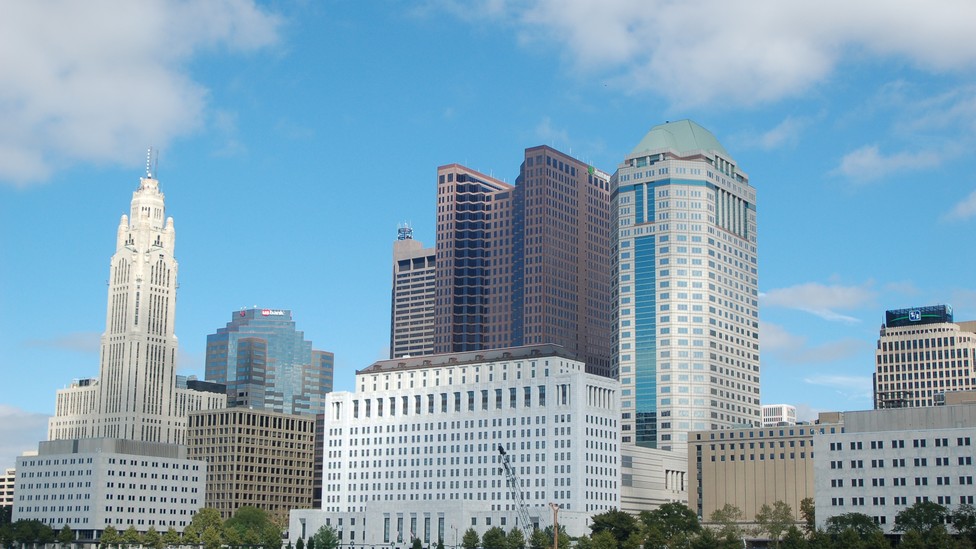 "Collaboration" is the order of the day in Ohio's capital city, Columbus. It's the word that Jim Fallows, Deb Fallows, and I heard most frequently when we visited Columbus for several days in early September for the American Futures reporting project. "Partnerships," too. Collaboration and partnerships.
It is natural to be jaded about this kind of emphasis, because it's so easy to say and often so meaningless. As with companies that say "Your call is very important to us!" while indicating the opposite by making you wait on endless hold, "collaboration" statements are often simply an empty tic or reflex. But in the case of Columbus, there appears to be something very real happening behind the buzzwords. It's different in detail from the "collaborative" or "cooperative" interactions among government, businesses, and private organizations that we've described in some other cities, from Maine to Mississippi, but it is similar in spirit.
We've reported already on some of what this has meant, in practice, in Columbus—for example, in explaining the excellence of the Columbus Metropolitan Library (see here), or efforts to revive the down-and-out neighborhood of Franklinton (see here and here), or programs to give at-risk kids a high-quality education (see here). There's more to come next week in this vein—and a good example, too, in the following paragraphs.
In any case, Jim and I heard those words on our first morning in town, when we sat down to talk with Alex Fischer, president and CEO of the Columbus Partnership, a civic organization of top business leaders in Columbus. Several times in a 45-minute interview, Fischer spoke of  "collaboration" and the "collaborative spirit" in Columbus. He identified the impulse from which it springs: "We want this to be a different kind of place." And after talking about lots of positive things occurring in Columbus, he said, "Collaboration is the secret sauce that makes it all happen."
Secret sauce? I remember thinking at the time that Fischer seemed to be laying it on a bit thick. But it turns out he wasn't, and, as I say, what we learned in Columbus made believers of us.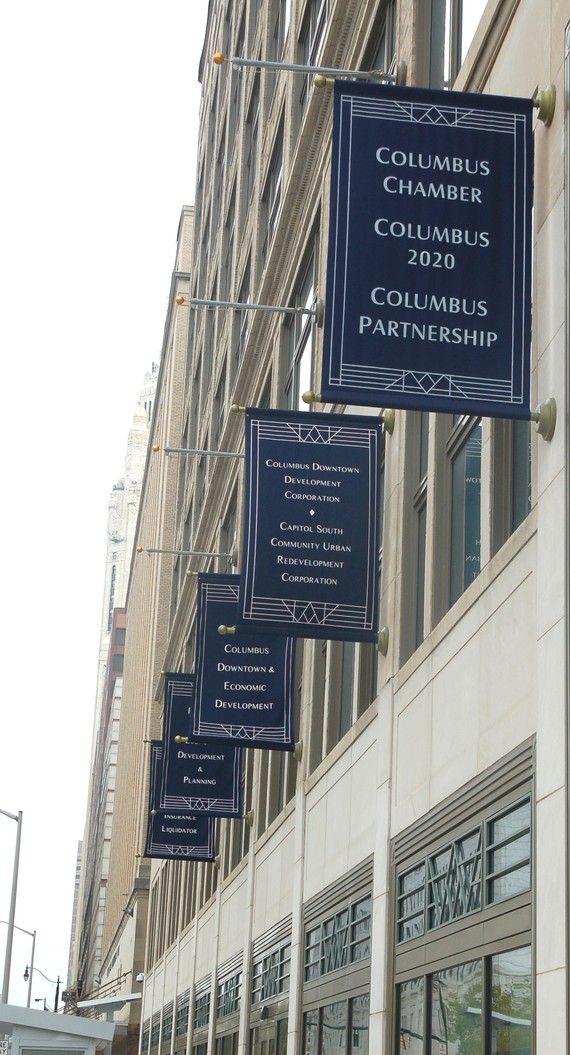 Another interesting observation Fischer made about Columbus is that the city occupies "a sweet spot" with respect to size: "Columbus is big enough to have scale and small enough to do something with it." He meant: big enough to have many heavyweight, national (even world-class) corporations headquartered there, but small enough that the business leaders all know each other and are able to work well together and make things happen.
When pressed for examples that might illustrate his points about collaboration and size, Fischer spoke with excitement of something called the "Columbus Collaboratory"—a new advanced-technology company created earlier this year through the collaboration of seven big firms in Columbus and central Ohio. The project is aimed at making the area a leading center in data analytics and cybersecurity, a hub for harnessing, analyzing, and safeguarding the huge amounts of digital information that companies generate every year.
Rather than each of the seven companies continuing to work on its own to figure out how to develop advancements in areas such as customer service or cybersecurity, they've cooperated to create a new, separate company that will help the founding firms—and, perhaps, ultimately, other central-Ohio businesses—be more competitive through the development of new techniques and new tools.
Intrigued, I arranged an interview a couple days later with Brad Ashbrook, who is the interim CEO of the Collaboratory while a national search is underway for a permanent CEO. Ashbrook explained to me the logic behind the partners' creation of a new corporate entity.
"At its core," Ashbrook said, "this venture is about economic development." The instigation for the new company came from Columbus 2020, a regional economic development organization that sees this venture as an opportunity to increase the region's competitiveness and lead to economic growth.
"Part of the idea," Ashbrook said, "is that if we can increase the number of data-analytics experts in the Columbus area, then companies are going to want to locate here because data analytics is where it's at now [at the heart of business success]. We see data analytics as a huge opportunity to grow businesses. And businesses are hungry for people who can do it—people who can make sense of all the data businesses have, people who can track trends in social media, and so forth."
The seven partner companies are American Electric Power, Battelle, Cardinal Health, Huntington Bank, L Brands, Nationwide and OhioHealth. All of them have their headquarters in Columbus.  And most of them were already working with the IBM Client Center for Advanced Analytics that earlier had located in Columbus ("in partnership" with Columbus 2020). But the IBM Center's emphasis is on emerging analytics technologies and solutions, whereas the partner companies have more focused areas of need that they want to emphasize.
What may not be immediately clear from looking at that list of seven companies (especially because two of the companies have the word Health in their name) is that the partner companies are in different economic sectors and don't compete against each other in the marketplace. That's by deliberate design. "Each of these companies is highly competitive," Ashbrook explained, "so we don't have more than one company within each sector. For example, there are lots of big insurance companies headquartered in Columbus [because of a favorable regulatory environment], but Nationwide is the only one in the Collaboratory."
Right now, Ashbrook is working on building the new company, which, for the foreseeable future, will have its headquarters space in a building on Battelle's campus. His projection is that the company will employ 100 people in three to five years.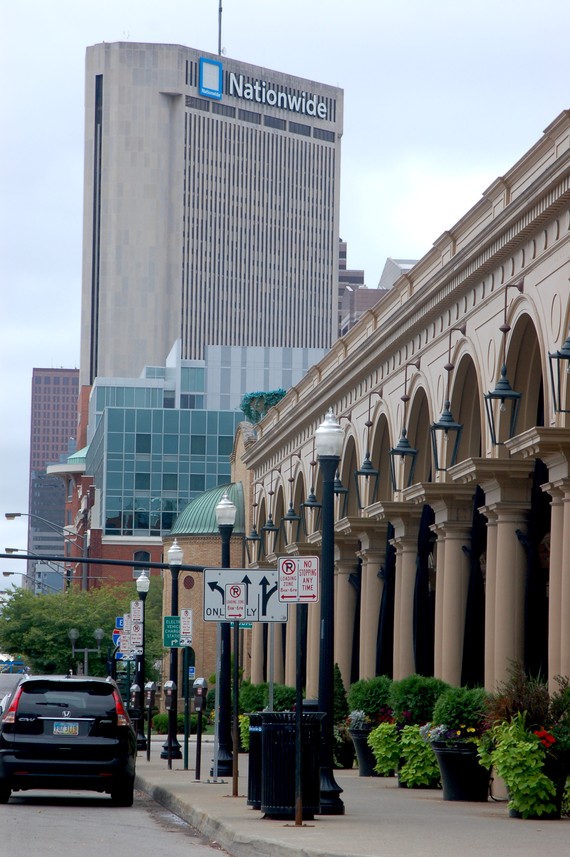 With a smile, Ashbrook explained that he "doesn't really have any of the usual problems of a startup" company. That's because the funding for this venture is secure. Each of the seven partner companies is giving $1 million a year for four years. That's $28 million. And the Collaboratory received $5 million in technology grants from the Ohio Third Frontier Commission, a state agency that promotes technology-based economic-development initiatives. So, Ashbrook has $33 million to work with over the next four years. He's right: not a usual startup.
His board is made up of the six CIOs of the businesses—and the COO of Batelle, a private nonprofit research organization. "They're interested and engaged," Ashbrook told me, "so it's easy to make things happen." So, his company is lucky in that regard, too.
Surely, it's not all easy! I asked Ashbrook to tell me the hardest part of getting this new venture started. "Probably the hardest thing was to settle on what to do first," he replied. "I want to make sure there's a business-driver to everything we do. As we move forward, the partner companies have to see that there is value added from all the money they're pouring into this. We have to see that the talent workforce is developing. We have to see that we're getting staff with better skills in data analytics. We think if we can improve data analytics and customer service, we'll be adding a lot to these businesses."
In response to my next question about what their project priorities will be in the new company's early days, he listed three things: (1) cybersecurity: "Our work on this is centered around the sharing of best practices." (2) data analytics: "We want to see if we can deploy an instance of Watson in our call-center operations to help our agents be more efficient and effective when dealing with our customers -- essentially an agent-assist model -- to be responsive in a way that a call-center operation needs." (3) talent-attraction and workforce development: "We're doing a skills-gap analysis to see how we can increase the talent pool for high-tech jobs. There's a real shortfall of talent in these areas."
I asked Ashbrook how his new company might actually operate, in practice. It's all fine and well, I thought, to talk about outcomes that promote economic development. But, what will the Columbus Collaborative's employees actually do? I found his reply interesting.
"We're thinking some of our initial hires will work this way: We'll bring in seven people and put them in rotational positions, one at each of the seven member companies. They'll work for three months at that firm—let's say, in cybersecurity—and then they'll all come back here for a week and share what they've learned and experienced. Then, like musical chairs, they'll rotate to the next slot on the circle and go back out there for another three months of experience, then come back in and report. And so on." Let me just say: That's a great model. Let's try to replicate that kind of collaborative process in other parts of the country.
I asked Brad Ashbrook if he envisioned the Collaboratory's findings and applications being spread beyond the seven partner companies. He replied, "Our initial projects are focused on serving the seven companies. After that, we can see about developing tools and techniques that might be licensed beyond the founding seven."
Asked if that might be difficult because the seven founding companies cover a broad spectrum of the business community, Ashbrook said: "Well, consider insurance fraud as an example. If we develop data-analytics tools that do a better job of catching fraud, that's something that Nationwide would probably want to share with them, not hide from them."
I find all of this about the Columbus Collaboratory fascinating in its own right. But it's also compelling for what it says about the business community in Columbus and about that city generally.
Alex Fischer is correct about Columbus's collaborative spirit (its "secret sauce") and about its size (that "sweet spot"). His view got support from Kenny McDonald, the CEO of Columbus 2020, who was quoted this past spring in the Columbus Dispatch: "I don't think you could do this in a larger city or region. To have this many large companies here, and be non-competitors, and the CEOs are already working together with the Columbus Partnership—it really is pretty unique."