Walmart, Apple, and the Fight Over Digital Wallets
Why retailers' coming face-off on mobile payments will be with card processors, not Cupertino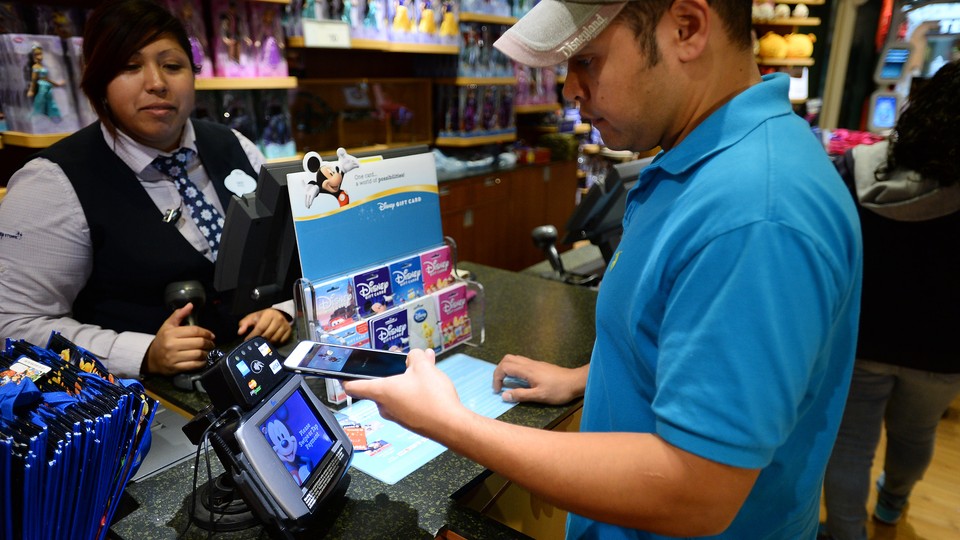 Apple Pay launched on October 20, and while many iPhone users enthusiastically adopted it, even purposefully making purchases they didn't need just to see it in action, some retailers have turned away from the new technology. Rite Aid and CVS turned off the ability to use digital wallets, including Apple Pay and Google Wallet, in anticipation of a new, competitive product, CurrentC. On Monday, Apple CEO Tim Cook took to the stage at the WSJD Live Global Technology Conference and addressed this coming battle of digital payments directly.
Cook called the situation nothing more than a "skirmish," noting that neither Rite Aid nor CVS were formal partners in the platform. "You are only relevant as a retailer or merchant if your customers love you," Cook said. "[Apple Pay] is the first and only mobile payment system that's easy, private, and secure."
When it comes to privacy concerns, Cook struck a chord that experts have already been harping on with the rival product: CurrentC just doesn't seem very safe. Security expert Nick Arnott was able to discover just some of the information CurrentC plans to collect, including location data and movement. "With CurrentC, you're not the customer—you're the product being sold," said Arnott.
Set to launch in 2015, CurrentC is the brainchild of Merchant Customer Exchange and a number of retailers, led by Walmart. Walmart has long waged war against credit card companies that charge two-to-three percent transaction fees (and prevent Walmart from making even more money than they already make.) To use CurrentC, customers link their bank account to the app, rather than linking a credit card. Right now, digital wallets rely on Near Field Communication (NFC) readers, but CurrentC will rely on QR codes instead (seemingly a step backwards in technology.)
A spokesperson for Walmart offered Business Insider this explanation, "There are certainly a lot of compelling technologies being developed, which is great for the mobile-commerce industry as a whole... MCX's members believe merchants are in the best position to provide a mobile solution because of their deep insights into their customers' shopping and buying experiences."
However, the underlying reason for turning to their own payment platform still rests on credit card tensions. When asked if he believes CurrentC will succeed, Walmart CEO Leo Scott said last year, "I don't know that it will, and I don't care. As long as Visa suffers."
Scott may not get his wish, however, as Visa is one of several major card processors already working with Apple Pay. Though TechCrunch reported dozens of retailers are already on board for CurrentC, controlling over 100,000 retail locations and a trillion dollars a year in transactions, Apple Pay launched first and is already in about 220,000 retail locations, with six major banks on board, and over 500 financial institutions set to join in 2015.
In hopes of protecting their bottom line, retailers are willing to force customers into using a less attractive, potentially less secure, e-payment system, but a vendetta against credit cards may not be the best way to get customers on board.