The Willy Wonka of Sriracha: Behind the Gates of David Tran's Factory
Huy Fong's chief talks about his successes, his challenges, and his imitators.
Even if you're not a hot-sauce enthusiast, you may find yourself a little watery-eyed over the story of David Tran, the 68-year-old chief executive of Huy Fong Foods. The maker of America's best-known Sriracha—a Southeast Asian chili sauce with a zealous following—Huy Fong is named for the ship from which Tran alighted in America after leaving his native Vietnam in the late 1970s. The company's Rooster logo, which gave rise to the sobriquet "cock sauce," is Tran's Zodiac sign.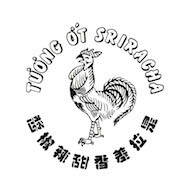 According to legend, Tran started out selling his sauce out of buckets to restaurants in Los Angeles' Chinatown in 1980. Nearly 35 years after establishing Huy Fong, the clear bottle with the green top is the centerpiece of a $60 million company, selling as many as 20 million bottles in 2012. Tran's Sriracha is now produced in a 650,000-square-foot factory about 30 minutes east of Los Angeles. In 2009, it was named "Ingredient of the Year" by Bon Appétit. It has also been the inspiration for documentaries, cookbooks, art exhibits, countless internet paeans, and, as you'll likely see this week, Halloween costumes.
Until recently, Tran eschewed publicity and when I arrived to meet him earlier this month, an indication of that erstwhile wariness materialized in the form of a burly, armed security guard who approached me to ask me my business just seconds after I'd parked in the small visitor section of the factory parking lot.
Earlier this year, Tran decided to open the gates of his factory to tours. The decision wasn't the result of some Roald Dahl-esque turn of heart, but rather, of some duress. Back in April, Huy Fong's facility in Irwindale, California, had been declared a public nuisance after the city had received complaints from nearby residents alleging that the fumes from the factory were causing headaches, nosebleeds, heartburn, and a variety of respiratory ailments. The declaration followed a lawsuit by the city and a partial shutdown of the factory last year, which incited a panic among the faithful about a Sriracha shortage.
"The tours," Tran told me, "are the only way to prove that we don't make tear gas."
The efforts worked. Well, the efforts, girded by out-of-state wooing of Huy Fong and some election-year pro-business posturing, eventually resulted in the lawsuit and nuisance issue both being dropped in late May.
During the ordeal, the extent of the Sriracha fandom revealed itself. Around the time the 2013 lawsuit against Huy Fong was filed, the first-ever L.A. Sriracha Festival was held in Los Angeles, featuring Sriracha-inspired dishes by some of the city's best-known chefs.
"That was the first indication that there were crazy Sriracha people out there," Donna Lam, the executive operations officer of Huy Fong, told me. "People who would want to dress like Sriracha, people who would pay $50 to eat Sriracha food."
As chili-grinding season kicked off in late September, Sriracha people had also appeared by the thousands to attend "open houses" at the Huy Fong factory. Visitors would get to see some of the season's 57,000 tons of red jalapeños go from pepper to paste, tour the massive facility, sample Sriracha ice cream, and maybe catch a glimpse of Tran himself.
My Sriracha immersion at the factory began with the ritual slipping on of a hairnet. I was shepherded around by Christy, who has been living in Irwindale for over a decade. She told me that nearly 2,000 people had flooded the factory at the most recent open house.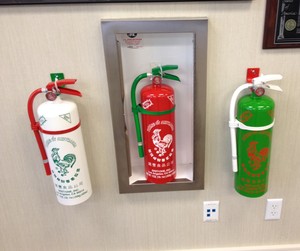 Our first stop was a room that had become something of a Sriracha shrine. It included a life-sized cut-out of David Tran, plaques, awards, pictures, artwork, love letters to Sriracha, and, of course, customized fire extinguishers.
As we entered the factory itself, two of the 30 to 40 massive trucks that deliver peppers daily during chili season pulled up. Huy Fong's pepper supply comes from local farms within hours of the factory and, according to Christy, the peppers are ground within hours of being picked.
The intricacies of Sriracha sauce creation don't necessarily make for the most riveting reading⎯peppers are sorted, washed, crushed, and bottled after salt, vinegar, and preservatives are added. What is stupefying about the tour is the scale of everything.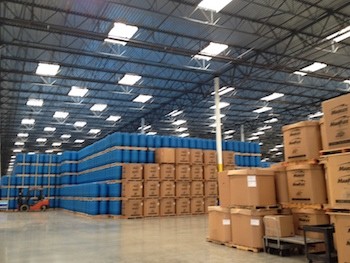 The massive ceilings, the endless banks of blue barrels, the mechanized trill of plastic bottles being molded, slapped with logos, filled, capped, boxed, and wrapped in plastic, all in a facility that's roughly the size of the Barclay's Center in Brooklyn.
The day before Tran and I met, Taco Bell confirmed rumors that it was a launching a special Sriracha menu, which would feature some of its most beloved items gussied up with the popular condiment. Almost all of the reports about the franchise's new menu featured pictures of Huy Fong bottles or referenced the "Rooster sauce" and its cult following. But as it turns out, Huy Fong isn't partnering with Taco Bell; instead, the brand is making its own Sriracha sauce in-house. Contrary to popular belief, not all Sriracha is Huy Fong Sriracha even if, ahem, it comes in a clear bottle with a green cap.
"I feel sad that Taco Bell has that menu," Tran told me.
"Sriracha is a generic name for a town in Thailand," Lam added. "So when you hear 'Sriracha this' and 'Sriracha that,' it's not necessarily ours. We're just the best known Sriracha."
Both Tran and Lam lamented the exclusion, saying that the company doesn't seek royalties and only wants their product be used. For a company that has never advertised, the more publicity for Huy Fong, the better.
"For us, it's a disappointment if people think it's our product," Tran said.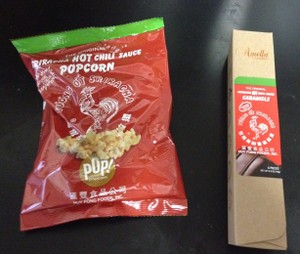 Like the others who took a tour of the Irwindale plant, I had the opportunity to sample some of hybrid products from companies that had teamed up with Huy Fong, such as POP!, the gourmet popcorn purveyor, and Amella's caramels. With hot sauce among the fastest-growing American industries, more such products are likely on their way.
Before I left the factory, I was given a survey in which I was asked to provide general comments as well as disclose if I had suffered any respiratory irritations from the tour. Standing over a few open barrels of sauce, I had found myself briefly coughing. Lam told me that the reaction was pretty common, adding defiantly, "we do make hot sauce here."
Nevertheless, there was one bit of fan feedback that had caused Huy Fong to change course. Following a number of complaints, the factory finally added a gift shop.