The Company That Tested Pumpkin-Spice Foie-Gras Mashed Potatoes
And other tales of the popular synthetic flavor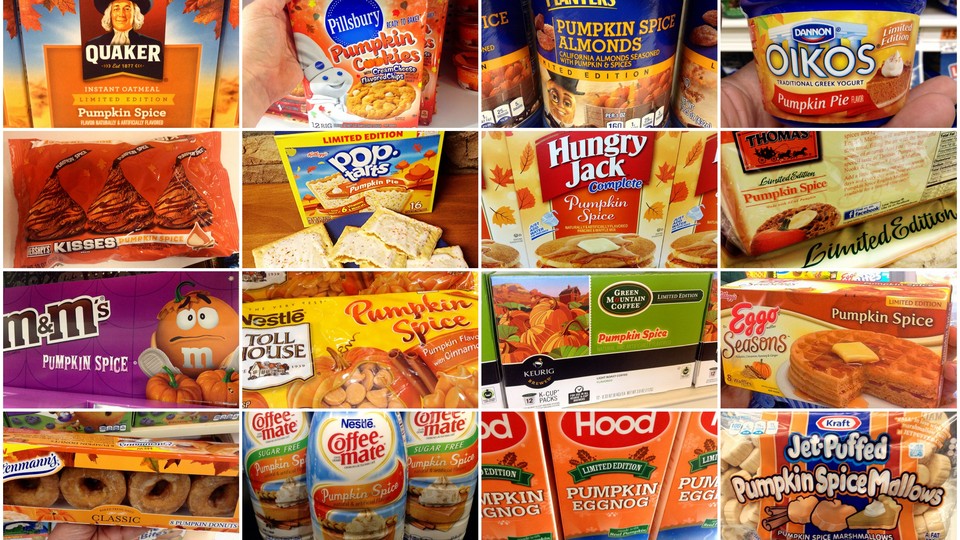 Late in August—early for fall, I thought—I stood dutifully in line at Starbucks with a friend as she awaited her first pumpkin-spice latte of the season. Once she had it, she offered me a sip. The drink didn't remind me very much of pumpkins. So what was it? Nothing homey or autumnal here: just lactones, ketones, cyclotenes, vanillin, and pyrazines.
The flavoring, despite the cozy simplicity it evokes, is divisive. It definitely has its followers: Starbucks' pumpkin-spice latte has been estimated to bring in as much as $80 million per year. Many of its devotees have even been inspired to attempt at-home replication. At the same time, it's reviled by natural-food activists because of its long list of synthetic ingredients. But for all the debates about the syrup's merits, little is known about the industry that produces it.
For starters, where does it come from? Starbucks sells a "Pumpkin Sauce" on its website that's meant to be added to coffee at home, and it's made by an Illinois-based flavoring company called Fontana. A spokesperson for Starbucks insisted that the pumpkin-spice syrup in stores differed from the "sauce" offered online. Fontana never responded to my interview request, and Starbucks wouldn't agree to put me in touch with, let alone identify, their supplier. Dunkin' Donuts was similarly tight-lipped.
Connoisseurs may disagree about the legitimacy of these various pumpkin-spice flavorings, but they all have their origins in the same place. Traditionally, "pumpkin spice" refers to the spice mixture accompanying pureed pumpkin in pumpkin pie—a combination of ginger, cinnamon, nutmeg, and clove. "Pumpkin spice," as a concept, has morphed from this mixture to an artificial flavor that's concocted in a lab and then mass-manufactured.
The New Jersey-based Flavor and Fragrance Specialties, Inc., is one such manufacturer. The company produces many different flavorings for all sorts of companies, many of which prefer confidentiality. Flavor and Fragrance Specialties makes pumpkin-spice essences that can be tailored to soaps, candles, perfumes, cakes, butters, and pasta, among other products. This year, the company tested out pumpkin-spice foie-gras mashed potatoes.
Flavor and Fragrance Specialties began producing pumpkin-spice flavoring in the 1990s at the behest of coffee shops looking for a seasonal sales boost, said Dianne Sansone, the company's director of technical services. Sansone has overseen the scientific side of developing a range of pumpkin-spice flavors over the years.
Different products demand different pumpkin-spice compounds, she told me. "With coffee, is it a brew basket or a single-serve concept? Is it a direct addition or a finished version, like a latte?" Sansone said. "[For a latte], it could be creamier, but for skincare, we could have something more spice-forward, with ginger, nutmeg, and clove. For fragrances, you're working around alcohol, which dictates the formulation chemists work with." She went on: "Spice is not wearable, and you don't want to smell like a pumpkin pie. But married with vanilla and more like a brûlée? Yeah."
Michele Fitzgerald, Flavor and Fragrance Specialties' director of marketing, told me that in the end, it's about what the consumer expects in a pumpkin-spice product, even if that doesn't involve very much pumpkin or recognizable spice. "Most customers desire everything to be natural and derived from spice, but the majority of products are natural and artificial flavors using spice oils and spice-oil resins," Sansone said. "There's very little pumpkin and often none at all. Using actual pumpkins is the exception." She adds: "Have you ever tasted a pumpkin out of the can? It's a squash and has no flavor!"
However, she says, as unnatural as things like lactones and cyclotenes sound, some of these are just as natural as actual spices. "Vanillin can be found naturally—in nature, it's 10 times more expensive," Sansone said. "Sometimes people have this fear factor of things being produced with chemicals. But the chemical makeup is the same, it's less expensive, and it's more efficient in a laboratory." Flavor and Fragrance Specialties would love to figure out a cheaper recipe, but that's difficult given consumers' expectations of flavor and scent.
It turns out American consumers' expectations aren't aligned with those from other parts of the world. "We were doing research into Starbucks going into other countries and people who travel a lot," Fitzgerald said, noting that Canadians aren't nearly as interested in pumpkins, despite their proximity to the U.S. "American customers expect to see pumpkin spice in other countries when they go abroad, but it all goes back to Thanksgiving. [Other countries] don't have Thanksgiving, but we do." From a marketing perspective, the American conception of autumn gets lost in translation.
Staying ahead of pumpkin-spice trends requires quite a bit of planning, and is a year-round endeavor. Developing the right packaging, coloring, and flavor can take six to eight months. It may not seem like consumers have an appetite for any more pumpkin-spice products, but Flavor and Fragrance Specialties still gets requests from companies eager to capitalize on the trend. "I think there's still growth," Fitzgerald said.
Whether there is room for growth or not, it's certainly the case that there's demand for pumpkin-spice products is really high. A black market for pumpkin-spice syrup has formed on eBay, where devotees sell jugs of the viscous flavoring for as much as $100. Hugh Merwin, an editor at New York Magazine's Grub Street blog, recently chronicled his adventures acquiring the highly prized syrup and then dousing all of his food in it for two days.
"Around March or April," Merwin told me, "I noticed there was a subculture of people who will alert people with Starbucks locations that still have pumpkin-spice lattes." When he began studying the subculture dedicated to the pumpkin-spice latte, he noticed listings for the flavored syrup on Craigslist and eBay.
Not long after August's unveiling of pumpkin-spice products, Merwin told me, jugs were popping up online—smugglers weren't waiting until the off-season to sell. The containers appeared authentic, and weren't limited to the Starbucks variety. Dunkin' Donuts is fast becoming a competitor in the quasi-illegal online pumpkin-spice space—its jugs tend to sell for only a smidgen less than Starbucks'.
The provenance of the goods sold on eBay, though, is unclear. One of Merwin's inquiries—sent to an eBay seller that went by "californiasuns"—was met with a rambling, whimsical response. "The game of acquisition & liquidation is strung together with many parts and avenues," the user wrote, before going on to say, "We are law abiding, and as such we do not partake in unlawful acts."
Once Merwin secured a container of Starbucks' syrup, he compared the ingredients to the ones in the Fontana product sold, legitimately, online. The biggest difference he found is that Fontana's product contains corn syrup and potassium sorbate (a preservative), both of which are absent in Starbucks' in-store product. Otherwise, the two syrups looked similar.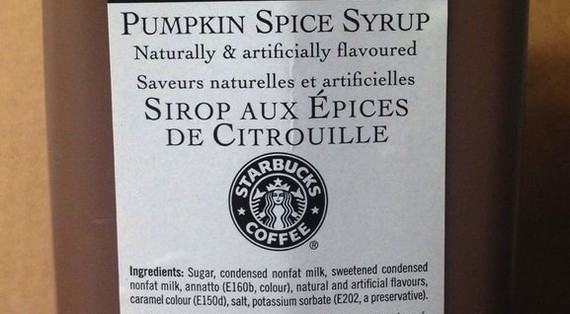 "I don't know if it's the only difference," Merwin said, noting that both products also have the vague terms of "natural and artificial flavorings," which could encompass a variety of ingredients. "I haven't tasted the two side by side." (Online, verdicts vary on whether the taste is the same or not.)
One reason pumpkin-spice products sell so well is that people respond frenetically to anything that's labelled "limited time." Gingerbread-flavored drinks, Peeps, and McDonald's Shamrock Shakes all owe some of their success to this pattern. Despite this, the people behind the pumpkin-spice latte supply want to make it little less time-limited: "We're pushing the season forward—this year, we started on August 20," Fitzgerald noted. "But I don't think we'll go into July. That's summer."