The Chipotlification of American Fast Food
How trends from the fast-casual craze are trickling down into the struggling fast-food universe
On Wednesday, Taco Bell launched a new mobile app that allows its customers to order and pay for their meals from the clinical distance of a smartphone. An app user would then be able to skip the line and pick up his or her "fourth meal" (Taco Bell speak for "snack") upon arrival. The app even offers special deals and saves customers' favorite orders and payment settings, neatly kept for future bingeing.
The publicity rollout for the app employed typical Taco Bell panache⎯the company downed its own website and blacked out its entire social media presence in promotion of the Live Más app.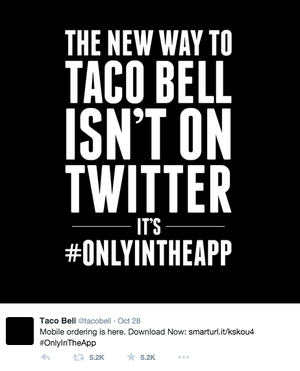 This funereal effect seemed to imply that Taco Bell was being reborn through its app. The video announcement was no less messianic.
The Live Más app will "reinvent the way we interact with consumers," said Taco Bell resident disruptor Jeff Jenkins, who likened the revolutionary particulars of the app to the invention of the drive-thru window.
The app would also "unlock the Taco Bell kitchen," "deliver experience," "innovate," and cure "menu anxiety," that worrisome sense of urgency to order quickly when someone is standing behind you.
Ordering ahead of time is a sweet perk, but as I downloaded the app and was immediately struck by its slick, pavonine orgy of light, I came to realize that the biggest development here isn't the convenience of ordering ahead or being privy to insider deals. It's the new ability to customize your order, which is reflective of a larger trend in fast food.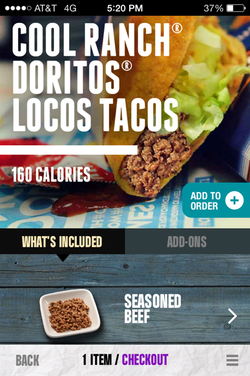 Earlier this fall, we noted how Millennials are spurring the fast-casual craze, which has become the fastest growing segment of the restaurant industry. The fast-casual standard-bearer has been Chipotle, which, in addition to using locally sourced food, also allows consumers the chance to customize their meals. Ditto for the hamburgers at places like Five Guys. Millennials have demands: Sometimes, it's spicy and mild hot sauce, other times, it's a burger with A1 and caramelized onions.
Customizing a meal at Taco Bell, however, has never been an option. Moreover, to stand in line and ask for different toppings on relatively uncomplicated food items seems quite the opposite of Taco Bell culture. Until now.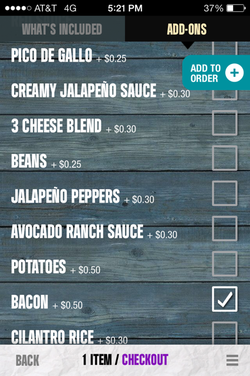 Using the app, I set up one of the staples of my normal Taco Bell regimen, which involves the Cool Ranch variety of the infamous Doritos Locos taco. But suddenly, I had options. Options I never (perhaps out of self-preservation) even dreamed of. I could add rice, a bevy of different sauces, and even potatoes to my Doritos Locos taco.
Suddenly, my eyes trained on the option to add bacon. And so I did. Next, I ordered a Cheesy Gordita Crunch, a standard in the repertoire of life expectancy stunters, but with extra lettuce and some onions added in. With one drop-down menu, decades of my Taco Bell life had changed.
Taco Bell isn't the only restaurant tinkering with customization. On Wednesday, McDonald's, which has been struggling mightily (especially with the younger set), announced that it was using San Antonio as a market to test a new menu that, as the San Antonio Express reported, "lets customers mix and match individually priced entree orders with different side options, instead of the typical fries and soft drink. Alternatives include a side salad, sundae, three cookies and more." Meanwhile, starting in 2015, another McDonald's program in Southern California will allow consumers to pick different buns and toppings for their burgers by using a touchscreen.
As fast-food restaurants adapt to the rise of fast-casual and contend with their own public relations headaches, customization seems to be the quickest shortcut to stealing some of Chipotle's thunder. My order confirmed, I made my way to the nearest Taco Bell, one of the most chaotic outposts imaginable, just off of Union Square in Manhattan. A few blocks shy of the store, I tapped the app to let Taco Bell know I was making my run for the border.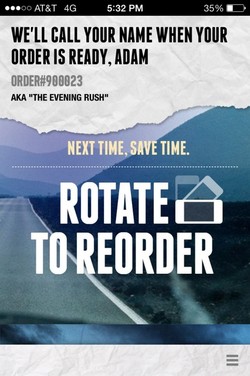 When I arrived, with great entitlement, I skipped the line and waited dutifully for my order to appear. It didn't.
After about 10 minutes, I went to the counter and told the cashier that I had ordered a meal using the mobile app. A fruitless few taps on a computer screen and the waving over of a manager later, it was explained that the mobile system wasn't quite working for them yet and that they were very sorry.
Then they asked me for my order, which was scribbled out on an old receipt.
"You said you want bacon on a Doritos Locos taco?" the cashier asked. I guess I did, but I had never wanted to say it aloud.