Shopping for Secondhand Graves on Craigslist
Some burial-plot owners are selling online, as the price per square foot in New York cemeteries is nearly double that of buildable land in Brooklyn.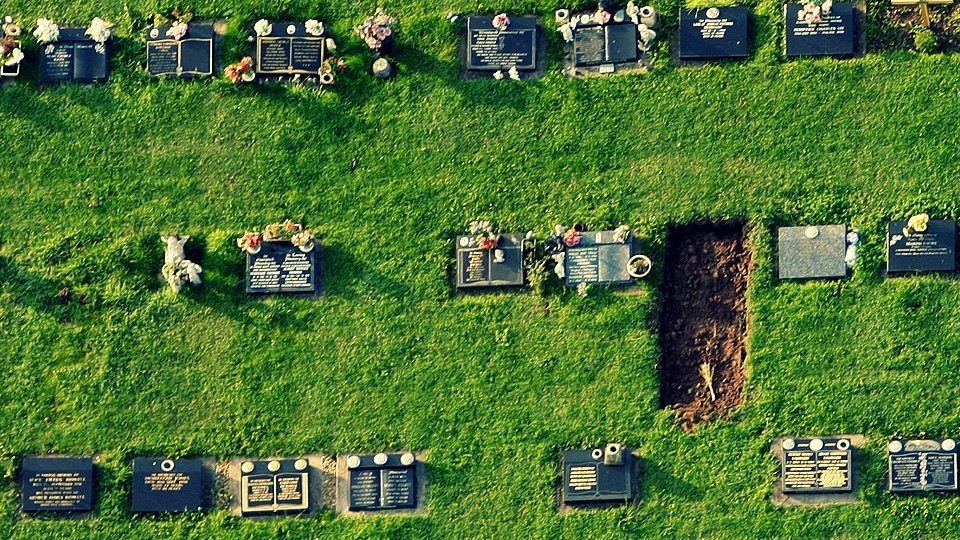 There is a burial plot in St. John's Cemetery in Queens, New York, where a one-year-old boy who succumbed to disease was buried 61 years ago. Now nothing is left but a patch of grass and the soil under it. The headstone has been removed and both the casket and the remains within it have disintegrated.
The deceased boy's 61-year-old brother, who asks not to be named, tells me he is now looking to sell the three-person burial plot—the other two spaces originally intended for him and his mother—for financial reasons. The brother says that New York's unforgiving economy, along with his own well-intended but poorly-timed business decisions, left his family in need of more money.
It starts off like any classic New York real estate story. There are rising land costs, limited space, and fading opportunities to buy, hold, and sell at a profit. There are independent sellers, professional and amateur brokers, and major institutions behind it all.
In the case of burial plots, the sellers are families and individuals reconsidering what to do with their bodies after death, the brokers are mysterious men running ads on Craigslist and other sites, and the institutions are St. John's, Green-Wood, Woodlawn and Pinelawn, along with other graveyards in and around New York City. A spokeswoman for St. John's, a 243-acre Roman Catholic graveyard, tells me the cemetery allows individuals to transfer deeds to a burial space in situations where the individuals have complete ownership, but does not view the transactions as sales—even if they are.
Craigslist New York alone reveals more than 35 burial plots in the Greater New York area, including parts of New Jersey, put up for sale by individual owners in October. The plots for resale on Craigslist New York and other sites, including
Grave Solutions
and
Final Arrangements Network
, run between $1,500 a grave and $11,000 a grave. Secondhand mausoleum crypts run between $8,000 and $14,000. More than half the ads explicitly say they are looking to offload burial space due to a move to a warmer, and more retirement-friendly, state.
"I live in Florida and will not use them," one ad reads.
"Looking to sell 4 graves," reads another. "No need for them since moving to Florida."
Some skip the "why" of it all together. Some say they are doing so for financial reasons. And like all taboo subjects, some sellers are not up for chatting, while others are happy to, with a few sales pitches tucked in.
"Are you sure you don't want to buy it?" Suzette Hagen, a 59-year old Long Island native now living in Henrico, Virginia, asks me over the phone. "It's in a beautiful spot in the shade."
I called Hagen after seeing her Craigslist ad for a burial plot for two at Pinelawn Memorial Park and Garden Mausoleums in Farmingdale, New York. At the time, she was one of 12 people selling secondhand burial space on Craigslist.
Hagen's plot has a $7,500 price tag and notes that she's "willing to negotiate within reason." Hagen declined to say how much she paid for her two-person burial space when she agreed to purchase it in 1987, but notes that the price of burial plots in the area have tripled since then.
"You know, it's going to cost you about three times more by the time you're ready to go," she says with a laugh when I tell her I am 33 years old, and not looking to buy.
Hagen was laid off from her job of seven years at a church in Virginia in 2011. She bought the two-person plot in April 1987 as part of a larger family purchase at Pinelawn.
"Most of my family is buried in Long Island. I've got my grandmother and grandfather in Pinelawn, in that plot I was supposed to be buried in, and my mother is in Calverton out on Eastern Long Island," she says. "That's a lot of traveling. But I don't feel that they are actually there. All it is to me is a concrete vault with a name on it. The cheapest and easiest thing is to cremate me and throw me over the ocean."
Her list of reasons for selling the space include: not having to share the space with certain relatives in the afterlife, letting go of distant property, and bringing in some extra money.
"Originally I thought I was only allowed to sell my burial space for the same price I paid for it," explains Hagen. "I later found out that I could sell it for as much as I want to and I realized Pinelawn's prices had gone up."
Some ads on Craigslist are downright cryptic. For example, some sellers will list a grave as "new." Brokers and individuals I called for this story claimed to be doing a favor for a friend or a client. For every call, the bottom line is: are you buying?
Another important question is: How legal is all of this? According to New York state law, the right to use a burial plot may only be sold or transferred by the cemetery that the grave is at. The law applies to all not-for-profit cemeteries in the state, such as Pinelawn, but not to cemeteries owned by religious corporations, such as St. John's. There's some wiggle room for grave sellers, though.
"That doesn't mean that these people are acting unlawfully," says Richard Betheil, a partner at the New York law firm Pryor Cashman LLP who advises cemeteries on legal matters. "If the cemeteries have not objected and the graves were first offered for repurchase to the cemeteries, any of these individuals can act as they are doing."
"However, it's equally clear that there has been a substantial market for graves made improperly," he says. "The cemeteries find it very difficult to police this."
According to Lewis Polishook, director of the New York Department of State's Division of Cemeteries, if a sale of a burial plot is made without first offering it to the cemetery, the cemetery may refuse to issue a deed to the grave or otherwise recognize the new owner.

Polishook, who oversees the regulation of cemeteries, says to his knowledge no attempts to resell grave space in New York have led to direct penalties in the last five years. Any such cases would fall under the jurisdiction of the state attorney general's office or local law enforcement. A spokesperson for the Office of the Attorney General also confirms that the New York's legal officials are not aware of any secondhand grave sales leading to a recorded violation in recent years.
Nonetheless, some of these secondhand grave sellers may be initiating scams, knowingly or unknowingly. Among them is one seller looking to offload two burial spaces with one occupied in Kew Gardens, Queens, for $2,000.
"Would I be surprised that someone would attempt to sell an occupied grave?" says Betheil. "That doesn't surprise me at all. But I think I see more of a scam on the purchaser, who may find after purportedly purchasing a grave that he really doesn't own anything—that the cemetery's not going to honor it."
And what of the buyers? Is anyone actually interested in acquiring a new or second-hand grave online? Hagen and the several sellers I spoke to who asked to remain anonymous all say they have yet to get an offer from a serious buyer.
Still, the incentive to sell secondhand burial space in New York is clear. While most of the graves for sale on Craigslist and other venues are priced below market rate, nearly all of them are priced higher than what the cemeteries would offer to buy back the space. The return from selling back to a cemetery can amount to few hundred dollars.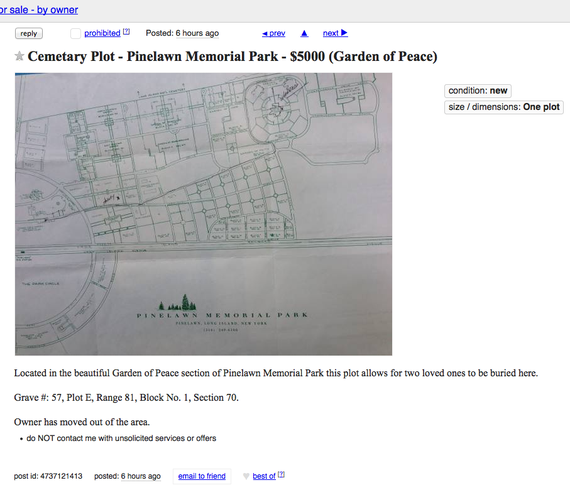 At Green-Wood Cemetery in Brooklyn, market-rate prices start at $12,000 to $14,000 for a three-person grave and go as high as $320,000 for a private mausoleum site. The cemetery does not sell space for fewer than three people, according to its sales offices. At Woodlawn Cemetery in the Bronx, prices start at $6,000 for a one-person grave and go up to $75,000 for a private mausoleum for two. Among its most expensive offerings, Woodlawn houses a nine-crypt mausoleum valued at $4.5 million. And at Pinelawn Memorial Park in Long Island, prices start relatively lower at $2,700 for a grave for one and go up to more than $10,000, depending on the location. Mausoleums for two at Pinelawn run between $8,600 and $35,000.
Compared to those market-rate values, the buyback prices for graves point to why some might look to resell via Craigslist and private brokers. According to state law, once a cemetery has passed up on an offer to repurchase a grave, there is no limit to the price one can legally charge a potential buyer. At that point, it becomes a free-market property like a Manhattan condominium unit.
The price of buildable land in New York's trendier neighborhoods has in some cases tripled in the past five years, according to Robert Knakal, chairman of the real estate services firm Massey Knakal. Those prices, as of mid-2014, averaged $500 in Manhattan, $163 in Brooklyn, $148 in Queens and $55 in the Bronx per buildable square foot.
The average grave size is 2.5 by 8 feet, according to the International Cemetery, Cremation and Funeral Association. That equates to $300 a square foot for a standard grave priced at $6,000.
As burial space in the denser parts of New York becomes increasingly limited, further increases in grave and mausoleum prices are about as certain as death itself. In August 2010, The New York Times reported that Green-Wood Cemetery would be forced to stop selling burial plots by about 2015, due to a dearth of available space. In May 2013, the 478-acre cemetery had 560,000 people interred under and within 100,000 monuments and tombs, according to the Associated Press.
Green-Wood has not yet run out of burial space, though a cemetery spokeswoman told me that its senior managers are continually looking for "creative" ways to make the most out of the space that is left.
David Ison, director of sales and marketing at Woodlawn, says the roughly 400-acre cemetery, which opened in 1863, has between 30 and 40 acres of unused land. That land, he boasts, "will take us to the year 3000 if we do it right."
Ison says he is not fazed by the reselling of grave space from one individual to another, which Woodlawn occasionally permits, depending on the economics involved.
"Anytime somebody passes away, the first thing we do is check the original owner," he says. "I review offers to sell back space sometimes weekly and definitely monthly. I go out and look at the property, look at the value of it, and see if it's something our customers would benefit from us taking back."
"The way the law is set up, there are a series of trust funds that cemeteries are required to establish to which a percentage of the grave sales go," Betheil tells me. "Those funds are intended to provide for permanent maintenance and for there to be money available when all of the graves are sold, when we're all dead and the cemetery is still here.
"The last thing the state of New York wants is for this to become a drain on the public coffers," he says. "That is precisely what happens when a cemetery doesn't have any assets—it is then left to the state or the local municipality to take it over. They desperately don't want that."
Ultimately, the burden of resold graves falls on state government and local municipalities. And if selling a grave space on Craigslist becomes too popular, the state might start cracking down on it to avoid future costs.