Making Mead in a Space-Age World
A new craft-beverage business in Allentown, Pennsylvania, benefits from its association with an incubator of high-tech businesses.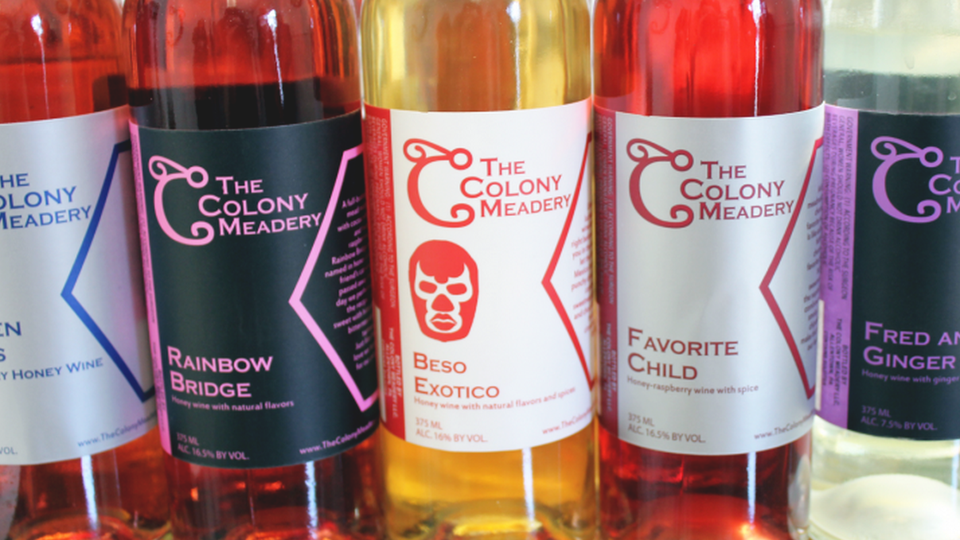 Mead: 'tis ambrosia, the nectar of the gods. It's thought to be the oldest alcoholic beverage known to humankind. People have been fermenting honey with water for millennia, making mead. It's the stuff of legend, mentions of it are woven into tales of romance, castle feasts, and the celebrations of successful marauders. J.R.R. Tolkein wrote of the years passing "like swift draughts of sweet mead." It's also, apparently, the stuff of social transformation: Anthropologist Claude Lévi-Strauss saw the invention of mead as an indicator of the passage "from nature to culture."
That's a lot of weight for any fermented drink to carry, no matter how divine! Undeterred by history or legend, two guys in Allentown, Pennsylvania, are determined to make ambrosial mead even better. And they have a growing business, doing just that.
When Jim Fallows, Deb Fallows, and I went to Allentown for most of a week in late August to report for the American Futures project, we came across a couple of small craft-beverage companies on our first day in town. I wrote about one of them last week—the HiJinx Brewing Company, which is helping Allentown stake a claim to being the craft-beer leader in the Lehigh Valley. The other is The Colony Meadery, which I want to tell you about here.
It wasn't some hankering for fermented beverages that led us to search for these two small companies. Rather, we encountered them that first afternoon on our visit to the Bridgeworks Enterprise Center, a business incubator of a sort we've seen in many other cities. Bridgeworks is housed in a building that formerly was a factory for Mack Trucks.
Bridgeworks typically has eight to 10 start-ups on site at any given time, each in various stages of incubation, many of them on technology's cutting edge. For example, one of the companies there now is ColdEdge Technologies, which provides cryostats capable of cooling almost to absolute zero—useful for applications ranging from materials research to biological-sample cooling to superconductor studies.
Another young company at Bridgeworks now is Zzyzx Polymers, which has developed a patented process to shear the chemical bonds in plastics, thus enabling the creation of new plastics with unique properties and also offering a way to overcome the otherwise high costs and material-performance problems of effectively recycling comingled plastics in the municipal solid-waste stream.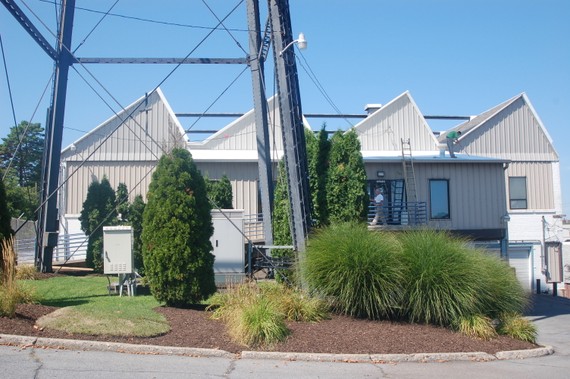 ColdEdge and Zzyzx are at the higher end of the technology spectrum. In that respect, they stand in sharp contrast to The Colony Meadery, which occupies space just a few feet down the hall from them but far away from them on the technology spectrum. The meadery relies on processes that have been around for millennia and that remain pretty much unchanged, though certainly tweaked and equipped with some slightly fancier gear than early meadmakers had available.
The popularity of mead-making is a product of the homebrew, craft-beer culture, where people will experiment with fermenting anything they can and adding whatever ingredients they can think of that might impart some intriguing new flavors. Take a look at this great riff on the subject from an article last year by Antonio Garcia in Medium, which Jim Fallows recently called to our attention:
Brewers around the world are experimenting with bizarre hybrids that have never before been attempted: Belgian-style white IPAs, hibiscus flower saisons, yerba mate ales. And the list of experimental ingredients goes on and on: coriander, orange peel, marijuana, butterscotch, palo santo, coffee, oysters (yes, really, there is a class of beer called an oyster stout), honey, crushed cherries, peaches, and on and on. You could create an Iron Chef knockoff — called Iron Brewer, of course—where contestants are forced to brew from a collection of incongruous ingredients (smoked salmon, alfafa root, lemon zest, malted quinoa, masala curry powder), and they'd concoct something drinkable, as often as not, maybe even good.
So true. And it turns out that lots of people are finding honey—not hops and barley—to be a preferred base for that kind of playful experimentation. To me, the number of mead makers out there is surprising. There are hundreds. Take a look at this Esri map from the website of the American Mead Makers Association. It was assembled by Jordan Atkins and purports to show all the mead makers in the United States, at least up through August of 2013 (you can zoom in or out, pan around, and click on the individual dots to see information about each meadmaker):
In August, I interviewed the two guys who own and operate the Colony Meadery in Allentown—Mike Manning and Greg Heller-LaBelle. Just a week earlier, their company had won national honors, including the first "Commercial Mead Maker of the Year" award at the "Mead Free Or Die" competition held in New Hampshire. In addition to taking the top prize, Colony Meadery took home five of the nine awards. Impressed by their accomplishment, I wanted to know the story of their young company and how they achieved such early success.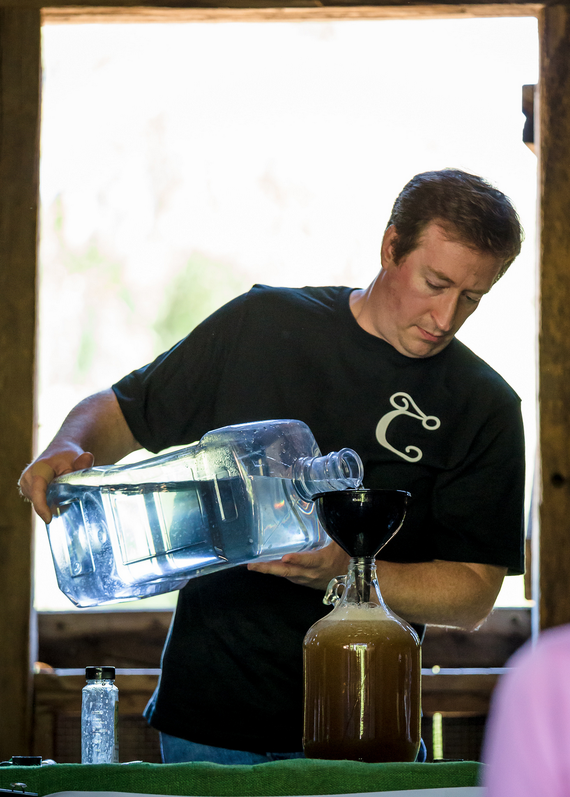 Mike Manning got into home-brewing beer in 2002 and, like many others, he gradually experimented with fermenting other things. In 2008 he decided to try making mead. He made a five-gallon batch with a friend and has been hooked on making mead ever since. Four years later, he met Greg Heller-LaBelle at a beer tasting. Manning had brought some of his lime-and-mint mead to the tasting. Heller LaBelle thought it was fantastic and suggested that Manning start producing it commercially. Manning demurred. Over the course of several months, Heller-LaBelle kept approaching him about launching a company. Manning kept resisting, saying, "Look, I just want to make and enjoy mead." But Heller-LaBelle kept after him and Manning finally agreed to let him do a business plan. Soon, they were off and running.
When I asked Heller-LaBelle what one of their biggest obstacles or hurdles has been, he replied: "Probably the fact that there's so much bad mead out there. And if people have had any of that, they don't want to try ours." But he says, "The quality of mead is improving steadily because we're all learning what you have to do to get it right. It's benefitting from the craft-brew culture, where people believe in helping each other—from thousands of amateurs performing experiments in their basements and sharing their results over the internet, with forums and listserves and chatrooms. People will write, 'Hey, I tried this—x, y, or z—and it worked really well.'"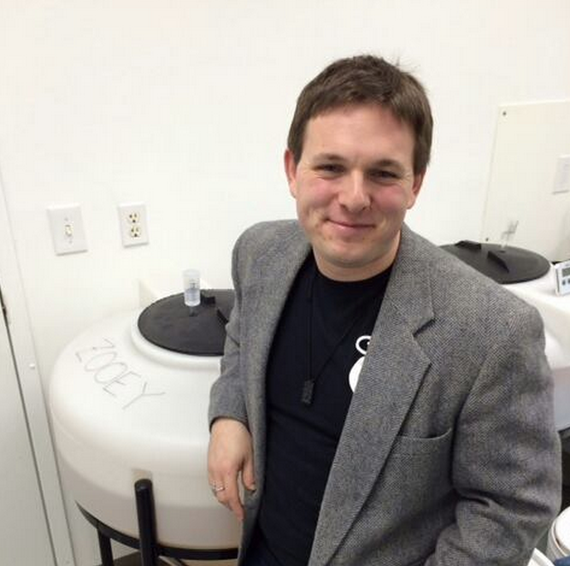 I learned from Manning and Heller-LaBelle that making mead is tricky for many reasons. For one thing, honey fermentations are very low in nitrogen—an important nutrient for healthy yeast. The quality of the water is also important. So is the geometry of the equipment. And so is temperature-control: You have to keep the yeast cool. And you have to stagger the addition of nutrients to the yeast. You also have to 'de-gas'—that is, take the CO2 out of the mead by stirring it. They use drills with stirrers attached to keep the contents moving.
In the back room of the meadery, beyond the storefront and tasting counter, rows of plastic vats line the walls. These fermentation tanks are where the honey, water, yeast, and nutrients are working their magic. Insulated covers on the vats have coolant running through them to help keep batches cool. "If it gets too warm, the fermenting mead starts to smell like jet fuel," Manning said.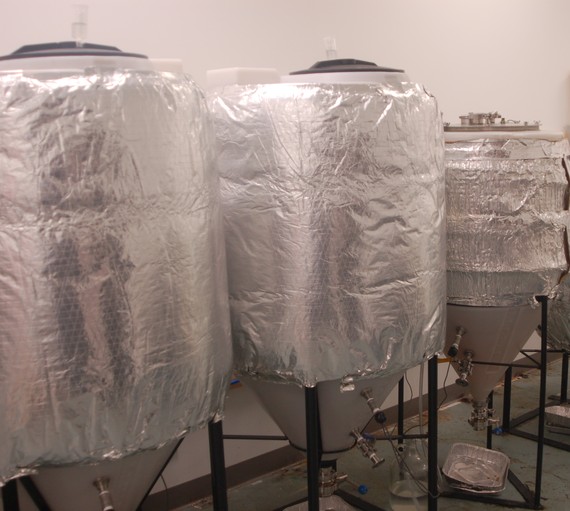 Manning said it's actually more cost-efficient to make mead commercially than it is to make beer. "There's a lot of waste in brewing beer. It takes a lot of energy, and it takes longer in terms of brew days. With mead, the product turns around faster."
Even so, there aren't many commercial meaderies in the United States. Pennsylvania, for example, has only a few others—Apis Mead & Winery outside Pittsburgh, Laurel Highlands Meadery in Herminie, and Stonekeep Meadery in Berks County.
The Colony Meadery uses orange-blossom honey from New Jersey for their products' base. The honey is made through migratory beekeeping: The New Jersey orchards drive the hives to orange groves in the South. This honey is the meadery's most expensive ingredient, followed by the fruits they use. Their preference is for fresh local produce and ingredients. For most of the blueberries, strawberries, and raspberries they use in various meads, they rely on a berry farmer in the next county over. But when they make up a batch of their Piña Co-Me-Duh, it's not easy to locally source the 15 pounds of pineapple and 20 pounds of coconut that go into each batch.
These guys are not timid in their experimentation. Their Beso Exotico "combines the sweetness of honey and chocolate with the spice of cinnamon and cayenne;" their Pikwant Field is flavored with a blend of strawberries and kiwi; The Earle combines Earl Grey tea and garden herbs. They produce more than 20 different flavors, many of them seasonals and limited releases.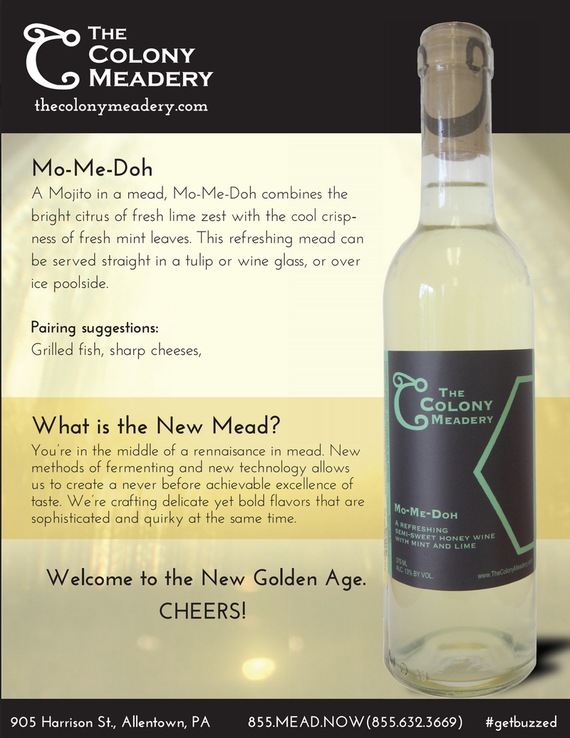 I tasted almost all of the meads they had on display at their tasting counter. None of them has the heaviness or thickness one might expect of a beverage made from honey. Some are surprisingly dry; most of them are light and crisp with a little bit of sweetness and the taste of whatever fruit has been added. The flavors are bold and distinct, as with the pepper and cinnamon in the Beso Exotico. One of their most popular is a flagship mead, Mo-Me-Doh, "a refreshing semi-sweet honey wine with mint and lime." It was all that; both the mint and the lime really popped.
Manning and Heller-LaBelle have been at Bridgeworks since October of 2013 after spending 14 months completing all the federal, state, and local paperwork needed to get an alcohol-related business started. "Starting a business in a regulated industry will stoke one's libertarian coals," Heller-LaBelle told me. He went on to explain that a meadery in Pennsylvania is hampered because of state laws and the state-run liquor store system. Only wine and spirits can be sold in Pennsylvania's state stores. But it's a long and arduous process to get the state to accept new products. And because state law considers mead to be a wine, it can't be sold by the bottle at beer stores, even though their market is traditionally beer drinkers. It's a Catch-22ish situation. And a paradox that they find it much easier to get their product distributed in nearby New Jersey than in their own state.
Even so, Colony Meadery is managing to grow. They released their first meads to the public in January of this year. By August, their revenues already were "far exceeding" the expectations they laid out in their business plan. And the owners are steadily expanding Colony Meadery's presence at bars and restaurants in eastern Pennsylvania and in New Jersey. They expect to produce 2,000 gallons of mead in 2014.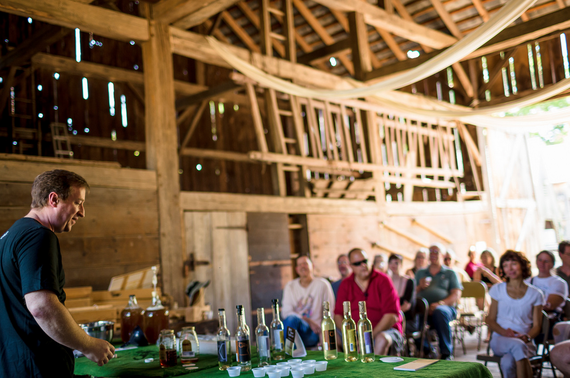 Naturally, Manning and Heller-LaBelle are delighted to have won big in recent national competitions. "It gives us validation," Heller-LaBelle said. And, like their Bridgework neighbors, the HiJinx Brewing Company (profiled earlier here), Manning and Heller-LaBelle believe that a small craft-beverage maker can be an agent of change. "That was true here [in Bethlehem]," Heller LaBelle said. "Bethlehem's post-industrial turnaround began in 1998 when Fegley took on the risk of taking over the old, abandoned Orr's department store at the corner of Main and Broad and created the Bethlehem Brew Works. The Fegleys did this at a time when people weren't opening brew pubs. But they took that risk and it paid off. That was the beginning of Main Street's turnaround."
Who's to say what kind of turnaround The Colony Meadery and its brethren might instigate? Thirty years ago, when Jim Koch became "the Steve Jobs of beer" by founding the Boston Beer Company and kickstarting the craft-beer movement, few people would have imagined the scope the craft-beer industry would eventually attain. Maybe 30 years from now, people will be marveling at mead's spread as a bold, innovative, local craft beverage. It's one of the oldest beverages in history, so we already know it has staying power.
Manning and Heller-LaBelle aren't thinking about the place of mead decades from now. They're focused on getting a very old beverage to the American table in a very new way. "We believe in uncompromising quality, flavor, and craftsmanship," they say. They know that's their formula for success.