How Denver Leaders Pulled Off a Public Transit Miracle
Voters agreed to tax themselves for a commuter rail network. Then a budget shortfall almost doomed the whole project. Now it's on track to completion.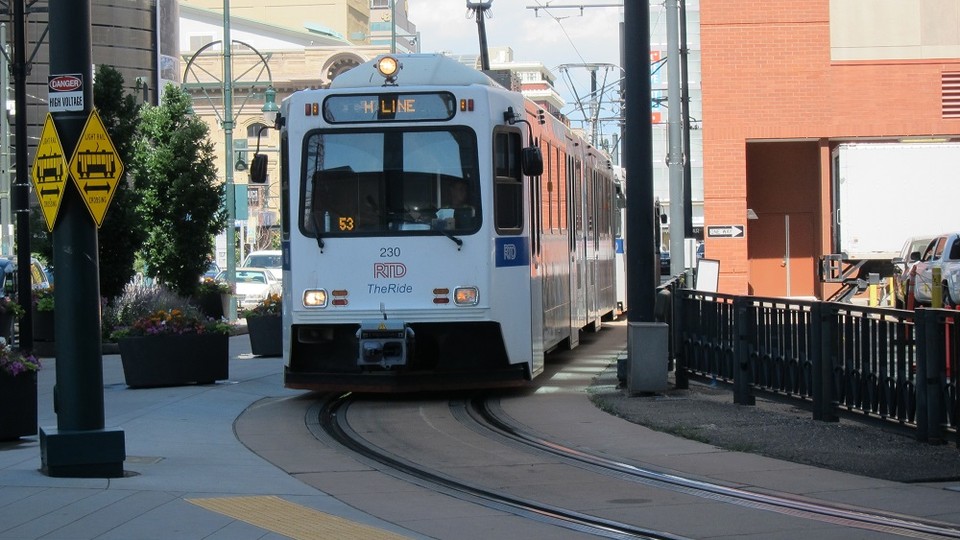 This article is part of a Next Economy series on Denver and its growing millennial population.
DENVER—Bill Sirois describes the first four months of 2007 in his office as "chaotic." The regional transit authority where he works as a senior manager had just learned that they were $1.5 billion over budget on a light-rail system that they had promised to deliver within a decade. Three years earlier, Colorado voters had approved a high-profile ballot measure to raise $4.7 billion through sales taxes to build the train system called FasTracks. Now the costs were projected to run well over $6 billion.
The money from available tax revenues might allow the rail network to be finished by 2042, internal analysts told the Regional Transportation District (RTD).
"So there was kind of like, 'Ah, what are we doing?' " Sirois remembers. " 'We got it passed by the voters, and how can we even tell them that we can't do it when we said we were going to do it?' "
The proverbial doo-doo hit the fan when the shortfall went public. Voters were understandably upset. Critics of FasTracks didn't hesitate to say, "I told you so." At one point, the cost of the project grew to almost twice the original price. The RTD manager who had planned the whole project eventually resigned.
The recession of 2008 hit not long after, which took the scapegoat spotlight off of RTD. But the transit authority was still stuck with a big rail plan and about half the money they needed to build it. They had two options. They could scrap their construction schedule and build one line at a time as tax revenues trickled in. Or they could get creative.
Bill Owens, the Republican governor at the time, wanted the first option, arguing that it was the responsible and economical way to go. Denver's mayor disagreed, arguing that the transit system was designed to bolster the region as a whole and not just the lucky areas that got their rail lines first.
The creative option won out. "The mayor said, 'No, we're going to build the whole goddamned thing at one time,' " says Tom Clark, CEO of the Metro Denver Economic Group, a regional coalition that pushed for FasTracks for more than a decade.
That mayor, by the way, was John Hickenlooper, who was also the face of the voter campaign three years earlier to raise sales taxes for FasTracks. He is now Colorado's governor and a prominent national Democrat. Hickenlooper was one of many business and civic leaders in metro Denver who viewed mass transit as the key to making the city a major metropolitan force. They didn't want Denver to be prominent just in the United States. They wanted to compete with cities throughout the world. You need people movers for that, or businesses won't locate in your region.
That principle continues to be embraced by Hickenlooper's successors. City planners say that a transit network is the only way to foster denser populations, which are critical to a growing urban economy, without snarling up traffic.
"We need to embrace a culture of transit. Not just mass transit, but you see a lot of focus on bikes, bike sharing, and the like," says Paul Washington, executive director of Mayor Michael Hancock's office of economic development. "How we develop this city is in the spirit of sustainability and verticality. So we want to be a much more dense city and grow up rather than out."
City leaders also have the future of Denver in mind. Transit is the preferred method of transportation (along with bicycles) for young adults, a group that the city has aggressively and successfully courted. Denver is a top-tier destination for millennials, according to demographers. One thing millennials don't seem to want is to own cars. Even when they do own cars, they certainly don't want to commute in them.
Aside from California, rail transit in the West is a relatively new idea. Phoenix's light rail line became operational in 2008. The Las Vegas monorail, which is only 4 miles long, came online in 2004. The culture of these cities is built on cars. Denver residents think nothing of driving a few hours to the multiple mountain resorts nearby. Throughout the entire mountain West, the rural spaces between smaller towns and large metropolitan areas are vast. Even the Denver International Airport—the metro region's pride and joy—is in the middle of nowhere. It is 25 miles from downtown, surrounded by, well, a cow field.
The driving culture of Denver suggests that an interconnected rail network was never a given here. That may be why city leaders are still awed that it is actually happening. Maybe it was the sheer political effort—from an unlikely coalition of businesses, environmentalists, and city planners—that sold Denver residents on a rail system. Or maybe it was the stubbornness of Hickenlooper and his followers in insisting that the Denver region be built up as a whole, rather than neighborhood by neighborhood.
Whatever the impetus was, it was strong. A new head of RTD, Phil Washington, took over in 2009. He plunged all of his efforts into building every line on the rail system with whatever money the agency could scrounge up. Where the funds came from didn't matter (as long as it was legal). RTD has financed pieces of the network with federal grants that nobody knew about, and other pieces by taking out a mortgage to the land assets. One small suburb of Denver offered to pony up $30 million to $40 million for a fast build-out of a rail connection to downtown, which then allowed RTD to seek matching investors.
RTD is the first transit agency in the country to successfully attract private-sector investment for a light-rail system. In the world of public-private partnerships, tolling arrangements for drivers are more common because they are profitable for the investor and beneficial to the city. Transit, almost by definition, is a revenue-neutral proposition at best and a money loser at worst. After all, the idea behind transit is to provide affordable mobility to everyone in a region, ideally to wherever they want to go, even the poor areas. That's expensive, even though the establishment of such a system can be a boon to a region's economy.
RTD managed to win the trust of a few prominent infrastructure firms by soliciting their design ideas first. RTD's Phil Washington invited a slew of business leaders to an event in downtown Denver seeking their input. Then RTD arranged the government procurement system around those ideas.
Clark says it was a genius move on Washington's part. "He calls me up and he says, 'I'm going to invite about 700 CEOs into Denver and tell them that we're wide open at RTD to monetize anything we've got.' And I started laughing and said, 'Phil, so you're trying to pimp these guys for money.' And he says, 'You bet!' "
Now, RTD has a contract with a multinational business group—part rail company, part British bank, part global engineering firm—to build the rail line to the airport. That's slated to be finished in 2016. The agreement came about because RTD accepted a bid for them to build the line in which they use their designers' vision to save money, within a set time frame, and within certain parameters. Denver committed to pay a flat fee. The concessionaire could decide how to use it. Everybody's happy.
"We're basically paying them a lease payment every year. And so they priced it. I don't know what their pricing is. They priced it, and we agreed to that price," Sirois says.
This stitched-together financing plan will allow FasTracks to be almost entirely complete by 2018, just one year after the initial projection made in 2004, before the economy tanked, before the budget shortfalls nearly sank the whole project. In the transit world, that's almost unheard of.
Clark, a self-professed policy geek, says he has spent a lot of time trying to figure out just how it happened. He hasn't yet come up with a satisfactory answer. "A lot of this is really about good things gone bad gone good. It's about the resiliency of the community."