Hong Kong Protests Are Not Deterring Visitors
Tourism to the island is up, and mass demonstrations are one of the main attractions.
Hong Kong's protest movement has brought three different neighborhoods in the city to a standstill, closed several key city thoroughfares, and caused extended closures of schools, government, bank offices, and businesses. But how much are the demonstrations—which are expected to continue while students and governments carry out settlement talks—really impacting the economy?
Chinese state-run media recently reported that "it is estimated" that the protests could cost the city HK$40 billion ($5.2 billion), without explaining its calculations at all. And a closer look at Hong Kong's economy shows that figure could be somewhat exaggerated.
Hong Kong is predominantly a services-based economy, with businesses like real estate, import/export, and finance accounting for 93 percent of the city's GDP:
---
Hong Kong's Biggest Industries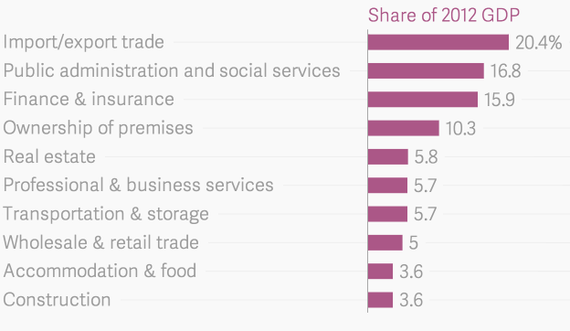 ---
The two industries that reportedly are feeling the most significant impact from the protests are tourism and retail. Together, "accommodation and food" and "wholesale and retail trade" account for just 8.6 percent of Hong Kong's overall GDP. Those figures also includes food spending by locals and the wholesale retail business, which isn't impacted by closed storefronts.
Chinese mainland visitors make up an about two-thirds of the tourists to Hong Kong, and Beijing's ban on tour groups, put in place days after the protests started, was expected to hit tourism hard. Hotels could lose about HK$100 million ($13 million) a day during the Golden Week holiday (from October 1st to October 6th), one Hong Kong hotel group estimated.
Instead, the reverse seems to have happened. Tourist arrivals during the Golden Week were 1,159,952, the Hong Kong Tourism Board told Quartz—a 4.83 percent increase from last year's Golden Week holiday, as mainland tourists poured into the city to shop, and in some cases check out the protests.
Hong Kong's retailers had a 15 to 50 percent drop on sales between October 1st and October 5th, the Hong Kong Retail Association estimated, with watch, jewelry, fashion, accessories, and catering reporting the largest drop. Some small businesses had an 80 percent sales drop, the association said.
Hong Kong's retailers may have lost HK$2.2 billion ($284 million) in sales because of the protests in their first week, ANZ senior economist Raymond Yeung estimated. The Golden Week usually accounts for half of October's sales, because of mainland visitors traveling to Hong Kong to shop, and "market anecdotes suggest that sales of the shops have declined by about 70 percent," he said. On that basis, if the protests continue to the end of this week, they will cost another HK$1.1 billion ($142 million) in sales losses, for a two-week total of HK$3.3 billion ($426 million).
On the ground, though, reports are mixed, with some stores reporting that protests are actually boosting their sales. "Selling water alone has been enough to pay the rent," one drug store owner in Causeway Bay
told the South China Morning Post
.
Hong Kong's Hang Seng Index, which covers over 65 percent of the total market cap of the Hong Kong Stock Exchange, fell a total of 2.59 percent during the Golden Week, including a Friday afternoon rally that cut the week's losses nearly in half. But since then, the market
has made up more of those losses
, rising another 0.46 percent yesterday.
That's mostly because the index is made up predominantly of companies based in mainland China. And while some of these companies lost millions in market cap, many traders and brokers in Hong Kong have been pulling in more in fees. That's because the volume of stock traded in recent days has been considerably higher than the volume traded in the past month—Friday, October 3rd's volume was approximately double that of the Friday before, for example, with 2.6 billion shares traded.
Exhibitors at Hong Kong's massive convention center, which is not located far from the main protest site, are not being hit. Sotheby's auction house is holding its annual Asia fall exhibition in Hong Kong from October 4th to October 9th. "Exhibitions are open and well attended by our clients," Esme Chau, a spokeswoman for the auction house, told Quartz. "We expect that the current situation will have little direct impact on our business."
Overall, Hong Kong economic growth has
slowed in recent quarters
, as China's crackdown on corruption curbed luxury spending in the city and the continued weak euro-zone hit exports and trading:
---
Growth Slowed During the Second Quarter of 2014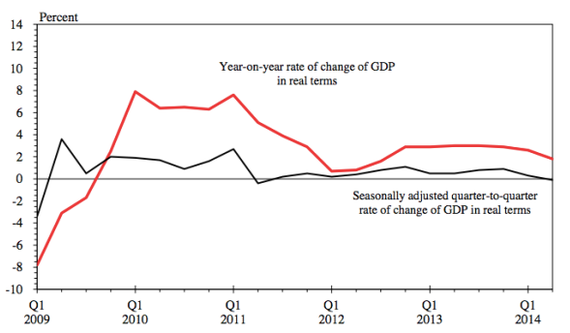 ---
There's also no doubt that Hong Kong's Umbrella movement and the corresponding road blockades are definitely inconveniencing Hong Kongers, most recently by causing massive traffic snarls. But at least for now, fears that they are crushing the city's economy seem overblown.