Job Requirements: 'Good Feet, Eyesight, and a Trim Figure'
Ah, the good old days, as viewed through 1950s help-wanted ads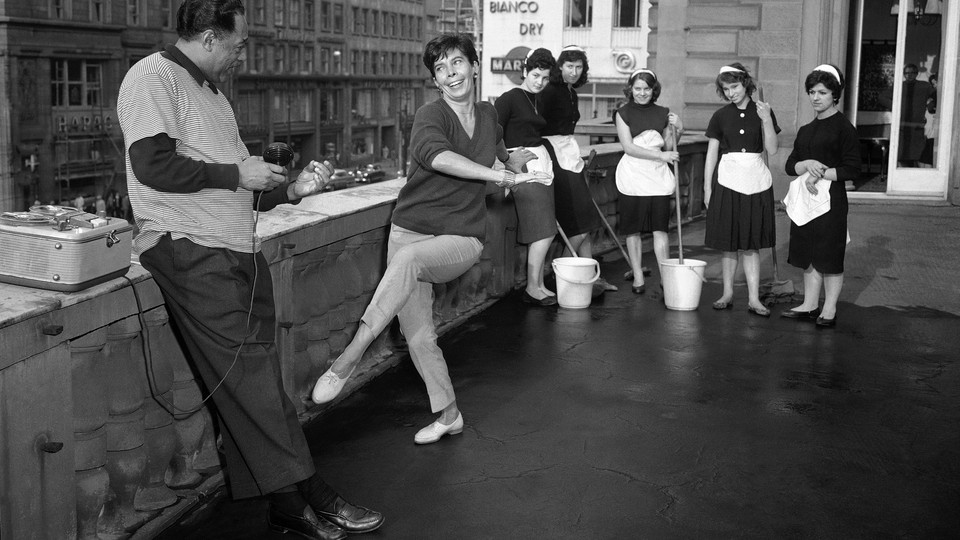 One reason the gender wage gap persists is that well-paying, male-dominated jobs are, frankly, so bro-ish.
Last year, researchers at the University of Waterloo and Duke University found that there's still a fair amount of subtle gender bias in job descriptions. Listings for highly remunerative jobs in engineering and other male-dominated fields used words like "leader," "competitive," and "dominant"—all terms that are thought to attract more male than female applicants. And indeed, women found those jobs less appealing.
But there was a time when gender bias in help-wanted ads was not only widespread, but overt. Through the middle of the 20th century, it was perfectly acceptable for an employer to target one sex or another in a job listing.
Then, in 1964, the Civil Rights Act said employers no longer had the right:
(2) to limit, segregate, or classify his employees or applicants for employment in any way which would deprive or tend to deprive any individual of employment opportunities or otherwise adversely affect his status as an employee, because of such individual's race, color, religion, sex, or national origin.
Hilton Hotels provided me with these 1950s-era job descriptions that were designed for female applicants only. To be clear, it's not that they were usually filled by women: They listed femaleness as a requirement.
The one for "Bath Maid" essentially describes someone who cleans the bathroom, including "polishes all bathroom nickel." Under qualifications, it says, "Sex: Female. Age: 23-30. Uniform: Yes." The physical requirements are "stands, walks and kneels constantly." On the plus side? "Surroundings are pleasant." Oh, and she's gotta be able to read and write.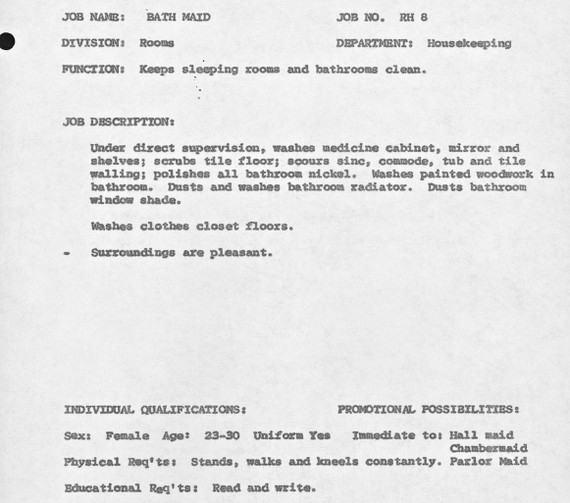 Then there's the "Chambermaid," who must be between 25 and 40 and have a "public school" education. She's in charge of tidying the rest of the hotel room.
That sounds like a cakewalk compared to the listing for "Delivery Bundle Girl," who delivers and picks up the guests' laundry.
Along with the "female" qualification, they were required to have "good feet, eyesight, and a trim figure."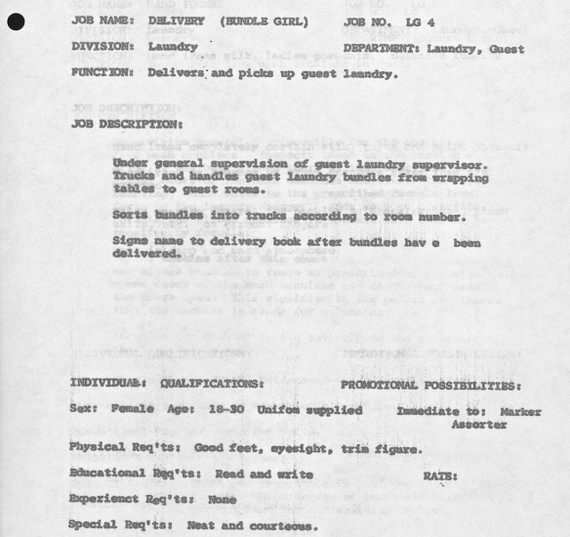 They all pale in comparison, however, to the apparent drudgery of being a "Socks Finisher," in charge of ironing and sorting the guest's hosiery. The description reads: "Irons and finishes socks and stockings by placing them on sock forms. Pairs the socks, brushes off lint, inspects for darning needed. Keeps each bundle separate to avoid mix-ups. Works in a warm, damp atmosphere."
No major experience necessary, other than femaleness and "good health." Oh, and "finger dexterity."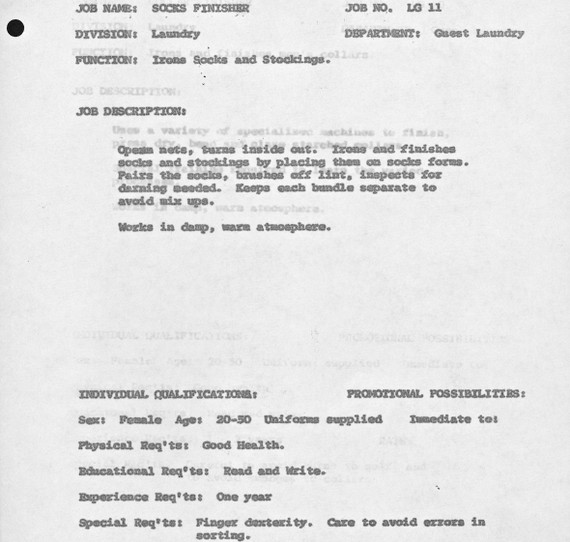 Note how the "promotional possibilities" section on each of these is conspicuously blank.
Remarkably, the gender breakdown of the hospitality world has remained largely the same since. Nearly 88 percent of housekeepers and maids are still female, and 73 percent of hotel clerks are, too.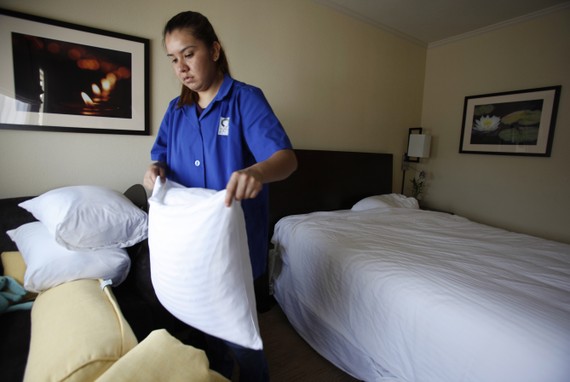 I asked Hilton what some of the most predominantly female modern-day hotel jobs are, and they said that "Personal Concierge" and "Activities Coordinator" are both 100 percent female.
According to the job description, the Personal Concierge, a position at the Hilton's higher-end Waldorf Astoria, "provides guests with a stay experience that is customized to their needs, while creating a sense of 'we've been expecting you.' The Personal Concierge meets and greets all tWs guests curbside upon arrival, or at the airport when requested or applicable. This position represents the highest level of service by combining instincts and expertise to ensure luxury through true Waldorf service."
Meanwhile, an "Activities Coordinator" will "ensure guest satisfaction by helping to organize exciting Resort and River Ranch activities. In addition, plan special functions for holidays and special events. Will handle parties and events typically less than 20 guests not to exceed $1000.00 in revenue." The only requirements listed are customer service skills and "a recreation or aquatics background."
Even without using words like "girl" and "trim figure," it seems, some jobs still draw almost exclusively women. And that, ultimately, hurts women's paychecks.