For $20 Million, a Coal Utility Bought an Ohio Town and a Clear Conscience
Today, all that remains in Cheshire are two power plants and the few people who refused to leave.
Scotty Lucas is the former mayor of a town that no longer exists. This double obsolescence seems to faze him little, which is not all that surprising considering that he has outlived his wife, one of his children, and the town he spent most of his 81 years in.
Lucas's one-story brick home, with a bass boat in the driveway and wrought-iron patio furniture, is one of the few still standing in Cheshire, Ohio. This riverside village became briefly famous in 2002, when American Electric Power, the utility that operates two large coal-fired power plants here, bought it for $20 million—a deal the company preferred over dealing with residents' ongoing complaints about air pollution.
I visited Lucas, who presided over the now 140-year-old town a few years before the AEP buyout, on a mild September afternoon, as puffy white clouds melded with the smoke and steam billowing from the nearby Gen. James M. Gavin Power Plant. Built in the early '70s, Gavin is the largest coal plant in Ohio and one of the largest in the United States. Just down the Ohio River is the smaller, older Kyger Creek plant, which has been burning coal to make electricity since 1954.
Lucas, a hospital administrator, served as Cheshire's part-time mayor from 1970 to 1998. He kept getting re-elected, he says, because "nobody else wanted to catch the flack." His successor, Tom Reese, helped negotiate the AEP buyout, which cost the utility $20 million and absolved it from any future liability for damage to the locals' health or their property. All but a handful of the town's 450 or so residents accepted the buyout; the elderly and the infirm were allowed to remain in their homes for the rest of their lives.
I asked Lucas, one of whose sons is now a foreman at the Gavin plant, if the buyout was a good thing for the town and its residents. He paused for nearly a minute.
"We were given a lifetime estate. My wife was ill, she didn't want to relocate. It was okay for our particular needs."
Lucas's wife died "inch by inch," as he puts it, of pulmonary fibrosis, finally succumbing in 2012. It's not clear whether her illness was caused by their proximity to the coal plants. "That question arose," he said. "The doctors, they wouldn't comment." And what does he think? "Naturally, it lights up. It certainly could be."
Later on in our conversation he returned to the question of the buyout's consequences. "I hate it that they uprooted that many people, especially in a place with a history like this village. It wasn't a good outcome."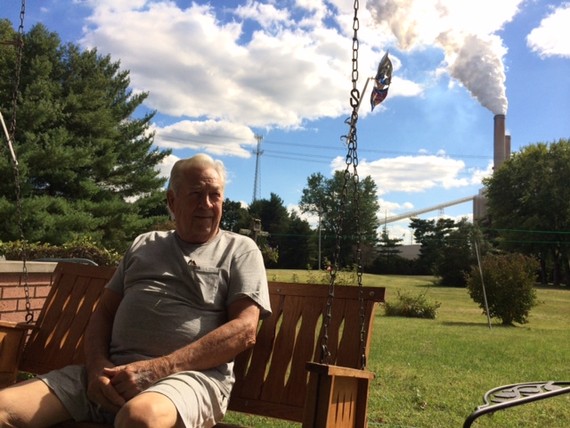 "It's not very rewarding to look back on all the work we did [before the buyout]," he said. Lucas remembers when Cheshire didn't have paved streets or running water, and he remembers working to develop the town. "We did all that. We had three playgrounds, and good schools. It was a great place to raise a family. That's all gone," he said.
The plants, though, are still there, consuming about 35,000 tons of coal every day. A gray mountain of coal ash looms above what's left of the town. AEP, though, may not have entirely escaped liability for the environmental effects of the plants: In early September a new lawsuit was filed against AEP on behalf of 77 contractors and families of contractors who worked at the coal-ash landfill. (Last week, the Sierra Club outlined plans to sue over Clean Air Act violations at the site.) Seeking unspecified damages, the contractors' complaint claims that workers were "exposed, unprotected, to coal-combustion-byproduct waste, a radioactive amalgam of hazardous constituents that pose known risks for human health." With no one left to buy out, AEP says it plans to fight the lawsuit.
* * *
Cheshire is about 90 miles southeast of Columbus, on the downstream leg of a huge S-bend in the Ohio River where Ohio, Kentucky, and West Virginia meet. This is the heartland of the coal industry. Besides Gavin and Kyger Creek, there are three other coal-fired power stations within a 50-mile radius: Mountaineer, Philip Sporn, and John Amos, all in West Virginia. Barges have carried coal down the Ohio for more than a century, and coal mines and power plants have been the major source of employment in the region since World War II. To say the least, this is not a hotbed of anti-coal activism.
But in 2000, when a bluish, sulfurous fog started blanketing the town on some days, bringing headaches, scratchy eyes, and sore throats, the townspeople started to complain. Monthly meetings between Mayor Reese, the town council, and AEP officials became acrimonious. The town hired a Washington law firm to represent it, and there was talk of a class-action lawsuit over the "blue plume," as it was known.
At the same time, AEP was coming under increasing scrutiny from federal officials. In 2000, the EPA declared Gavin in violation of the Clean Air Act. A report from the Centers for Disease Control found that sulfur compounds in the air in Cheshire were present at five times the level needed to trigger an asthma attack. Its options narrowing, the utility decided to write a check—actually, a bunch of checks. Each homeowner inside the town line would get three-and-a-half times the appraised value of his or her home. In return, they would leave town and sign an agreement giving up not only their rights to sue AEP, but their heirs' rights as well. Left behind were the few who refused the buyout and those who were allowed to stay because of age or medical conditions; everyone else had to move. The Columbus-based corporation became the owner of the town, which it bulldozed, plowed over, and sowed with new grass.
For its part, AEP made an entirely rational risk-management calculation: Pay $20 million up front to eliminate the possibility of years of litigation, and hundreds of millions in damages down the road. Not many coal plants are built next to towns anymore, and not many people have any idea where their electricity comes from. AEP just happened to have plants next to a few hundred people, many of whose families had lived in the area for generations. No CEO would be fired for making that deal. What happened in Cheshire was capitalism in its purest form.
The origins of this extraordinary deal—the question of who actually came up with the buyout proposal—have gotten lost in a tangle of myth and counter-myth. Some say the utility came up with the scheme to silence its local critics. Some say it was the mayor and the city council who sold out the town for what they thought would be a personal windfall. According to official statements, AEP made the $20-million deal not to avoid pollution lawsuits, but for "future expansion"—which has never occurred. All but a handful of Cheshire residents took the money. (Cheshire Baptist Church declined to sell, and now draws worshippers from across Gallia County to its Sunday services.)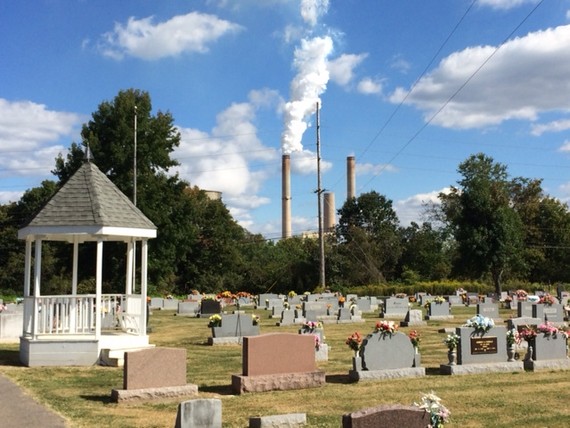 The buyout divided neighbor from neighbor, and in at least one case brother from brother. "My brother sold out," Cheshire resident Ron Cornelius told me. "It didn't help our relationship. We've mended it, though. We don't talk about it."
Cornelius is one of the few owners who refused to sell. Lanky and voluble at 74, he has a tasteful two-story brick colonial with a small swimming pool out back. Across the street is a boarded-up school. Immediately adjoining his property is a fenced-off area of dense shrubbery that hides a gravel pit that feeds the coal plants. Cornelius and his younger brother grew up playing in the river. Twelve years after the buyout, he doesn't bother to conceal his bitterness. "It really hurt me," he says.
"I spent 15 years gone from here"—Cornelius had left Cheshire to teach at a university—"and I didn't come back to get pushed around by the company. I grew up looking at these hills. To wake up and not see them…you might as well put me in the hospital," he says. "Now the town's gone but I'm still here. I've got a place out at the cemetery, and I'll be there one day."
* * *
The story of Cheshire will receive renewed attention next year, with the new lawsuits and the upcoming release of Cheshire, Ohio, a documentary by Brooklyn-based filmmaker Eve Morgenstern. Morgenstern, who has been collecting footage and interviews in Cheshire for nearly a decade, has seen her own feelings about the buyout grow more complicated over time. "It allowed people to sell their homes for a decent price that they might not have been able to get otherwise…[and] to get away from the pollution," Morgenstern told me in an email. On the other hand, she said, it gave the utility carte blanche to continue polluting, and it practically eliminated a community with a rich history.
"When I started filming, I felt the buyout was a bad thing. I could not believe that an enormous and profitable energy company like American Electric Power, located precariously close to residents, could not be held more accountable," Morgenstern said. But after she learned more about residents' long, fruitless fight against AEP, she began to understand their decision to leave.
"We've all seen how the energy industry has wreaked havoc on communities from fracking, chemical spills, and harmful emissions from coal-fired power plants," Morgenstern said. "At the same time we are all complicit in our dependence and use of coal as an energy source."
We are all complicit. This might sound like a black-and-white story: the evil coal company pushing out the simple, sturdy townsfolk. But it's not that simple. It's clear that, regardless of who actually first uttered the word "buyout," the town's leaders knew a chance to cash out when they saw it.
Terry Beebee, another retiree, lives a couple of miles up Highway 7 from the plant, on the wrong side of the road: The town limit lies just beyond his front yard, and those outside the town proper (known to Ohioans as a "corporation") were never offered buyouts. "The Cheshire people got the money, and those of us who didn't live in the corporation got nothing," he told me. He walked me to his white car and ran his finger across the hood. "See that?"  His fingertip came away with a fluffy coating of light-gray coal dust.
But not everyone resents the way things turned out. "You can't beat it," Jim Rife, 74, who grew up in Cheshire and spent 20 years living in Manassas, Virginia, before returning just as the buyout was being negotiated. Like Cornelius, Rife refused to sell. His white-frame house sits on the bank above the river. His mother, Gladys, now in her 90s, lives in the house opposite his. A flight of rickety steps leads down to a homemade dock, where Rife's fishing boat is tied up. Few days pass when he is not on the river. "It's better than it ever was. You're out here by yourself, you ain't got neighbors around you making noise. If I want to take my rifle out there to the river and shoot it, there's nobody yelling at me. I've been real pleased with it."
It appears that a few of the old-timers might actually outlive the plants. Driven by dwindling coal supplies, an abundance of cheap natural gas, and proposed EPA regulations on carbon-dioxide emissions, more and more coal plants are being shut down around the country. AEP has spent millions in recent years on pollution-control technologies such as "smokestack scrubbers" for Gavin and Kyger Creek—investments that could prove to be good money after bad. A 2009 report put out by the Institute of Southern Studies ranked Kyger Creek the 29th most-polluting coal plant in America. The dams that contain its coal-ash ponds are rated as "high hazards" by the EPA.
And even AEP, the largest owner of coal-fired power stations in the country, has taken dramatic steps to shift away from coal. Before the new EPA carbon regulations were announced, the company already had plans to retire nearly 6,600 megawatts, the equivalent of about 13 midsize coal plants, over the next 10 years. It's hard to imagine that Kyger Creek, and maybe Gavin, won't be among those. As electricity from renewable energy sources and natural gas becomes more common, and the profit margins of coal deteriorate, utility executives like AEP's CEO, Nick Akins, must deal with the transformation of a business that has operated in more or less the same fashion for a century.
Meanwhile, Cheshire's long fade into history continues. When Scotty Lucas dies, ownership of his home will revert to the company. When Ron Cornelius and Terry Beebee and Jim Rife pass on, their kids might move in, or they might not. The pastor of the Cheshire Baptist Church is leaving for another church in a more populous town, and it's not clear how Cheshire will attract a new minister. There's not much to draw anyone to the town now that there's no school and no supermarket and just one gas station and one convenience store to serve the plant workers heading home after their shifts. There's a good chance that, within 20 years, the houses will be empty and the plants shuttered. Then the buyout that started in 2002 will have reached its natural conclusion, and no one will live in Cheshire anymore.