Dating Is a Numbers Game
Sam Yagan, CEO of Match and a founder of OkCupid, explains the proliferation of dating sites and why he thinks everyone should be looking for love online.
It sometimes seems like there are as many online dating sites as there are fish in the sea. But actually, most of the services are owned by just two big companies.
The users of JDate, Christian Mingle, LDS Single, and Catholic Single may all follow different faiths, but the sites all bow to the same corporate overlord: Spark Networks.
Another company, IAC/InterActiveCorp, owns not only the older, more established Match.com and Chemistry.com, but also OkCupid, its more free-wheeling (and free) sibling*, as well as that digital Pleasure Island, Tinder.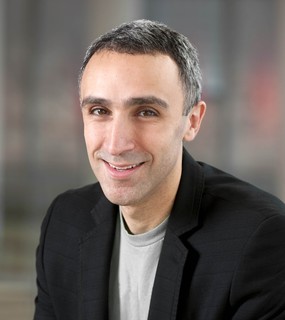 Last week, IAC announced the launch of yet another site, Delightful, aimed at people who seek love and relationships, rather than just hookups. It will be headed in part by the comedian Steve Harvey, who will serve as the brand's "Chief Love Officer."
"This is our first brand focused on the L word as opposed to other brands that focus on dates," said Sam Yagan, the Match.com CEO who will run Delighful with Harvey. "Steve Harvey developed authentic views on finding and keeping love. That appeal, combined with our know-how in this space is going to make Delightful a powerful offering in the dating category."
Before joining Match, Yagan helped found OkCupid with two college buddies. In a time when there's a specific dating site for almost every micro-demographic (Farmers! Redheads!), I interviewed Yagan about what it's like to manage so many distinct dating portals at once—and why he thinks everyone should be dating online.
A lightly edited transcript of our conversation follows.
---
Olga Khazan: What exactly is your role at Match?
Sam Yagan: We sold OkCupid to Match in January of 2011. In September of 2012, I became CEO of all of Match, which is the operating segment of IAC that contains all of the dating properties.
In terms of how I think about it in my head, all of our businesses compete in the marketplace. We haven't slowed OkCupid down. I run all the brands like cousins. You want your cousins to do well, but you want to do better. All of our brands want to win, but we certainly want to fight fair and coordinate as much as we can behind the scenes. But to the consumer we want to offer the broadest, most competitive set of products that we can.
There are things I want to do that don't make sense for OkCupid to do because of their brand or their positioning that I can do on Chemistry or on Match. Having that flexibility is awesome.
Khazan: It's been written about you that you've always had an entrepreneurial streak. Can you tell me a bit about that?
Yagan: I started my first company when I was in my college dorm as a senior with two of my really good friends. We started a company that became SparkNotes.com. You know CliffsNotes? SparkNotes is a modern-day version of that. What CliffsNotes was when I was growing up was basically what SparkNotes is now. Then I started a company called Edonkey, which was basically Napster for video. We consumed 30 percent of all the Internet traffic in Europe in 2002.
Then I started OkCupid in 2004. Those are the startups that I started. I do a lot of investing. I'm on a lot of boards. And that's why I love Tinder so much is because that scratches my entrepreneurial itch. It's awesome that in one gig, I can both work on my original baby, work on Match, which is by far the biggest brand, and still get that entrepreneurial passion with Tinder.
Khazan: Was there anything in your childhood or early adulthood that encouraged you to be more inclined toward entrepreneurship?
Yagan: I've given this a lot of thought as I've gotten older. I never had a lemonade stand, I never had a paper route. The biggest thing that I've come to is my parents are immigrants, and I really think that immigration is the ultimate entrepreneurship. Risking everything that you have for some future, speculative uncertainty. They left their family and their comfortable lives overseas and came here for very uncertain hopes and dreams. I grew up in that culture. The willingness to take risks, the willingness to think differently about your career, those were all things that were ingrained in me.
Khazan: Why did you decide to pursue dating? It seems very different from SparkNotes.
Yagan: What we learned from SparkNotes in particular—everyone knew CliffsNotes, everyone used CliffsNotes. So CliffsNotes wasn't so different from Match, CliffsNotes was sort of the Match of study guides. What really made it work is that SparkNotes was a better product than CliffsNotes, and it was free, whereas CliffsNotes was paid. So we said, "What other products on the web can we both make better quality and free?" And dating, because it was one of the things people pay for, that made it a prime candidate for something to make free.
Back in 2003, the state of the art in online dating was psychologists. Dr. Phil was the Match psychologist. Neil Clark Warren was the eHarmony psychologist. We were all math majors, and we all thought dating was a data game and a numbers game.
I'd rather just watch a bunch of people date and observe their behaviors rather than ask a bunch of psychological questions and try to figure out their personality profiles. We didn't believe that relationships could be simplified into a formula.
Khazan: Why did you decide to make OkCupid free?
Yagan: When you compete against an incumbent, you have to change the rules of the game. If you play the incumbent's game, you're usually going to lose. The phrase I always said, you can't out-Match.com Match.com. They have more money than you, they have more people than you, and they have a better brand than you. But if you can change the game—not make it about doing beautiful TV campaigns and charging people $20 a month for a subscription—and create a new game, that game being one of "get customers to talk about you by word of mouth," use viral tactics, make it free. All of a sudden you have an advantage.
And that's what we did with CliffsNotes versus SparkNotes. CliffsNotes didn't know what to do. All of a sudden there was a competitor giving away their product for free. You see that in lots of industries. When someone comes in and changes the rules of the game, the incumbents can be put on their heels.
Khazan: You became part of the incumbent, though, when you joined Match. Is that a different mindset? Why would I sign up for Match if I could do OKCupid for free?
Yagan: My worldview about how competition works is still the same. The reason OkCupid took its approach is that Match was very good at its approach. What we have going on in the Match group is we have a bunch of different games that we're playing. There are people who can be reached best through a bunch of compelling TV commercials or really integrated online partnerships, like our partnership with Yahoo, Microsoft, and AOL that give us mass distribution to people who don't have dating top of mind.
OkCupid is great if you are someone who wants to go out and look for an online dating site. OkCupid is not going to find you. We have different marketing programs, we have different pricing programs, the products are different. There are features that Match has that OkCupid doesn't have, and vice-versa.
Unlike a lot of businesses where it's winner-take-all, dating is an emotional and intimate product. People care which app or what site they use to meet their significant other. JDate is a good example. We don't own JDate, but there are people who really want to be in a culturally specific area. We have [different] products because people want different things.
Khazan: Is the demographic different between Match and OkCupid?
Yagan: OkCupid is younger, Match is older. There are economic differences. They're not that different, but they're not exactly the same.
Khazan: Who is going to sign up for Tinder?
Yagan: About 10 million people already have. Tinder is the perfect companion app for dating. It really isn't a substitute for Match or OkCupid. It doesn't have full profiles. You can only search for people in your immediate vicinity. You don't really know anything about the person you're messaging with.
But there is an immediacy and a proximate nature to it that makes it very real-time. You fire up Tinder and you can be at a bar with someone in 20 minutes. That's not what our Match and OkCupid products are designed to do. Our Match and OkCupid products are designed to give a lot of information on people so you can have a really great date in three days.
Khazan: Did you meet your wife on a dating site?
Yagan: None of the four OkCupid founders did. We were all in relationships. We just thought we had a better way to do it, and that's why we started the company.
Khazan: How did you get your insights, then?
Yagan: We observed the way people date in the real world. The way people date in the real world is they collect information on people. If your girlfriend calls you up and says, "I've got a great guy for you to go on a date with," you don't just say yes, you start asking her questions about him. You've got a checklist in your head of yes-nos that are important to you.
Everyone has their own priorities. Sometimes you want someone like you, sometimes the opposite of you. Sometimes you care a lot about religion, sometimes you care a lot about cats. No psychologist can tell me that religion is more important than cats, because to me, it's not.
Once you have these sorts of observations, you realize that one psychological approach can't work for everyone because what's important to you and what's important to me are different.
Khazan: To what do you ascribe the explosion in online dating?
Yagan: Like a lot of things that start online, there was some stigma when it started. Almost everyone knows someone who is or was in a relationship that started online. You sort of have this conflict in your head where either your friends are weirdos, or it's not weird to date online. You can't have both of those thoughts in your head at the same time. Your best friend, your cousin, your mom, are on Match, but you're not. Explain that. Why is it good enough for friends and family but not for you? That's something we're really trying to attack in PR and marketing efforts every day.
Khazan: What are your major goals for these businesses? Are you looking for something in particular that would make you pleased with your work?
Yagan: When 100 percent of relationships start online, then we will have succeeded.
Khazan: Really? That's what you want?
Yagan: When everyone uses online dating the way everyone uses Amazon. There are two parts of the formula. One is people using our products and two is, do our products work. I want everyone to use our products, and I want everyone who uses them to find success. That ultimately means everyone meeting online.
Khazan: So you want it to be a regular part of dating, like talking to the cute guy at Starbucks?
Yagan: Yes. Nobody asks "do you shop online?" Yes! You use Amazon and you go to Whole Foods. I think the mentality that I'm an online dater or offline dater, that's all bogus. You should use all the technologies and services available to you. Talk to the cute guy online at Starbucks and use Tinder.
Khazan: What about people who say that there is a paralysis of choice—that online dating makes us non-committal because we can always go on a date with somebody else?
Yagan: I think that means you end up in a better relationship. When you decide to stop going on OkCupid dates, it means you're happy with the date you have. I think one reason we have high divorce rates is because people have had limited pools. You only had the pool of people who lived in your town or who you went to college with or who go to your gym.
Relationships that start online are much more heterogeneous than those that start offline by the simple nature of the fact that the people near you are more similar to you than the people who span a broader geography. So I think it gives you much better selection, not just more selection.
Khazan: And what do you say to people who say online dating is too clinical and it takes all the serendipity out of meeting people?
Yagan: Your first date is going to happen at a coffee shop, at Central Park, at a baseball stadium. That's where your story begins. That Match was the epilogue to the story is irrelevant. Your first chapter is your first date. That's number one.
Number two: Is it really a better story to say you met at a bar or in a line at Starbucks or on an airplane? I don't know that that's a better story.
And number three, there's plenty of serendipity. It's serendipity that you joined the same site, it's serendipity that of the 10 million people on Match, he chose you, or I read your profile, and the one thing in your profile that I caught was something I almost didn't bother to put in my profile. Who knew that you went to the same concert that I did four years ago, or I never met anyone else who has that favorite author. That's serendipity.
---
* This post originally referred to the site HowBoutWe as a free site. It is a paid site. We regret the error.