Who Will Take Care of the Elderly?
As parents age, the burdens of caregiving will fall mostly on their daughters, who will have to deal with not only the physical and mental stress of providing support, but the financial strain as well.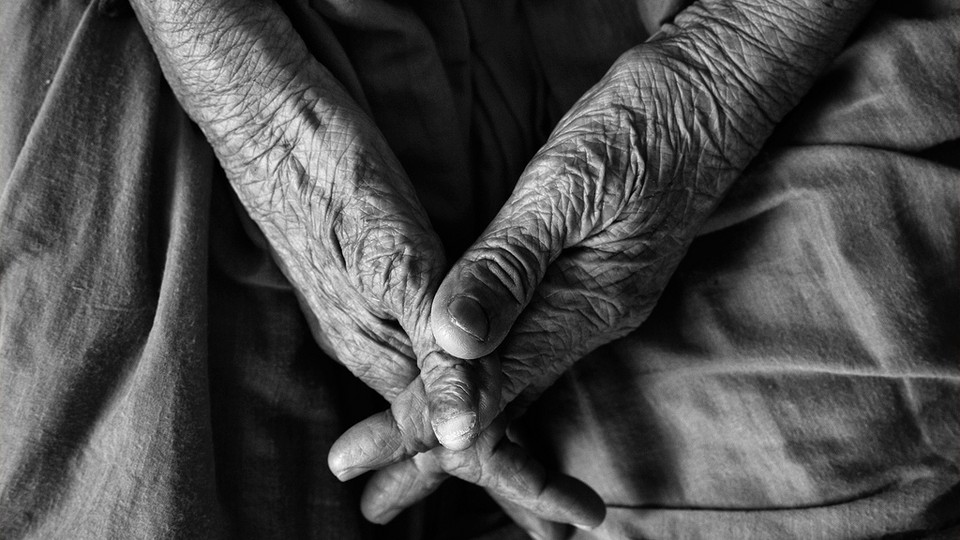 If life were fair, Marsha Schumacher, 69, wouldn't have to worry about affording care in retirement. Schumacher left the workforce in 1982 to look after both her son, who'd begun manifesting symptoms of bipolar disorder at five years of age, and her husband, who was exhibiting similar behaviors. Today she and her husband are separated, and while Schumacher takes great pride and satisfaction in her son's flourishing career and marriage, her own future looks less bright.
"I stopped work because my priority was to do everything I could so that my son could succeed in life," Schumacher told me in a back room at the Center for Community Change in Washington D.C. "I stopped work not realizing at that point what it would do to me in retirement."
She has no pension, and her Social Security benefits are roughly half of what they would have been had she stayed in the workforce until retirement age.
Uncommonly poised with brilliant blue eyes, Schumacher had come to Washington from her home state of Montana as part of the Center's push to raise national awareness around an issue that's become increasingly pressing: caregiving. Americans are expected to see a shortage of caregivers in the coming decades, with a dearth of family and friends available to tend to the baby-boom generation as it ages, according to the most recent data from the American Association of Retired Persons. If projections hold, by 2030 there will be just four potential caregivers for every person 80 or older, down from more than seven in 2010.
The problem is largely rooted in the demographics of aging. In 1900, the elderly (defined as persons 65 years or older) constituted just four percent of the U.S. population, according to the Federal Interagency Forum on Aging-Related Statistics. By 2010, they represented 13 percent, growing in number from a population of 3 million to 40 million. Currently, there are close to 11 million elders who need assistance (defined by experts as those requiring help with at least one aspect of independent living), and that number is expected to climb.
Schumacher's experience of providing care for family members only to find her own resources thin later in life is an all-too-familiar story for many women in the U.S. Women step up to provide care for family members more than twice as often as men, according to a recent study by Angelina Grigoryeva, a doctoral candidate in sociology at Princeton University. And in doing so, they take on not only the physical and mental stress of providing care, but also the financial burden.
Grigoryeva found that daughters provide an average of 12.3 hours of elderly parent care per month as compared to sons' 5.6 hours. Her research—still classified as a "working paper," meaning it has not yet been published in peer-reviewed journals—relied on data from the University of Michigan Health and Retirement Study, which surveyed more than 26,000 people over the age of 50 every two years.
The findings are troubling, particularly as time reallocated from paid employment to family care has been shown to inflict significant and long-lasting negative effects on the future earnings and retirement security of caregivers. And while caring for the elderly may have fewer adverse consequences for lifetime earnings than childcare, as it tends to come later in life, Schumacher's story shows that isn't always the case. Further, the number of negative effects associated with elder caregiving are more prevalent among female caregivers than their male counterparts.
Another troubling point: While gender inequalities in many areas of caregiving have narrowed over time, the trend doesn't hold for elder care, according to Grigoryeva. "I did similar analysis for the division of elder care among siblings over the past two decades," she said of her most recent research, which analysed data from 1995 to 2010. "And I found no change, which is in contrast to trends in childcare and housework."
A bill introduced in July by Rep. Nita Lowey, D-N.Y., would ease the financial burden of caregivers, creating a way for time spent caring for a family member to be acknowledged within the Social Security system. The "caregiver credit" would apply any time someone leaves the workforce or reduces hours to take care of a family member; up to five years of credit could be added to a person's lifetime earnings as calculated for Social Security. It phases out when the caregiver brings in more than the average national earnings.
Lowey, in a recent interview, was quick to frame the caregiver issue as one rooted in questions of gender equality. "There are many women who are in this position, who are caregivers," she said. "They don't make as much as a man in most jobs and this affects them disproportionately." Asked if anything in particular had inspired the bill, she added, "I think all of us have family or friends who have been in this position." The bill, which is pending in the House Ways and Means Committee, could come up for a vote as early as this fall.
It's a good first step. If you change the incentives enough, more people will actually want to be caregivers. But Grigoryeva notes that similar systems installed in France and in several Scandinavian countries have yet to level the proverbial playing field. Even with the help of government subsidies, she notes, most caregivers remain female. "It's not just about money," she told me when I asked her about Lowey's bill. "It's also about cultural norms surrounding eldercare."
For Schumacher, any effort to offset the financial hit caregivers sustain is a welcome start. "We've all given care, we've all been cared for," she says. "Nobody should suffer indignity in retirement because they've chosen to care for someone in their family."