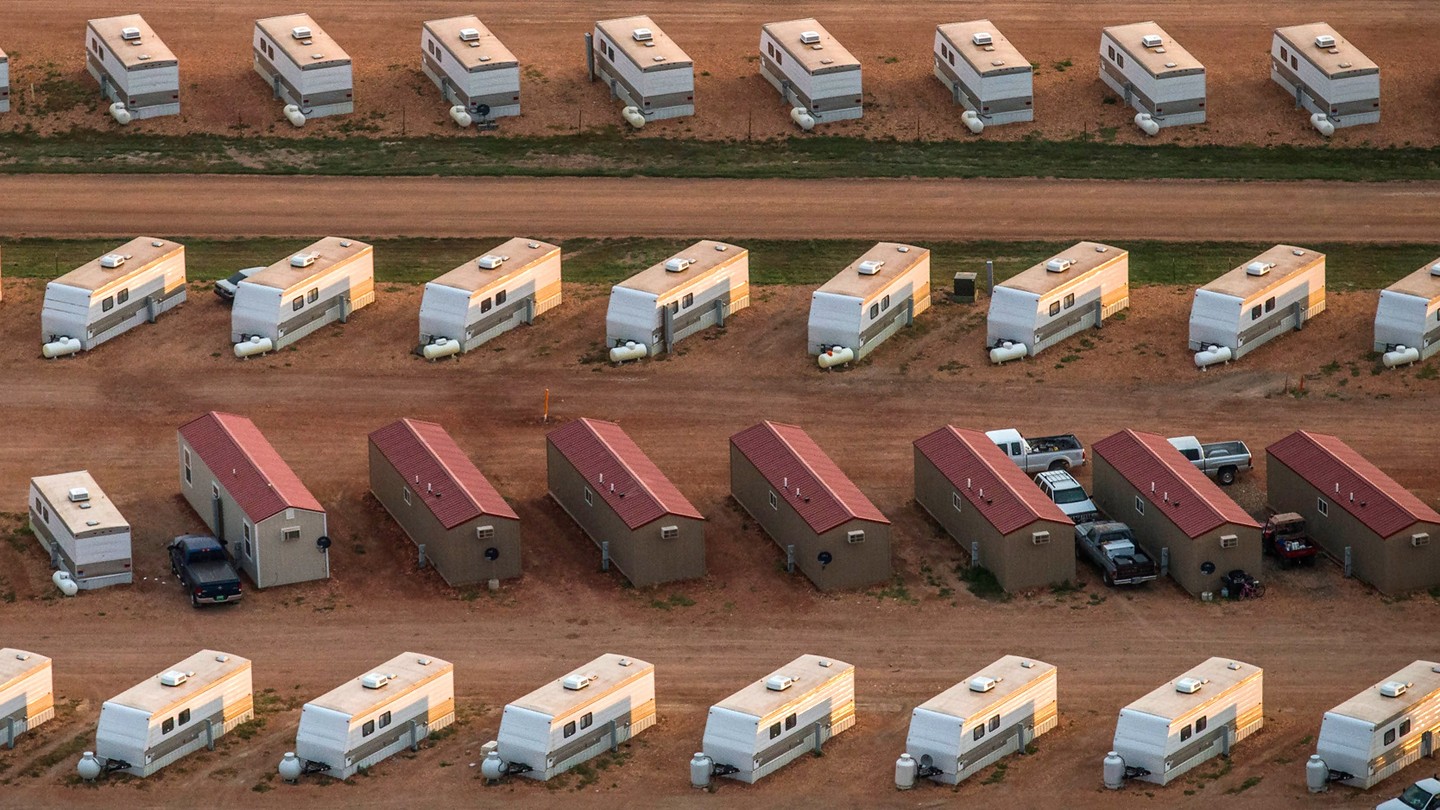 What If Your Small Town Suddenly Got Huge?
When thousands of oil-field workers descended on Watford City, North Dakota, they completely redefined its character and economy.
Just after one o'clock on a Monday afternoon in June, four women gathered around a blanket-in-progress at the weekly meeting of the Lutheran quilters in a church basement in Watford City, North Dakota.
Conversation quickly moved from the matching of patterns to uncertain scenes of everyday life in the long-quiet prairie town now at the center of the Bakken oil boom.
Jean Wold, who was wearing a blue sweater and stitching steadily, grew up on a farm 20 miles east of Watford City, but lives along a leafy town street lined with sturdy curbs. She mentioned a rusty horse trailer, filled with ducks and chickens, that a tenant had parked in her neighborhood.
"And then, there was a boat on the street," Wold said. "They put that in the yard. Then one day, here is a flatbed with a wrecked truck on it. That stayed on the street for two weeks, and one day I came home and it was gone. I thought, 'Oh good. Rid of that one.'" No such luck: "They pulled it in the backyard."
Laurie Hamre, whose white jacket sported the name of the North Dakota State University Bison, told the ladies of a discovery she made last winter. Hamre lives several miles south of Watford City, out past the new shopping plaza and expanding Assembly of God Church. One day in February, she found a cloth tube lying alongside a field. She suspected the tube contained some of the naturally occurring radioactive solids that come up with wastewater during the well-drilling process. "I called the sheriff's department," Hamre said. "There's still one lying there exactly where it was." She found another sack three months later near a cemetery.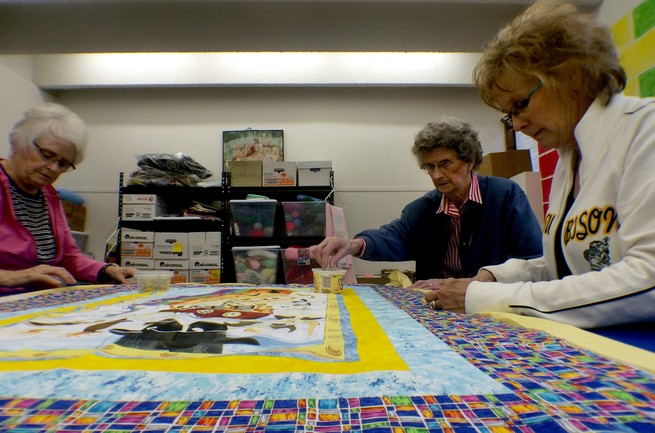 The women kept close to the square table holding the quilt, and soon Swany Schmidt joined in with a story about the time her husband, who meets other farmers for morning coffee at a new convenience store, noticed an oil field worker who was living out of his truck.
"He wanted to go over and offer him. I don't know what he would have offered him," Schmidt said. "You almost wish, you feel guilty, because you have bedroom space at home, but you're not really... "
Hamre chimed in: "You don't know these people."
Schmidt agreed: "You don't know them."
A few minutes later, Wold said, "I think it's coffee time," and the ladies headed into a neighboring room, where cookies and caffeine waited. Wold telephoned the bank three blocks away.
"I'm calling from quilting," she told the person on the other end of the line. "I'm calling to see if the tornado victims need quilts."
During the history of the American West, boomtowns have met a dramatic range of fates. In California and Arizona, mining camps that grew to small cities now stand empty, in various stages of decay. Chicago, established in the mid 1800s as a shipping and railroad hub, grew in population from 4,000 to 100,000 in just 20 years and today is the third-largest city in the United States. Then there are cities such as Butte, Montana, which reached a peak population of 60,000 during a copper boom nearly a century ago, but now is home to 34,000 people.
The Bakken oil boom has brought rapid growth to many towns and cities in western North Dakota, including Williston, north of the Missouri River, and Dickinson, alongside Interstate 94. But Watford City, where the population has jumped from just 1,400 people six years ago to more than 10,000 today, has experienced a particularly dramatic shift in character. The town, which celebrates its centennial this year, began as an isolated farming and ranching outpost. Until the early 20th century, the Missouri and Little Missouri Rivers had kept railroads and significant homesteading from much of the area that now comprises McKenzie County. The tidy Lutheran churches that stand stoically against the sky in the prairie surrounding Watford City were built by the great-grandparents of today's farmers. McKenzie County had two smaller oil booms that didn't last: Outsiders came to drill in the 1950s, and again in the 1980s, but the harvesting of that oil wasn't particularly profitable, and the newcomers drifted away.
So locals watched with skepticism when the oil industry arrived in force in 2009, this time armed with an effective if controversial combination: horizontal drilling and hydraulic fracturing. The former turns a pipe sideways and pushes it laterally into oil-rich rock—in this case the Bakken Formation and, below it, the Three Forks Group, which lie roughly 10,000 feet underground beneath a broad swath of North Dakota, Montana, and neighboring Canadian provinces. Hydraulic fracturing sends a high-pressure mix of water, chemicals, and sand into a well to free the oil from the rock. Relatively easy profits have ignited an industry: More than 2,400 oil wells have been drilled within McKenzie County lines, and well pumps rise and fall all around Watford City. Industry officials project tens of thousands more wells will be drilled in North Dakota in the decades ahead. If the oil keeps coming, could Watford City follow the pattern of Odessa, Texas? That cattle and rail outpost grew with the discovery of oil in the 1920s and is now a hub of the Permian Basin with a population of more than 100,000.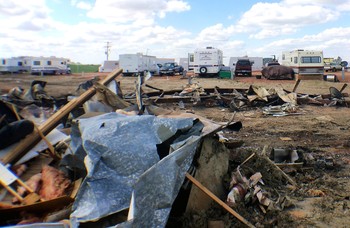 The pace of Watford City's industrialization is most evident at the bottleneck intersection where Main Street meets Highway 85 at the south edge of town. There rumble towering semis with gooseneck trailers and cargo containers, and one-ton pickup trucks with sturdy steel flatbeds. They haul pieces of horsehead pumps and 35-foot sections of drill pipe, bins of gravel and tanks of wastewater and oil, stacks of scaffolding and welding equipment. The cab doors bear the names of operators from far and near: Oil companies such as Hess, Petro-Hunt, Continental Resources, and ConocoPhillips; fracking specialists such as Halliburton and Baker & Hughes; and contractors such as Pro Form Concrete, Crestwood Crude Transportation, and RockPile Energy Services. The trucks idle for hours and then, with an exhausted sigh, throttle out to the oil fields all around.
As the boom becomes big business, the question for those arriving to work and live in Watford City is what kind of home the place will become. So far, housing is often too hard to find or too expensive to afford. A two-bedroom trailer, for example, rents for $2,000 or more a month. So thousands of Watford City's new residents—economic refugees from elsewhere in America—have brought camper-trailers with them. On the fringes of town, RV parks have sprung up on land that, only a year or two ago, was open pasture. Spots there go for more than $600 a month, even during the winter when hoses freeze and families take to using trash cans as toilets.
The newcomers' vulnerability became clear this past Memorial Day when a tornado swept through two crowded clusters of RVs five miles south of Watford City. More than a dozen RVs were destroyed, some of them lifted into the air and ripped into pieces. No one was killed, but nine people were hurt, including a 15-year-old girl from Louisiana who spent a few days in the intensive care unit before being released.
Watford City's decades-old hospital was overwhelmed by even the relatively small number of people injured. And those left homeless were more or less on their own. One family took shelter in a local hotel, which offered free rooms. Another took a loan against their home in Michigan to buy a used replacement trailer. A couple with a 10-year-old son relocated to another RV park, where they slept in two vehicles: a welder's pickup truck and a minivan that served as a taxi.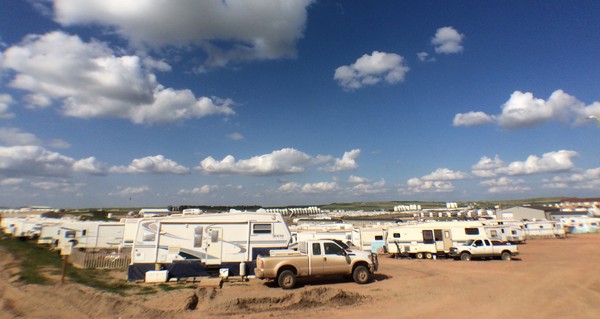 Three days after the tornado, I arrived in Watford City on foot from the north. I had awoken that morning in a tent, next to a church cemetery 10 miles outside of town, and made my way to 125th Avenue Northwest, a two-lane dirt road that bisects cattle pasture and wheat fields that are most notable these days for the oil wells set upon them.
The prairie has become a seething place all around Watford City. Drilling rigs, rising more than 100 feet above the plains, rattle 24 hours a day as the four-inch drill pipes dig deeper and deeper. Open flames leap 20 or 30 feet high, as natural gas flares from wells to allow the pumping of more oil. Tankers haul away that oil, navigating even the narrowest of dirt farm roads. Cows have changed their grazing patterns to avoid dust-covered pasture.
As I walked toward Watford City, one trucker slowed to nearly a stop, rolled down his window, and tossed me a bottle of water. He waved as he accelerated southward. An hour later, I reached the east edge of town. I walked a block to the Watford City Tourist Park, a shady place with slow-moving Cherry Creek at its edge. A half-dozen camper-trailers stood in a small parking lot.
Campground host Louise Tanner, who had come to town from Colorado, stepped out of one of the trailers. She pointed the way to the public restrooms, which had hot showers, and suggested a few good spots in town for dinner.
Tanner told me that she kneels down and prays each day for three things in the campground: safety, peace, and provision. When she and her husband, Richard, arrived just three weeks earlier, she saw daytime drug dealing and prostitution at the campground. She called the police on one particularly troublesome crowd, and on another occasion strode up to a group of young men and told them they were misbehaving.
"Within 24 hours they were all gone, and there was a peace here you could not believe," Tanner said.
New campground residents included McKenzie County's emergency services manager, the family from Michigan that lost its trailer in the tornado, and a young family from Utah that was preparing to leave Watford City for the lower cost of living in Minot, a larger city to the northeast.
Tanner sees the campground as a microcosm of the progression happening across Watford City. "People are waiting for civilization to catch up with this wild thing that's been happening here," she told me.
During the first several years of the boom, metaphors of Wild West lawlessness aptly described the local atmosphere, as an influx of young male oil workers brought social imbalance to the city. With the swift rise in population, Watford City police suddenly faced an increase in everything from petty theft and drug trafficking to sexual assault.
Yet the majority of those I met were focused on their work, driven by the chance to support or save some kind of life back home. I met a welder from near Sacramento whose construction business had faltered. He was making $120 an hour on the oil rigs, with hopes of supporting his parents' farm in California's central valley. I met a man from Tennessee who had lost his marketing job in Nashville. He left his wife and five kids at home and, days after arriving in North Dakota, was earning $24 an hour siting pipeline in the prairie. Working loads of overtime, he hoped to earn $50,000 in six months and pay for his family to go on a church mission in New Zealand.
For some of those who arrive in Watford City intending to return home, the money ends up being too good to leave behind. For others, it is not enough, and a six-month quest for quick money turns into two years. So temporary plans in North Dakota become more permanent, and families soon follow.
Watford City leaders have been scrambling to meet the new community's needs, and their recent commitment to a range of investment acknowledges their growing confidence that this boom will last. The police department now has 13 officers, up from four just a few years ago. Plans are in the works for a new hospital and a new high school. (Several hundred new children enrolled in the elementary school last fall.) Earlier this year, the commercial center of town shifted from the centrally located Main Street to a sprawling shopping complex south of town with a Cash Wise supermarket, a Tractor Supply Co. hardware store, and a Verizon retail outlet.
But most people I spoke with agreed that what the town needs most is a supply of affordable single-family housing. Developers have several projects in the works, many with names—Dakota Ridge, Pheasant Ridge, Bison Run, Cherry Creek, etc.—that evoke the rural place Watford City was. But these properties carry big-city prices: modular homes go for nearly $250,000 and stick-built, three-bedroom homes with two-car garages for well above $300,000.
A few days after I pitched my tent in the Watford City campground, I saw my neighbor, Karen Rockvoy, return to the camper-trailer she shares with her husband, Don, who had been the sheriff of neighboring Dunn County until the previous year. He was washing his pickup truck, taking a day off from driving an oil tanker, and he told me that he and Karen had opted to live in a trailer instead of paying speculative housing prices. "I don't like throwing money away," Don Rockvoy told me.
Karen invited me into the camper's living room to talk about her first weeks on the job as McKenzie County's emergency services manager. Before the Memorial Day tornado, she'd held a severe weather training course and gotten a sense of how vulnerable the temporary RV parks and trailer camps were. "There are so many little man camps, and this is a huge county," Rockvoy said. The tornado—unusual in western North Dakota, particularly in spring—caught everyone off guard, and she found herself riding toward the scene with a helmet in front of her face, in case nickel-sized hail shattered the windshield. There were so many RVs in the area that the driver of the vehicle she was in sped past the damaged park and had to double back. Rockvoy told me she wished there were a way to slow the influx of new people until better infrastructure was in place. "We've got to stop and get caught up," she said. "We are so far behind."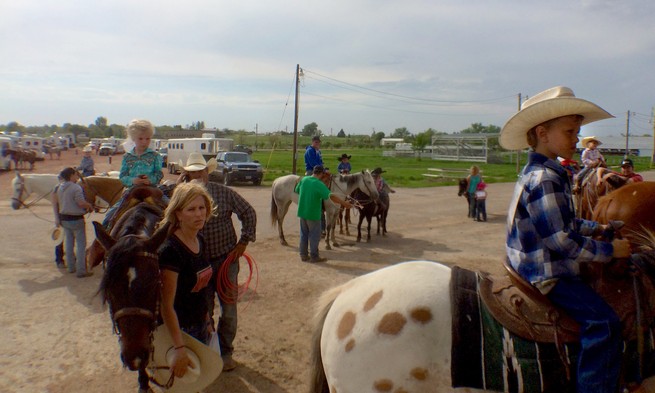 On the weekend after the tornado struck, I followed the flow of oil-field traffic south on Highway 85. The land rose and fell in a gentle swell that reflected the sea floor it once was. In many places, wheat had taken root after an unusually wet spring. But in many others, the fields were sown with long rows of trailers and RVs. The earth was scraped of its top cover, and the rock and dirt gave the settlements a barren, moonscape feel.
Atop one hill, I walked past a motel-like building in which families were renting one-room units. In an open lot nearby, I saw snarls of metal—formerly RV frames—in haphazard piles. On a flat stretch of land below, volunteers were cleaning up the wreckage of more RVs destroyed by the tornado.
A man who introduced himself as Derrick Wilson climbed out of a trench next to the apartment building. I asked him what he was doing.
"Trying to make the best out of—as you can see—not the very best," Wilson said. "It ain't no life living in these campers."
Wilson, whose 13-month-old son was resting in one of the nearby apartments, had spent 18 years working in oil and gas fields in California, Texas, and elsewhere. His arms were muscular and his face was worn from the sun. He said he didn't have much hope for Watford City.
"Like most places, by they time they get their stuff worked out, the boom's going to be over," he said.
East of where we stood, other newcomers had built a somewhat more permanent life at a place called the Indoor RV Park, which offered high metal sheds with electricity, plumbing, and heat.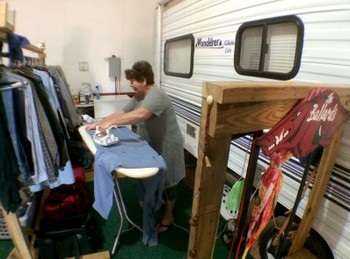 At a trailer inside one of the sheds, I met Tomi and Aaron Ballard, from El Dorado, Arkansas. The couple, in their 50s, had left behind a two-bedroom house on two acres of land in hopes of finding more permanent work in Watford City. After they arrived a year ago, Aaron was hired as a mechanic at a construction site, and Tomi began ironing clothes and cleaning campers for neighbors. They'd put homey touches around their RV, laying down outdoor carpeting on the shed's dirt floor and placing a wooden staircase and a hand-painted sign of a running Arkansas razorback in front of their trailer. The Ballards, who like to host BBQ dinners for their oil-field friends, do not know yet if Watford City will become a permanent home. But just days after the tornado, they learned that more family from Arkansas, including their grandkids, would be moving into an RV next to theirs.
Tomi, who had watched the tornado touch down while visiting with friends in a nearby shed, suggested I go to the Roosevelt Hotel, which had offered a free room to a young couple from Idaho who lost everything in the storm. I stopped at the hotel's front desk, and the couple, Owen and Felicia Grooms, met me in the lobby. Their two-year-old son was napping upstairs.
Two years before, the Groomses had sold four of their six horses back in Idaho to raise the money to come to the Bakken. They'd planned to make enough money in the oil field to buy a house of their own back in Idaho. "We are from mountains and trees," Felicia Grooms said.
The Groomses had settled their debts and begun to save for a down payment before the tornado hit. They were able to race to safety in their pickup truck, but they lost the trailer and everything in it.
Standing in the lobby, the couple seemed gently bewildered, as though unsure what would come of this economic experiment in the plains of North Dakota. Owen said he hoped a fund for tornado victims at a local bank would give them enough money to find another trailer and get back to work. But he was exhausted.
"We were almost done," Owen said. "Now we're back to square one."
I asked if the couple's napping son was aware of the tornado and the loss it caused. The boy had lived his whole life in the trailer, his mother said, and ever since they'd moved to the hotel, he could sense something was not right. "He definitely knows," Felicia said, "that we are not home."