The Fall of the Zen Butcher
Bartlett Durand wanted to bring animal slaughter out into the open. But his neighbors in Black Earth, Wisconsin, felt otherwise.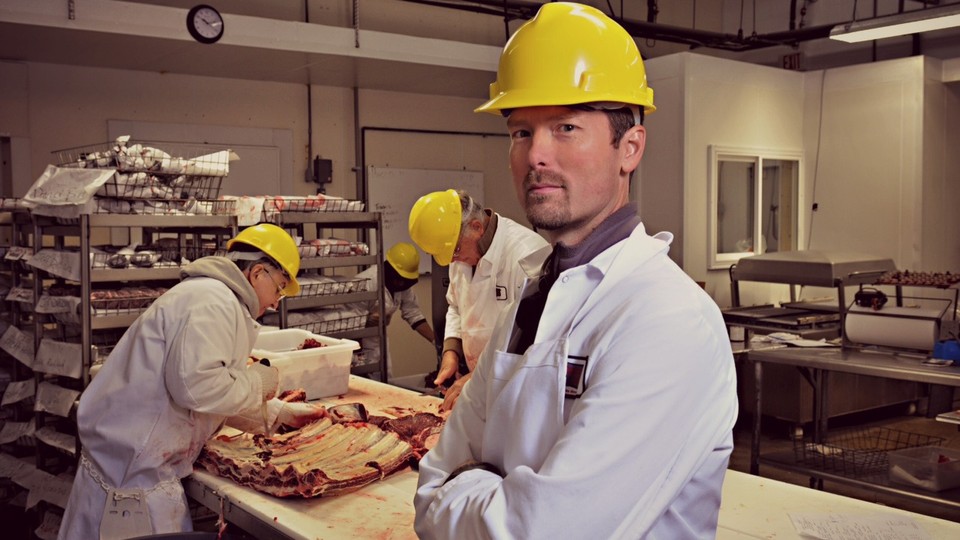 The weekday-morning slaughter line at Black Earth Meats in Black Earth, Wisconsin, may have seemed at a visitor's first glance to be a standard cattle slaughter: the bolt gun, the hum of electric meat saws whirring through flesh and bone, the blood pooling into puddles and swirling toward drains in the center of a sloped concrete floor. *
But a few moments of observation would have made the differences plain. First, there were typically far fewer animals than an industrial slaughterhouse—only about 45 head of cattle or 100 hogs per day. Usually, there were just eight workers along the line and very little machinery—no trace of the industrial chain-and-rail system that's used to speed up slaughter.
One of the most significant differences, though, was an easy one to overlook: the sign that hung high on the wall, out of the reach of blood splatter, which read, "We Honor These Animals, For By Their Death, We Gain Life."
This was the house of the Zen Butcher.
Over the last seven years, a vibrant local foods community grew up around Black Earth Meats, Bartlett Durand's humane-handling slaughterhouse. The slaughterhouse and retail store developed an enormous following, supplied high-end restaurants all over the Midwest, supported nearly 50 employees and 200 area farmers, opened a Madison retail location called The Conscious Carnivore, and garnered attention from the Food Network's Andrew Zimmern.
But on July 22nd, Black Earth Meats made its final slaughter and closed its doors. Durand's goal was to make slaughter into something public, something people witnessed; that openness became the business's downfall.
What happened?
* * *
Seven years ago, Bartlett Durand, a Buddhist and former vegetarian, was working with his father-in-law, Gary Zimmer, to run Otter Creek Organics, a diversified dairy farm. Otter Creek's pastured beef and pork were in high demand, so Durand and Zimmer relied heavily on a local meat-slaughter-and-processing plant to supplement. The location had been a butchery, meat locker, and slaughter facility for decades, but the dwindling interest in freezer meat and the rise of supermarket butcher operations meant the then-owner of the plant was struggling to get enough customers to keep a steady crew running the butchery operation, let alone make a profit.
When the current owner let Durand and Zimmer know his finances were forcing him to close the business, they decided to go for it. With the help of Mary Ann Litchfield, a sustainable organic farmer and investor, they purchased the butcher shop and began building their own meat-processing business.
Durand and Zimmer's vision was both progressive and a throwback, an homage to the history of farming in the region with a modern-day spin. Locker plants, which provide both butchery services for local farmers and freezer storage for customers, were once ubiquitous in the region, and Durand wanted to rebuild a local-food economy around this important point in the supply chain: to give farmers a source of reliable processing, and a chance to grow their herds knowing there was a steady buyer, all while providing restaurants and customers with high-quality meat.
But he also wanted this locker plant to be different. The modern slaughterhouse, Durand knew, is designed around the factory model, wherein speed and efficiency are paramount. Instead, Durand wanted his slaughtering facility to focus on attending to and honoring the significance of the animal's life and the human's work in taking that life.
He designed the processing facility with minimal industrial equipment, and to operate only on a scale small enough to accommodate a slower, more mindful rate of slaughter. Even from the moment of their arrival, the animals would be treated calmly and with kindness: The facility used a series of gates and chutes designed to move the animals gently through the process without the use of prods, minimizing fear and stress. The employees learned to keep quiet, move slowly, and position themselves so their very presence helped guide the animal along the slaughter line.
In addition to his focus on reducing the stress of the animals, Durand worked to develop the skills of a group of eight butchers who could handle the entire animal, as he says, "from stunning to steaks," and training them in what he called "the philosophy of sacrifice." The butchers were taught that when engaged in taking a life, they were doing so with purpose, for the good of the community. Respect for the animal at the moment of its death, Durand said, "must include the respect of the butcher, for in the butchers' hands is the act of life and death, the moment of sacrifice, and that is one that cannot be taken lightly."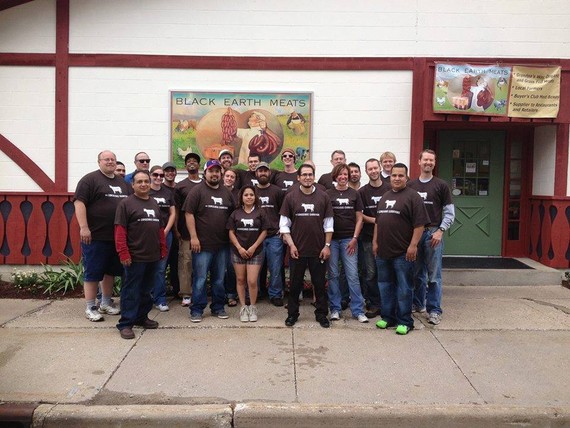 With these principles established, Black Earth Meats grew from a small meat locker into a USDA-inspected facility, which enabled cross-border sales, and obtained organic and Animal Welfare Approved humane-handling certification. Each year from 2008 to 2013, sales doubled at the plant.
Black Earth Meats gathered together the little guys of the local economy—area farmers and ranching collectives—into a single, common brand, offering sustainably-raised beef on a scale that could ensure delivery and quality to restaurants and retail counters. In 2013, Black Earth Meats processed animals from more than 200 farms and sold in multiple streams directly to customers, proving that small-scale, humane-meat production was, in fact, sustainable.
It was a win all around, for animals, butchers, farmers, restaurants, and customers. There was just one problem.
By making the slaughter visible to the larger community, Durand thought he was integrating food production back into the village. But as the slaughterhouse's business grew, the sights and sounds and smells associated with turning livestock into food became inescapable.
Mary Mickelson, who has lived just a few houses down from the Black Earth Meats site for more than 40 years, told local paper Isthmus that the problems began "about three-and-a-half years ago," right around the time the business really began to take off. According to Mickelson, the issues included noise from animals waiting in trucks, increased traffic, and odors from animal parts remaining after slaughter, especially in warm weather.
"No one quite understands what we're seeing and hearing on a daily basis," Mickelson said. Along with several other neighbors, Mickelson began to lodge complaints against Black Earth Meats to the village board.
According to Durand, a few neighbors complained to anyone who would listen—the local sheriff's deputies, board members from the Village of Black Earth, the State Department of Health, the State Department of Natural Resources, and the USDA. No violations in ordinance were found by any regulatory body that investigated the complaints.
The village board expressed a desire for compromise; Mickelson says she wishes Durand had spoken to the neighbors directly.
Durand says, however, that he attempted to work with his community by setting up a committee to field complaints. The plant made efforts to mitigate the issues neighbors raised, working to cover and sanitize disposal containers, and organizing delivery trucks to minimize the amount of time they spent on the streets. Durand says he was told by the neighbors and the village that no compromise was possible.
In December of 2013, the village ordered Black Earth Meats to move the slaughter portion of their operation to another location.
Relocating the slaughter was a problem for a number of reasons, both practical and ideological. First, establishing a processing facility is an incredibly expensive venture. The cost of building a new plant, according to Durand, would run between $1.2 and $3.5 million. Durand asked the village for time to put together plans to relocate the operation, but in July of this year, the village board decided to pursue legal action to force Black Earth Meats to stop slaughter operations at the current facility. Without the steady source of income from the slaughter, the business in its current facility was no longer viable. The slaughter was gone, and the rest of the business would soon follow.
Bartlett Durand cried as he read a prepared statement to his 47 employees, notifying them of the village's decision and their impending closure. Just a few months later, only three employees remain to sell off the last of the retail stock; the others, all highly skilled in their trade, have already found work elsewhere in the area. In the meantime, the 200 farmers who used Black Earth Meats to process their animals have had to find new slaughter options, many of which are less reliable buyers, and almost none of which promise the same humane handling practices. Moreover, many who treasured their local butcher have had to find new sources of often lower-quality meat.
A new location for Durand's slaughtering business is all but guaranteed. His methods are well-known and respected in the area, and several towns have already invited him to consider moving there. A Kickstarter campaign is coming soon, and Durand has already secured new funding partners who will likely take over The Conscious Carnivore (the Madison retail location) and wholesale business. Durand is committed to his core philosophy and to rebuilding the entire project from the ground up again.
But the community was always an integral part of the business. Moving the business to a new location means outsourcing slaughter in the meantime, and starting all over again with new ingredients—new certification, new employees to train, and new neighbors. "The Black Earth Meats that was," Durand told me, "is gone."
The loss is difficult to quantify, as it goes beyond a blow to a specific business, or to a specific community. The closure of Black Earth Meats means more than a few customers having to drive farther to get their hormone-free steaks. The financial success of Durand's business proved the viability of local, small-scale, humanely-handled meat. The closure of such a business shakes supporters of non-industrial, local food economies, and may well dissuade future ventures.
By making his slaughterhouse visible, Durand fell victim to a common American desire to keep food production behind closed doors. Mickelson told local paper Isthmus that she's "not an animal-rights activist," but that witnessing the slaughterhouse's operation was "very disturbing."
But Durand hasn't wavered from his initial vision. "Every town used to have its butcher," he told me. This kind of business is a community keystone, a source of good jobs and good food, the link between farmer and consumer, between city and land. "It should be a point of emphasis and pride," Durand said.
Now, he just has to find a new town that agrees.
---
This post originally named the wrong town. It is Black Earth, Wisconsin, not Mount Horab. We regret the error.