America's Last Carousel Craftsmen
Hand-carved rides aren't a thing of the past at two workshops in Ohio.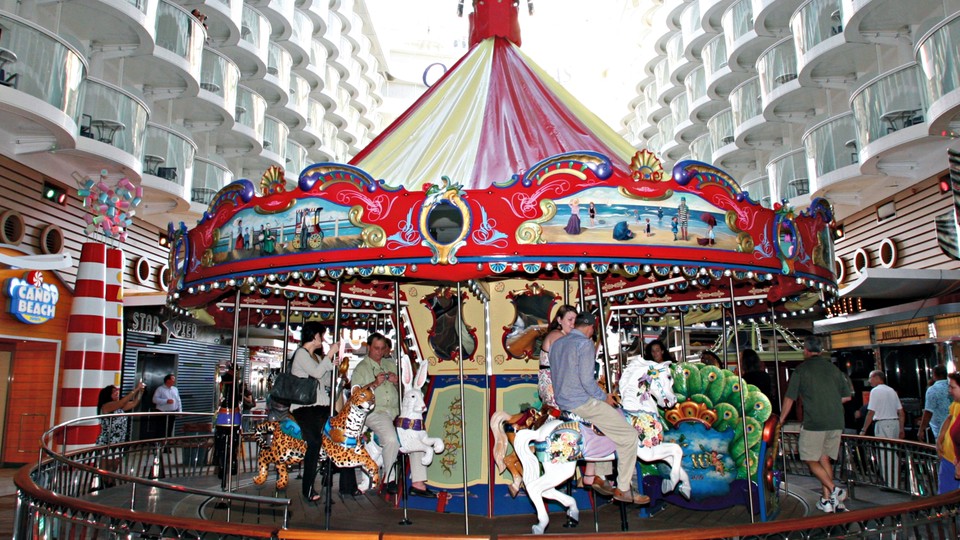 What do you think of when you hear the word "carousel"? Is it 1920s Paris with its glittering lights, music-box tunes, beautiful vintage horses, going round and round near Sacre-Coeur Basilica in Montmartre? That's what I used to see, largely due to the 2001 movie Amélie. But recently, I've been thinking of a very different place when I think about carousels. And that place is much closer to home: Ohio.
That may seem like an odd choice, but, as it turns out, there are only a handful of dedicated full-service carousel building companies in America.* Two of them are located in Ohio: Carousel Works in Mansfield and Carousels And Carvings in Marion.
"We've got ourselves a little cottage industry going here," said Todd Goings of Carousel and Carvings. "[Carousel Works and Carousel and Carvings] are the only ones [where] the owners of the company are the carvers working in the shop."
While there are other carvers (both hobbyists and professionals), and shops that cast fiberglass or metal carousel replications, along with many companies that sell all kinds of amusement rides—these two companies in Ohio appear to be the only ones taking carousels from design to finish and carving them from wood the old-fashioned way.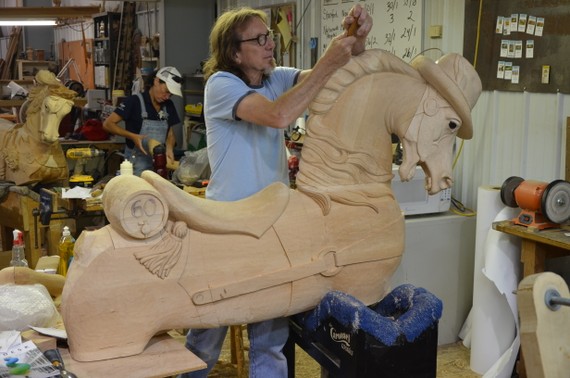 Art Ritchie and Dan Jones of Carousel Works first came to Ohio in the late 1980s to build a carousel for the Carousel District in Mansfield. Since then, they've sold 58 carousels and restored dozens.
Ritchie began carving in 1973, making anything from furniture to signs. Back then, he recalls, he would carve anything that had a payday. One day, a customer came by and asked him for a quote for a carousel horse. He estimated that it would cost about $1,800. "He couldn't get his pocketbook out fast enough," Ritchie remembers.
He didn't know it then, but Ritchie was then at the leading edge of a revival of interest in carousels in America. Whether it's nostalgia for childhood or a general interest in all things from the turn of the century, carousel fever has been growing steadily since the 1980s. This wasn't always the case, as American carousel history has really had its ups and downs.
Steam-powered carousels date back to the turn of the century, the period that carousel enthusiasts now refer to as the "golden age" of American carousel-making. The big names from that era: Charles Looff and Charles Carmel of Coney Island, Gustav Dentzel in Philadelphia, and a handful of other master carvers—immigrants from France, Russia, and Germany but whose work defined the classic American carousel style. All in all, there are nine notable workshops from that time whose carousels are today considered collectables.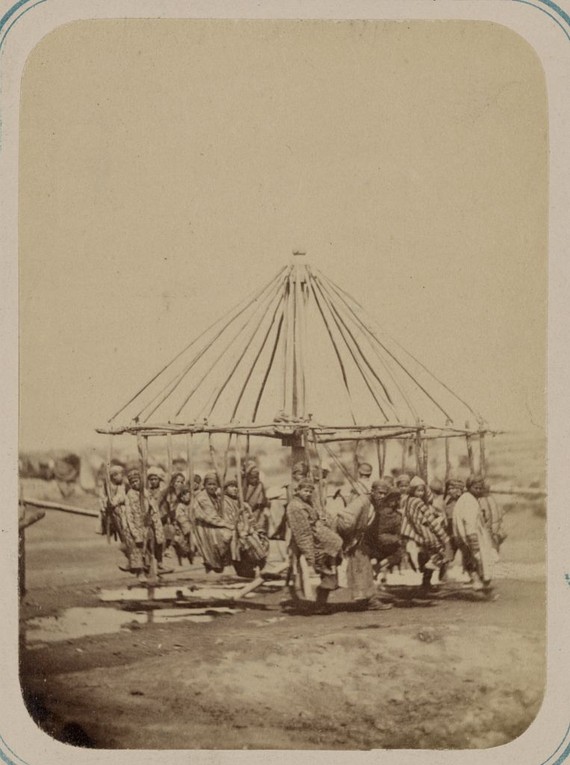 But then came a bleak period for the American carousel, when carousels were burned down or dismantled. "The Depression pretty much killed [the carousel]," said Goings. "The carousels really kind of died off. In the 1960s and 1970s, they had been ridden hard and put away. They ceased to make money, it cost more money to keep them running than they were making. That led to the demise of the carousel. A small group of people, who turned into the National Carousel Association, started collecting these things."
Arlan Ettinger, president of Guernsey's—an auction house in New York City—estimates that the number of carousels in America dropped from 5,000 to just 150. Before the revival, holding an auction for carousel horses and menagerie animals was so novel that the first Guernsey's carousel auction, for a man in Philadelphia, brought in TV crews and a million dollars. "It sent a clear signal out that these things are valuable and worthy of preservation," says Ettinger. At Guernsey's last auction, carousel figures averaged $40,000. The record for one carousel figure is reportedly a Dentzel St. Bernard for $250,000, but antique carousels have been bringing in six figures for decades.
"The supply has gotten less," says Ettinger. "But there's a hard-core group out there."
Niche collectors obsessed with all things carousel have driven the prices up. As carousel collecting became popular, supply inevitably began to dwindle. In the late 1980s and early 1990s, Goings remembers that many carousels were broken up simply because the parts were much more valuable than their sum. Vintage carousel horses were wanted in living rooms, not playgrounds.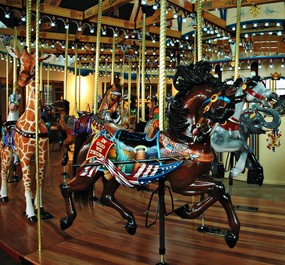 That's when towns, parks, and zoos looking for a carousel of their own started to look beyond replications, and to the shops in Ohio who could produce a new—and often unique—carousels with excellent craftsmanship. The price tag wasn't too bad either.
"Many of the carousels they're making are reminiscent of the carousels from the golden age," says Bette Largent, president of the National Carousel Association.
At the time Ritchie started, he recalls that the cost of bringing an antique carousel to your town would run you at least $1 million. A fiberglass or metal reproduction cost about $150,000. "Between $200,000 and $1 million is a good place to sit," he explains.
The carousels that Ritchie and Jones produce are attractive for cities, zoos, or private spaces that want something a little bit fancier than a reproduction. Goings, at Carousels and Carvings, who started his career at Carousel Works, makes carousels at the same price range.
"It's not a museum piece that sits behind velvet ropes. It's like taking an antique school bus and running it through New York everyday," says Ritchie.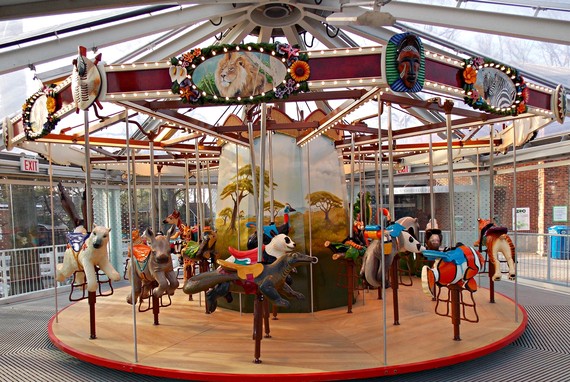 Both Ritchie and Goings also agree that a desire for a unique carousel drives customers to their workshops: Whether it's a komodo dragon for a zoo, or a puppy jumping out of a bag of dog food for an innovation-themed carousel—they can make it happen. Unfortunately, their "new American style" has drawn unfavorable criticism from the hardcore collectors of carousel animals. Ritchie says it's commonplace for antique sellers to imply that today's craftsmanship just isn't the same as the masters. "People say that it can't be done anymore," says Ritchie.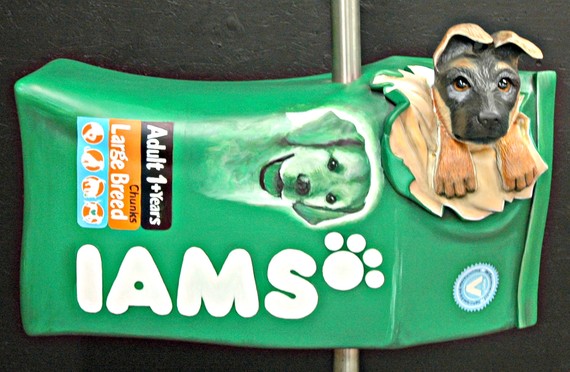 Which has its ironies, because it's carvers like Ritchie and Goings who are restoring these antique carousels. Even Ettinger and Largent agree that it's important to have them around.
"Some of the diehards were upset when they started carving these new carousels," says Largent. "But after Rembrandt we didn't stop painting."
---
* This post originally stated that there are only two dedicated full-service wooden carousel shops in America. There are more, including William H. Dentzel's shop in Port Townsend, Washington. We regret the error.