Quantifying Americans' Distrust of Corporations
Only 36 percent of Americans feel corporations are a 'source of hope' for their economy, compared with 84 percent of people in China.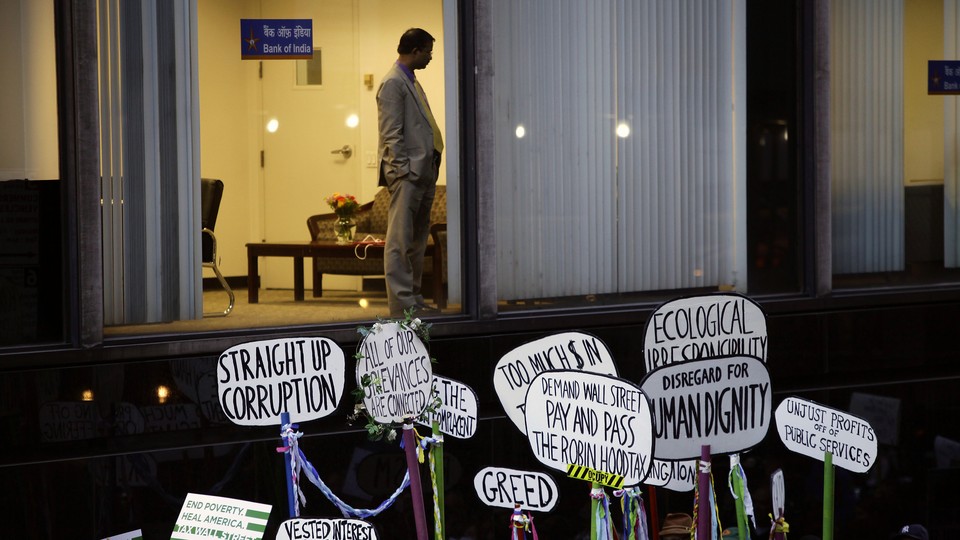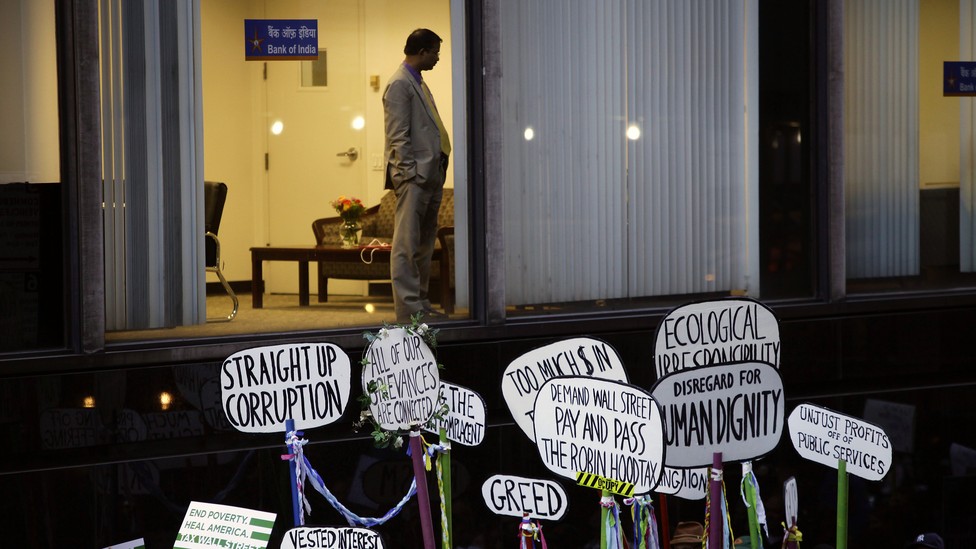 It's been six years since the financial crisis, and three years since Occupy Wall Street—when protestors demonstrated for 60 days in Zuccotti Park against the influence of American corporations. How does the country feel about corporations now?
The Corporate Perception Indicator survey, from public relations firm Burson-Marsteller and CNBC, was conducted this summer in 25 global markets with opinion data from 25,000 general public participants and 1,800 senior corporate executives. Not surprisingly, the general public is much more skeptical, compared to executives, of the power and reach of corporations.
In developed economies of North America and Western Europe only 44 percent of the public see corporations as a source of hope, compared with 57 percent of executives. 55 percent of the public polled in developed markets feel that corporations have not been humbled by the recession, and haven't been acting more responsibly either. In the U.S. last year, the SEC announced a record $3.4 billion in fines, and 2011 was the year with the most actions filed in the agency's history.
Compared with China, where 84 percent of people consider corporations a source of hope, the U.S. is not very optimistic about corporations making the economy stronger—only 36 percent feel hopeful toward them. Interestingly, the U.S. general public is more than 10 times as likely as the Chinese general public to say that corporations have more power than the government. 95 percent of those surveyed in China say the government has more power than corporations in their country, compared to just 51 percent in America. Nearly half of Americans surveyed feel that corporations have too much influence on the future of the U.S. economy.
The survey reports that 40 percent of millennials see corporations as a source of fear.  They don't even think their good deeds are genuine—49 percent of millennials believe that corporations are only undertaking philanthropic efforts for tax benefits. However, millennials vote with their feet when it comes to price points. They polled to be less resistant than their elders to outsourcing and products made abroad. When shopping, millennials said they'll buy the less expensive option even if it's made overseas.
Overall, people in emerging markets have a much more positive view of corporate entities in their economies, whereas those in developed markets remain skeptical. Though there's one thing we can all agree on: Everyone loves the tech sector right now. 90 percent of those in emerging economies and 84 percent of developed economies feel good about the technology industry. As part of the same question, the mining industry was dead last. News media wasn't ranked so high either.