McBrunch: The Fastest Food Company Sets Its Sights on the World's Slowest Meal
While it is entirely unclear what McDonald's plans are for McBrunch, McDonald's push for breakneck speeds doesn't necessarily mean brunch will be a rushed affair.
This article is from the archive of our partner
.
McDonald's, home of the fastest fast food around, has filed a patent for the world's slowest meal: brunch. The patent registers the term "McBrunch." This is actually the second registering of this word, with the first attempt coming in 2001:
This trademark was abandoned about 10 months after it was filed, and when a trademark moves into "dead" status, it means "that specific application is no longer under prosecution within the USPTO, and would not be used as a bar against your filing." The previous applicant, Scott A. Eckert, was the CEO of a Florida-based real estate company which went bankrupt in 2010. The Wire reached out to Eckert to learn why he had abandoned McBrunch, but unfortunately did not hear back.
McBrunch laid dormant for twelve years until McDonald's scooped up the trademark on July 23 of this year. It was first noticed by BurgerBusiness, and appears in United States Patent Trademark Office records as so:
McDonald's spokesperson Terri Hickey told The Wire the trademark was filed officially, however, plans for McBrunch remain unknown. "It is entirely premature to speculate about a such a concept. We routinely file intent to use trademark applications as a regular course of business. We can't share details at this time as to how the trademarks may or may not be used."
In a call to a New York-area McDonald's, an employee told The Wire, "We don't have anything about McBrunch yet, but it would be served after 11 o'clock because that's when breakfast ends." As for a timeline, the employee is as in the dark as we are, "They usually just tell us a week out, sometimes we don't even hear till a couple days out."
Brunch is essentially a leisurely meal. There is no need to rush through eggs benny and a mimosa on a Sunday afternoon. Sara Beth's, a popular brunch spot in New York, told The Wire the average brunch length at their restaurant is over an hour, though it differs depending on party size. A couple usually takes just under an hour, though a group of four is closer to 90 minutes. At The Butler & The Chef over in San Francisco, brunch times are about an hour for a couple, as well. Midwestern Chicago reports the same: Birchwood Kitchen tells us that on weekends, brunch is an hour to 90 minutes, though mimosas can lengthen the stay beyond that.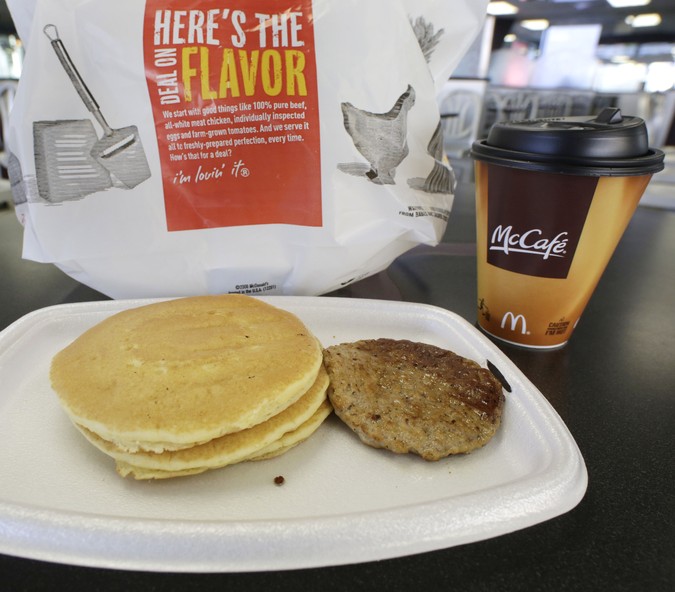 McDonald's, other hand, has always been about quickness, an art they have been emphasizing even more of late, so it would seem unlikely that their brunches would be an hour-long affair. McDonald's is currently working on a program at 800 locations in Florida to speed up the time customers spend waiting for their food after they order in a drive-thru. The current wait time is an average 3 minutes and 15 seconds, and they hope to have it down under sixty seconds.
For several hours a day, McDonald's drive-thru customers at select locations are given an hourglass sand timer, and if their order takes longer than 60 seconds to be made, they receive a free sandwich voucher. This program was also attempted in Singapore, and customers were given a free McFlurry coupon after 60 seconds. One patron remarked, "Let's just say the programme didn't last that long. Every single person was getting a McFlurry."
While it is entirely unclear what McDonald's plans are for McBrunch, McDonald's push for breakneck speeds doesn't necessarily mean brunch will be a rushed affair. Their brunch may not deviate all that far from the relaxed, long form and often boozy meal we think of today. The format of this in-between meal may be McDonald's chance to win back customers who have strayed into the fast casual dining territory.
A survey by Brand Keys found that customers of all generations are less fond of fast food than they were in the past, instead preferring Panera Bread and Chipotle-paced meals. A Chipotle manager told The Wire that the average dine-in lunch lasts 30 to 40 minutes, and according to staffers at Panera Bread locations, the typical lunch lasts for 30 minutes.
Employees at McDonald's, however, report much shorter stays (keeping in line with the need for speed.) Breakfast stays are under 15 minutes and lunch is about the same. Perhaps, with this in mind, we could see McBrunch turn into a 30-minute fast casual meal, a marriage of the longer time spent at bloody mary and eggs benedict sit-down joints and the speedy system McDonald's is already working to perfect — positioning them as an ideal rival to the half-hour long Panera breakfast.
This article is from the archive of our partner The Wire.