Do Toy Companies Need More Women at the Top?
Lego has two women on its senior leadership team; Mattel has one. Is this lack of diversity holding them back?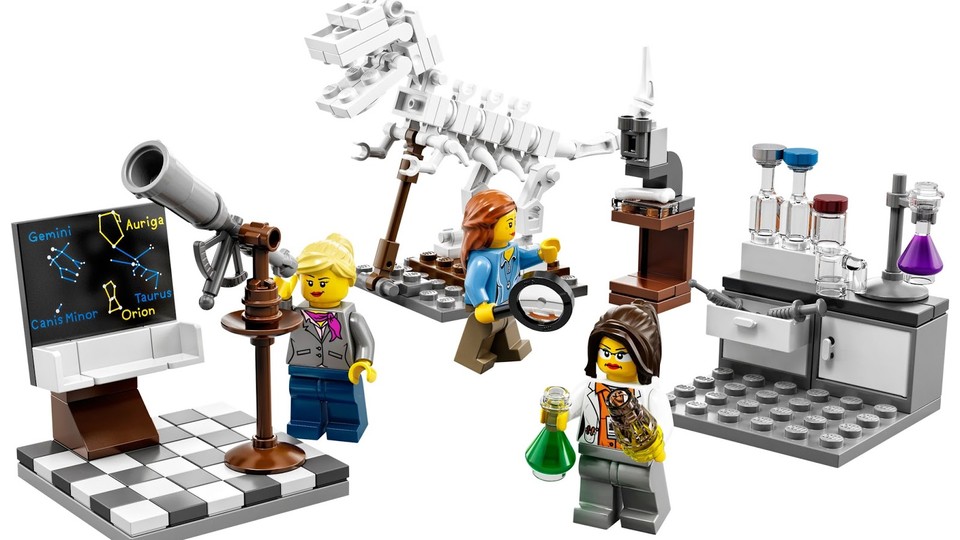 As a little girl, I loved Barbies. But now as an adult, I'm slightly embarrassed by this. My best defense: Well, there weren't better girls toys back then. Three decades later, when surveying the toy options for little girls, it doesn't look like that much has changed. Why is the toy aisle frozen in time?
Avivah Wittenberg-Cox, the CEO of a consulting firm focused on gender diversity, has a theory: She thinks that toy companies need more women at the top.
Wittenberg-Cox makes her case based on her observations of Lego, which has long been criticized for the gender imbalance in its product offerings. Small wonder, says Wittenberg-Cox, given what Lego's leadership looks like: Its senior management is comprised of 22 men and two women. Mattel, the maker of Barbie, doesn't look all that different, with 11 men and one woman at the top. The corporate management of the largest global toy companies doesn't stray from the narrative that women are underrepresented in boardrooms everywhere.
So would having more women at the top produce more girl-friendly Legos and Barbies? Do toys that come from companies run by women look any different?
Debbie Sterling, founder of GoldieBlox, an engineering toy for girls, agrees with Wittenberg-Cox: The toy industry needs more women, or the toys will continue to be stuck in the past.
Sterling remembers her first visit to the American International Toy Fair in New York: "I was shocked at how male dominated the toy world is ... It was a lot of old white men in suits." To Sterling, this helped to explain what she saw in toy aisles. "I do think there's a correlation between management and the products."
Sterling says diversity at GoldieBlox shapes the company's decision making: For example, when designing a new GoldieBlox action figure, the women insisted on brush-able hair, while the men insisted on articulated joints; both were incorporated in the final product. "I believe this kind of breakthrough was largely made possible by the men and women on our team coming together," says Sterling.
That said, there is one toy company that stands out from the pack: Hasbro, the number three toy maker in the world. Hasbro also has a mostly male boardroom, yet it has turned the gendered toys argument to its advantage: The company made headlines when it announced a gender-neutral version of its Easy-Bake oven. Hasbro makes "boy" toys (Transformers) and "girl" toys (My Little Pony), and gender-neutral toys (PlayDoh)—but what its succeeded at most, at least from a marketing perspective, is its openness to discussion and goals to appeal to girls—even with Nerf guns. Hasbro CEO Brian Goldner, who has a daughter, told BusinessWeek that the company tries to understand how girls play to create toys they'll buy.
But for many companies, not having women in leadership roles is a hurdle to that kind of understanding—a problem not limited to the toy industry. A recent McKinsey report argued that "companies with more women in top management positions tend to exhibit better organizational and financial performance." Despite this, the report documents that women are still underrepresented at top corporations in the world. It's in response to reports like this one that some companies are prioritizing recruiting more women to the top: Unilever, the parent company for 400 brands including Dove, Ben & Jerry's, and Pond's, is aiming for gender-balanced management both to understand their female consumer base and drive innovation.
This should be no surprise to Lego. Earlier this year the company introduced a set of female mini-figurines called the Research Institute comprised of an astronomer, a paleontologist, and a chemist. Whose idea was the new line? Here's a hint: It didn't come from a man.