Denver's Housing Crunch Could Threaten Its Popularity With Millennials
Condo construction in the city has essentially halted, and that's driving up the cost of homes, as well as apartments in the trendy downtown neighborhood.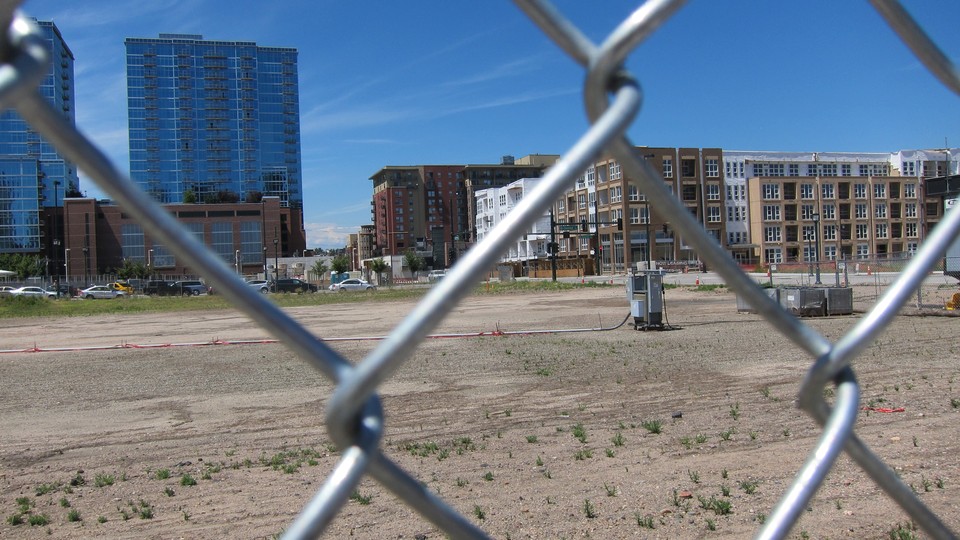 This article is part of a Next Economy series on Denver and its growing millennial population.
DENVER—Four years ago, Ryan Oestreich set up an RSS feed on Craigslist so that he could be the very first person to contact a landlord when an apartment became available. "Oh my God, that was a trial in itself. If you weren't the first person to see the apartment with a checkbook, you weren't very likely to get the apartment," he says.
Oestreich, 30, and his then-girlfriend (now wife) rented for three years while she finished her master's degree in medical anthropology. They were living on his nonprofit salary at the Denver Film Society, so they needed a rental place for less than $700 a month. That's possible in Denver, he says, but not in the desirable downtown high-rises or the trendy LoHi districts packed with brewpubs. It also means there is lots of competition for the cheaper places.
"Landlords could do whatever they hell they wanted to," Oestreich says. "We had people who wouldn't call us back." And potential occupants had to be ready to sign a lease immediately. Buying a house was actually less traumatic for the couple.
Once Oestreich's wife graduated and got a job, they had two modest salaries and could afford their small house in central Denver. They're pleased to be in the city rather than in a suburb where they could have a bigger home. "We don't need much space," he says. "We like Denver. We like the city."
The renter-to-homeowner trajectory is one many young adults still hope to follow, and it's one reason millennials are attracted to a city like Denver, where the rental and home-buying markets are somewhat reasonable. But even here, it's getting harder to afford that big step of settling down in the community. Single-family homes in Denver generally run around $300,000, and cheaper condominiums are hard to come by because of a building shortage.
RealtyTrac recently put Denver on the top 10 list of least affordable counties for millennials who want to buy homes. Denver's median home price in April was $270,000, according to the real estate site. That's a far cry from the $950,000 median in San Francisco or $455,000 in Washington—other popular destinations for millennials—but it's still a lot of dough for people early in their careers.
"It is something that we're aspiring to. Just not yet," says Sara Stevens, a 27-year-old aide to Colorado's junior senator, Democrat Michael Bennet.
Nationally, young people are twice as likely to be unemployed as the general population, and 60 percent of those who went to college are burdened with student debt. Getting millennials on the path to home ownership starts with getting young people out of their parents' houses, says economist Mark Zandi of Moody's Analytics. "There are 4.5 million more twentysomethings living with their parents today than in 2007," he said at a recent housing conference sponsored by the Bipartisan Policy Center. "If you don't get into an apartment, you're not going to get into a home."
With its active lifestyles, relaxed vibe, and relatively affordable cost of living, it's no surprise that Denver is one of the most attractive cities for millennials. But the city may not be able to retain the young professionals who have flocked here if it can't provide more opportunities for them to become homeowners. Denver is suffering from a crushing shortage of available condominiums, a cheaper option that often forms a bridge for young people between apartment renting and buying a stand-alone home.
Condo construction in Denver has plunged since the state Legislature passed a bill in 2010 making it easier for condo owners to sue their builders. Lawmakers were reacting to a spate of horror stories about shoddily-built condo buildings when they passed the law, which allows homeowner associations to file class-action lawsuits against builders if two or more units in their building have defects.
Since then, condo construction in Denver has basically stopped. In 2006 and 2007, condos and townhouses made up about one-fourth of newly built homes. In 2012, they made up 2 percent, the market research firm Metrostudy told the Legislature last year.
Denver's elected officials don't like the condo liability law, especially when they proudly tout their millennial popularity as a selling point for the region. "The millennials who come to Colorado and who want to buy product can't buy product. And since that is the biggest segment of the population coming to Colorado, why are we disenfranchising them from home ownership?" groused Doug Tisdale, mayor of the Denver suburb Cherry Hills Village at a recent meeting of metro-area mayors.
"We went around and talked to these big national builders and said, 'How many condos did you build last year? None. How many did you build this year? None. How many are you going to build next year? None," says Tom Clark, CEO of the Metro Denver Economic Development Corp. "Well, if you're trying to draw millennials, that denser urban experience is a crucial part of their rite of passage."
The Denver-area mayors are teaming up with the local business community to roll back some of the provisions of the law, but insiders privately acknowledge that they will have little traction in the Legislature because powerful members have squelched similar efforts in the past two years.
"I hear people say millennials don't want to buy. That's so not true," says Amy Cesario, a Denver real-estate agent with the Berkshire Group who specializes in selling homes to young adults and people over 55. "I just sold a 26-year-old a $350,000 half duplex."
Cesario says young adults are different than her older clients. They are savvier. And many of them want to be in the city, where "we don't have a lot of inventory under $300,000." The more affluent young people, generally in high-tech or energy jobs, have a hard time finding condo units downtown. That's close to their work, the major sports arenas (important in an NFL-obsessed town like Denver), and the bars and brewpubs.
Meanwhile, many Denver millennials are waiting for their chance to move along in the housing pipeline. Kinsy Lewis, 27, lives with her parents after breaking off an engagement a few years ago. She might move in with her boyfriend, Jonathan Adams, 26, but they aren't there yet. And Adams wants to move into the downtown LoHi neighborhood, but rents are steep enough there that he would have to have several roommates to make ends meet.
These two are a long way from considering their own mortgages, but Denver leaders know that they are the future of the city. It's a market that can't be ignored for long.