What's Wrong With Comcast?
The story of a company that's too big to function.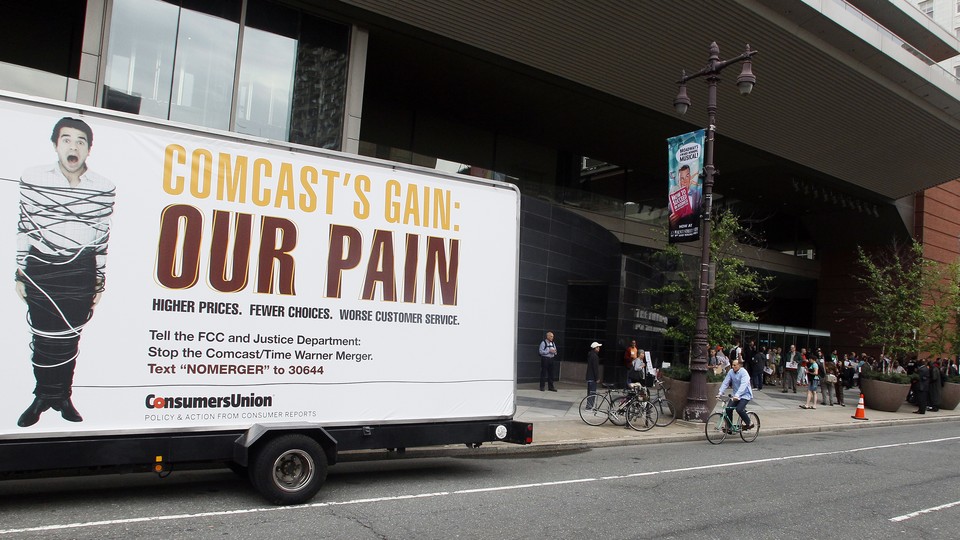 Last month, when millions of people listened in for eight minutes of Comcast-customer-service pain, there was more to the clip's viral power than just the Kafka-esque plight of the caller. There was also, underlying the clip's resonance, a shared, simmering resentment, not of customer service in general, but of Comcast, the nation's largest cable provider, in particular.
Following that incident, the Verge's Adrianne Jeffries put out a call to Comcast employees: What in the world is going on over there?
Jeffries has now heard from and interviewed around 150 current and former Comcast employees and has been publishing round-ups of excerpts. This week, however, she has published an essay that organizes all of that raw data into a story, explaining why Comcast can't seem to get its act together and why, she concludes, the existing problems will only be exacerbated by Comcast's pending acquisition of Time Warner, the country's second biggest cable provider.
At the most basic level, Comcast's problem seems to be its size: Comcast has grown piecemeal, acquisition by acquisition, and that means that its product, services, pricing, and systems vary greatly region to region. Today it has 83,000 employees operating in some 80 different markets.
If you want to, say, buy a pillow on Amazon, it doesn't matter where in the country you are, you're going to get the same price. Not so for cable—Jeffries writes that the current cheapest deal in Portland is $79.99/month, but it's $99.99/month in Knoxville, and each deal gets the customer different speeds, channels, and so on—which means headaches for the sales agents (many of whom are contractors) who are trying to answer customer questions about pricing.
But beyond the regional variations in plans, the toughest challenge for Comcast might be the integration (or lack thereof) of all the different organizational systems the company has attempted to mesh together. As Jeffries writes:
Comcast country isn't so much a nation-state as it is a federation of fiefdoms. Like other major players in the cable industry, Comcast grew by rolling up smaller (and sometimes larger) systems: E.W. Scripps in 1995, AT&T Broadband in 2001, and Adelphia Communications in 2005, among others.

After acquiring these companies, Comcast often left local infrastructure in place, including computer systems and management, which provided short-term continuity. However, this practice — coupled with other factors — fostered an organization with systemic problems and led to notoriously bad customer service.

Comcast frequently experiments with internal organization (in fact, it experiments a lot with everything — "'C' is for change" is a popular internal slogan). The company once had five national divisions; then it dropped to four, and now three: Northeast, Central, and West. Each reorganization was a radical shift. "The Houston area at one point reported to Boston. Then they were reporting to Atlanta. When I left, they were reporting to Denver," says an engineer who worked for Comcast from 2000 to 2011.
None of this, to say the least, provides much reason to feel optimistic for consumers should Comcast's Time Warner acquisition succeed. Problems that stem from size tend not to improve with growth.