Would a Name Change Help Malaysia Airlines?
Nearly two decades ago, another airline emerged from a disaster with a new name. A study of how it's fared since.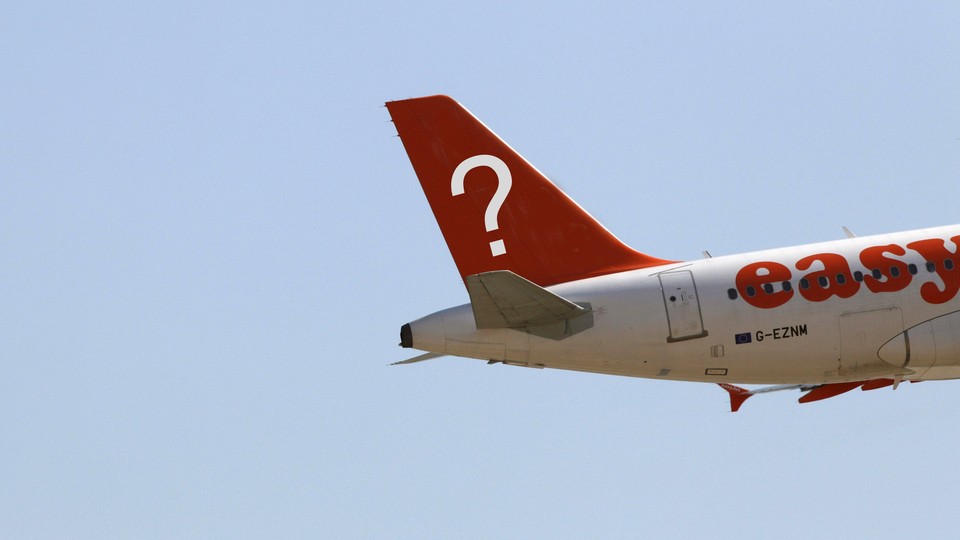 After an hour-long mechanical delay, ValuJet Airlines Flight 592 took off from Miami International Airport at 2:13 p.m. on May 11, 1996. 592 was, due to an oversight, illegally transporting "shaving-cream-sized canisters" that could generate oxygen. The generators aboard the plane were past their expiration dates, and, on top of that, they weren't packed properly. Minutes after takeoff, they began emitting oxygen, which, prodded by the heat in the cargo bay, soon caught fire.
By around 2:23 p.m., the plane had crashed in the Everglades, killing everyone onboard. And by September 1997, ValuJet began calling itself AirTran.
After the crash, ValuJet's prospects were far from rosy. The government barred it from operating for three months, and by the time service resumed, customers had long since lost faith in the airline. The company eventually decided to cut its losses and acquire AirTran, a small, lesser-known carrier whose name it could claim as its own. Nearly a decade later, a New York Times article called AirTran "one of the most unlikely success stories in the airline industry."
Malaysia Airlines, after its recent catastrophes, finds itself in a situation not unlike ValuJet's. There are of course differences—the Flight 592 crash didn't attract sustained worldwide attention, and MH17's cause wasn't on par with the extreme negligence involved in the ValuJet crash. Nevertheless, Malaysia Airlines might be contemplating following ValuJet's lead: The Telegraph reports that the airline is considering changing its name.
The conventional wisdom is that corporate name changes rarely have a positive impact on a company's well-being in the long-term, even if there are some amusing anomalies (Sony was originally Tokyo Tsushin Kogyo and Nike used to be Blue Ribbon Sports). Even though some companies see increases in their valuations immediately following name-change announcements (AirTran's stock price rose 33 percent after its 1997 announcement), the benefits from a change tend to be, in the words of one 1989 study, "modest and transitory."
That said, Malaysia Airlines's reevaluation might not be a bad idea, especially if the company makes a concerted effort to change its operations, too. "It can't hurt to change the name and might help, especially as time passes," says John Howe, a professor of finance at the University of Missouri-Columbia, and an author of an early paper about corporate name changes. "How many people today know that AirTran was ValuJet?"
"It's really easy to change the name of an airline," says Stephen Pruitt, a professor of finance at the University of Missouri-Kansas City. And, more importantly, he adds, "People have short memories." Pruitt says ValuJet's crash was forgotten in a matter of years thanks to the fact that the company's name change came with a revised business plan. "When ValuJet was operating before the crash, they had the oldest fleet, pretty much, in the airline industry … [and then they ended] up with one of the youngest fleets," he says.
Keeping this in mind, the ValuJet case study would appear enlightening for an airline looking for a new image. But there was another analysis, written up in 2004, that examined a different question relevant to Malaysia Airlines: What happens when Malaysian companies change their names?
The study analyzed 36 companies listed on the Kuala Lumpur Stock Exchange that had changed their names. It found, consistent with the typical thinking on name changes, that "the market cannot be fooled by just a mere name change." The study did note, however, that a name change could be effective if accompanied by the news that the company would be restructured in compliance with Malaysian regulators.
The Financial Times recently pointed out that even ignoring this year's catastrophes, Malaysia Airlines hasn't been performing well. In fact, the company has posted losses three years running. Those figures, in combination with MH370 and MH17, suggest that the airline is due for more than just a name change.