How Ferguson Businesses Are Dealing with Looting
The Wire spoke to local business to see how they are protecting against looting and dealing with its aftermath.
This article is from the archive of our partner
.
This weekend, protests in Ferguson, Missouri turned violent. The protests included tear gas and rubber bullets from police, as protesters banded together against the use of force. While the protests were mostly peaceful, some protesters again turned to looting as night fell.
Looting affected a number of businesses over the weekend, including Domino's Pizza, Papa John's, an auto parts store, grocery shop, technology store, and a storage facility. Windows were also broken at the McDonald's where many journalists have been using as their home base, while two of the hardest hit were a local liquor store and a QuikTrip gas station that was burned to the ground.
While some protesters became looters, others in the crowd urged them to peacefully protest the killing of Michael Brown. Some groups even stood in front of the damaged stores so no one could enter:
As reports of looting become more frequent, and police struggle to offer protection, local business owners are boarding up their stores. Some are even closing stores completely. Over the past several days, The Wire called a variety of businesses in the Ferguson area to learn how they were responding. Over half did not answer their phones during regular business hours, and others reported limited hours.
Two of the largest stores in town prepared for looting in advance. Walmart Supercenter shut their doors early this weekend, due to the curfew and as a general precaution. An employee told The Wire, "We are closing our store at 8 p.m. We have boarded up our windows. Eleven p.m. is when we usually when we close, but some departments are closing at six. " They were unable to specify which departments would close at six, but hinted it may be the electronics division. They also hired extra security to stand outside of their store.
Home Depot in Ferguson is open and working regular business hours, the manager on duty told us. However, they did beef up security, "We do have two security guards that we don't normally have. They are in front of the store." As for lumber that other stores are using to board up their windows, Home Depot did confirm a general increase in the sale of boards, and said their stock levels were "okay" to continue selling it to local business owners.
Some stores are less prepared. An employee at the Shop N Save Pharmacy in Ferguson was unsure of how to prepare for looting, "We have no idea. We have had no communications yet. It is all supposed to come down through corporate." As for boarding up windows, "Not at this location, but other locations, I don't know."
Many store owners we spoke with had little to say, noting that they had received multiple press calls and did not wish to discuss it further. One store owner, who asked to remain anonymous, told us, "It's a really sensitive subject for business owners in our community right now." When it comes to boarding up windows, they would not disclose future plans, only saying, "We have had to make some changes, but we are proud members of Ferguson. This is a good community but something tragic happened. More good needs to come out of this than bad. And right now, it is more bad than good."
Other stores, like the local Toys R Us, were not at all concerned. "We are open for business, all glass is in place." Target felt similarly, though they noted employees could not discuss details with press. One did tell us that "I can confirm this target location is open and working regular business hours. I can't answer any other questions to the media."
Several call back led us to a manager at the Target, who told us, "We have been unaffected by anything. We haven't had anything looting wise, the store is completely intact. Nothing boarded." The Wire has reached out to Target's corporate press team in regards to their future plans for this location, but have not received a response.
Beyond looting, protesters are also swarming other businesses. A report from the Daily Caller indicated that McDonald's was so overrun with people on Sunday night that the "Employees of the McDonald's were forced to lock themselves in a storage room until police arrived."
Lisa McComb, a spokesperson for McDonald's, told The Wire this was not the case. "There were crowds near the restaurant and people attempted to seek shelter in the McDonald's, and due to safety concerns, the restaurant needed to close for the remainder of the evening. Regarding the employees, they were advised to – and some chose to on their own accord — move away from the crowds for their personal safety." She did note that a window was broken at this location.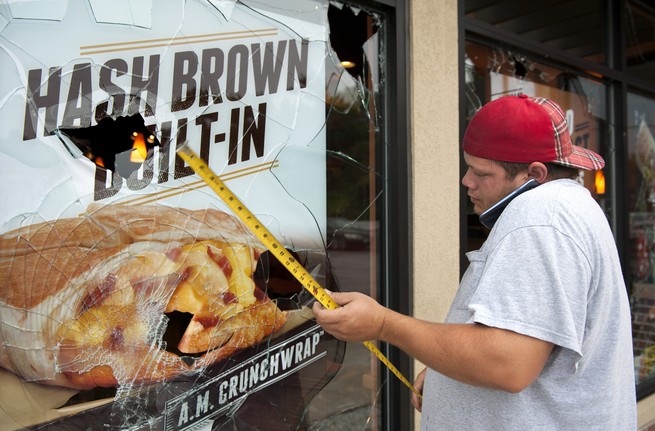 Such broken windows do not come cheap. Business has massively increased for local glass repair businesses. A-Affordable Glass, told The Wire that from the weekend, they had three board up requests and five requests for new glass. Boarding up a window is $300 to $400, and new glass can be about $1,000 for a piece the size of the McDonald's window. A.M. Richards Glass also reported that they were "processing a lot of paperwork from the weekend," and were unable to quantify the exact number of requests they received from businesses for new windows.
While some insurance policies cover the cost, other owners will have to pay out of pocket. "It depends on each job. We have nothing to do with insurance," explained an employee at A-Affordable Glass.
Other owners have decided to 'stand their ground.' One owner, who asked to remain anonymous, said they would be boarding up their windows and buying extra ammo.
This article is from the archive of our partner The Wire.