Atlanta's Housing Recovery Is a Tale of Two Cities
Atlanta home prices are up 14 percent over the last year. But minority suburbs remain underwater.
In the affluent suburb of Dunwoody, Ga., northeast of downtown Atlanta, the housing market is recovering. Only 12.3 percent of homes in Dunwoody's 30338 ZIP code are valued lower than the outstanding mortgage balance. Home prices are rising. Just a short drive south is Riverdale, a lower-income community where 80 percent of the residents are African-American. A whopping 76 percent of homes in Riverdale's 30296 ZIP code are underwater.
Since bottoming out in early 2012, Atlanta's recovery has roughly tracked that of the nation as a whole. Atlanta's home prices are up 14 percent over the past year, according to Standard & Poor's Case-Shiller Indices. (Case-Shiller's 20-city index is up 11 percent.) But behind that topline figure are Atlanta area communities such as Dunwoody, which has largely recovered from the housing crisis, and Riverdale, which is still struggling, with no end in sight.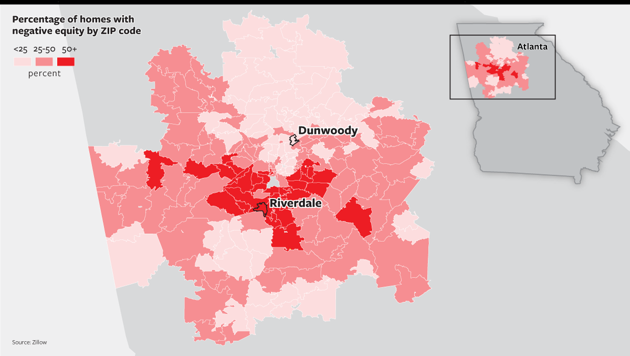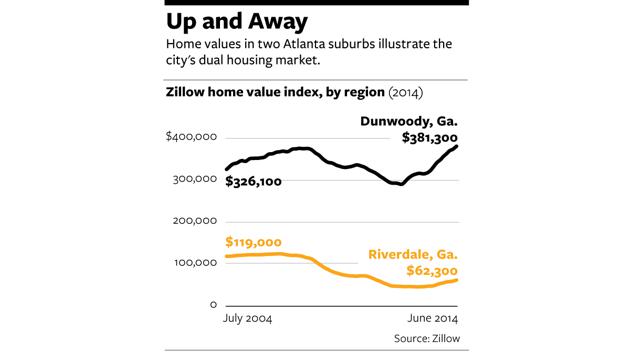 "[The increase] is due primarily to a dual housing market, with more affluent communities within the region seeing a strong rebound, but with moderate-income areas seeing continued weak activity and low values," says Dan Immergluck, professor at the School of City and Regional Planning at the Georgia Institute of Technology. "It is really a tale of two markets."
Riverdale is among those moderate-income areas, and one of more than a dozen Atlanta-area ZIP codes that lead the nation in percentage of homes in negative equity. A recent study from the Haas Institute for a Fair and Inclusive Society at the University of California (Berkeley), using Zillow data, shows that that 19 of the 30 ZIP codes with the highest percentage of underwater homes are in metro Atlanta.
Why are so many of the most underwater ZIP codes in the Atlanta area? To answer that question, researchers Taz George and Bing Bai of the Urban Institute's Housing Finance Policy Center analyzed Home Mortgage Disclosure Act statistics. They found that from 2001 to '05, Atlanta saw a 51 percent increase in new borrowers, compared with 38 percent nationwide. Then from 2005 to '12, Atlanta saw a 73 percent drop in new-purchase mortgages, while the U.S. saw a 62 percent decline.
The aftermath of Atlanta's acute boom and bust is still being felt in the suburbs south of downtown, where census statistics show that nonwhites average 83 percent of the population in the 19 metro area ZIP codes that lead the nation in underwater homes. In contrast, Dunwoody's 30338 ZIP code is 24.1 percent nonwhite. Atlanta's housing recovery gap isn't just geographic or economic — it's racial and ethnic as well.
CORRECTION: In an earlier version of this story, the top map had the labels reversed. Dunwoody is in northeast Atlanta, and Riverdale is in southern Atlanta.