Why Are There So Few Ramadan Marketing Campaigns?
The month-long holiday ends tonight, meaning many retailers have missed another opportunity to pitch to America's growing Muslim population.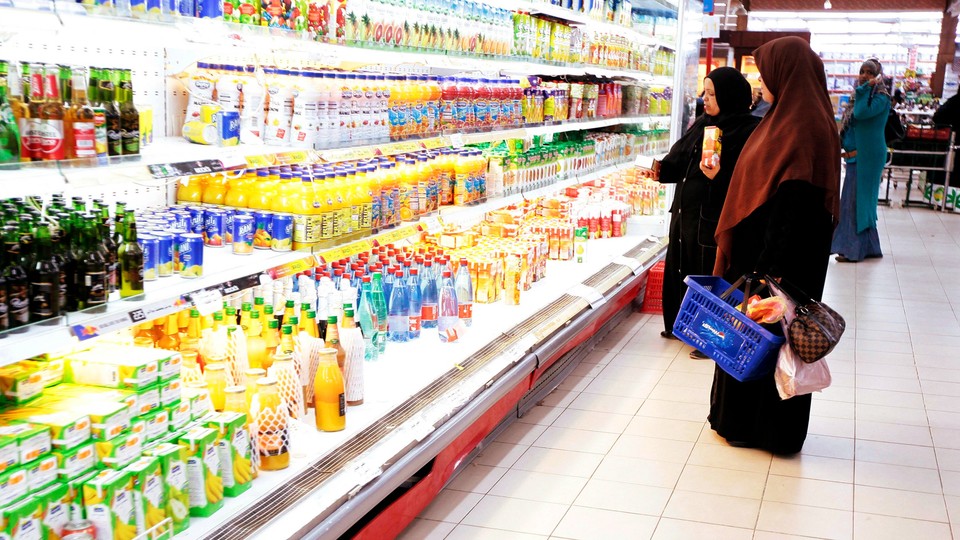 With a drought of federal holidays until Labor Day and many workers on vacation, retail sales tend to slow down during this stretch of the summer, when seasonal promotions are rare. In July, retailers might halfheartedly put up too-early back-to-school sales or uninventive mid-summer specials. But thanks to America's changing demographics, they might consider another kind of promotion: a Ramadan sale.
Ramadan, a month-long holiday that ends tonight, is an occasion for a growing population of adherents to purchase gifts and food right in the middle of a month of sleepy retail sales. If there are Christmas doorbusters, why aren't there promotions for Ramadan?
In the U.S., the growth of the Muslim population is projected to climb from 2.6 million in 2010 to 6.2 million in 2030. By then, the U.S. is projected to have have more Muslims than any European country, except for Russia and France.
One firm currently urging brands to consider Ramadan a sales opportunity is Ogilvy Noor, a division of global marketing giant Ogilvy & Mather. Ogilvy Noor—"Noor" translates to the Arabic word for light—bills itself as the world's first Islamic marketing consulting agency, offering guidance to brands navigating the growing Muslim world.
Shelina Janmohamed, vice president of Ogilvy Noor, says the challenge is for brands to go beyond selling items stereotypically associated with Muslims. "Some supermarkets simply gather together traditional staples like oil, flour, samosas, and lentils and put a Ramadan promotion banner on top," Janmohamed said. "A lot of the younger [Muslims] don't want to eat 'traditional' foods from their 'homelands' and want to see new products and promotions delivered that speak to their new identity as American Muslims."
Janmohamed points to England's Tesco as a trendsetter for Ramadan marketing. In 2013, the supermarket chain ran its second Ramadan promotion after a successful debut in 2012, bringing in £30 million, or $51 million, in revenue from 315 of its more than 6,000 stores. The company even has a marketing team devoted specifically to Muslim consumers, which has recommended extending hours to accommodate devotees who can only eat and shop late at night and making sure shelves are stocked before the nighttime rush with goods advertised in special leaflets for the holiday.
Along with Asda, a spinoff of Walmart that boasts special halal meat counters, Tesco is generally considered Muslim-friendly. And that's potentially very lucrative, given that Muslims are projected to account for 8.2 percent of the British population in the coming decades—nearly double the amount it does today.
Despite the success of Ramadan-centric marketing in England, American brands have been hesitant to adopt the practice. That's probably to their detriment: American Muslims are about as well-off as the rest of the U.S., they're the the country's second-most educated religious group, and a large portion of them fall between the ages of 18 and 39, a marketer's sweet spot.
While Ramadan-based promotions are a good starting place for American retailers, it likely would be to many businesses' benefit to pay attention to the Muslim demographic beyond the holy month and throughout the year. For that to happen, though, there needs to be a better understanding of the diversity of Muslim culture, says Sabiha Ansari, co-founder of the American Muslim Consumer Consortium, a U.S.-based Muslim marketing focus group. She points to religious bias as a constant obstacle to marketing toward Muslims. "Slowly, America is waking up to it," Ansari says, but "brands might be somewhat hesitant in taking an initial leap due to the current climate in the media."
The American market for products that cater to Muslim sensibilities is about to greatly expand, Ansari predicts. And it's not just focused on food for iftar, the traditional breaking of the fast each evening: Fashion is slowly beginning to acknowledge Islamic dress codes, and DKNY's chic Ramadan line is an indicator of how hijabi fashion is changing popular misconception of being simply covered up in baggy clothes. Ansari points to the cosmetics company Inglot, which developed a breathable and water-permeable nail polish that abides by the Muslim protocol preventing women from adorning their hands during prayer.
Ansari says the current generation of American Muslims is different from those in the past: "The market is growing and it makes good business sense for companies to start [marketing toward them] now. They're different from the immigration population of 30 or 40 years ago. These people are Americans. They want to join their faith with being an American."
Some businesses haven't been ignoring Muslim shoppers, and have benefited as a result. Adnan Durrani, the founder of the halal food company Saffron Road, is a prime example of how Islamic-inspired products can succeed by focusing on the broader appeal of the religion's ethics.
Saffron Road, which uses only products sourced from sustainable, family-owned farms, became a focus of controversy in the summer of 2011 when Whole Foods ran its first Ramadan-focused campaign by promoting Saffron Road's products. The campaign was met with bigoted calls urging Whole Foods to rid their shelves of the products.
That didn't deter Saffron Road, according to Durrani, who dismisses the incident. He says that, in fact, the uproar brought his company business. "Our sales went up over 500 percent on that promotion," Durrani said. "We had thousands of consumers who had never gone to a Whole Foods before buying our products. It was a phenomenal success. Whole Foods has increased its shelf space [for Saffron Road] from four to 50 [products]." Durrani claims that, according to Nielsen, Saffron Road is the fastest growing natural frozen entrée brand in the country.
In an era when frozen entrée sales have declined, Saffron Road has flourished. The company's all-natural, antibiotic-free meals stand in stark contrast with the nutritionally underwhelming fare typically found in the frozen-food aisle.
Saffron Road's success suggests that brands that don't pigeonhole themselves as made only for Muslims can do quite well. Many young Muslims who aren't restricted to the foods their parents eat are excited about the company's Korean tacos and beef bulgogi—two products not normally thought of as halal. Janmohamed calls this new generation of consumers "the futurists," and says they will be instrumental in developing a base of consumers who aren't necessarily interested in purchasing based on religious beliefs, but rather based on a company's practices.
Food and retail aren't the only industries that would do well to take heed of Muslim values, Ansari says. She points to finance: Banks have cropped up that cater to the Muslim belief that lenders shall not collect interest on loans. "[Islamic banking institutions] are slowly gaining attention because they tend to be ethical and socially responsible investments," she said. The charitable aspect of the religion also appeals to many tired of big banks and corporate extravagance.
Durrani says Ramadan would only represent the beginning of the American cultural and economic acceptance of the religion and its adherents as a viable demographic force. He recounts being at an iftar and sidling up to a Whole Foods senior buyer, who happened to be Jewish. "It's really beautiful, and it's finally happened," Durrani remembers the man saying. "The stores now understand what this holiday means and how to appeal to Muslims and non-Muslims."