What Happens When Detroit Shuts Off the Water of 100,000 People
Some run dry—and others pay $30 for plumbers to illegally turn the taps back on.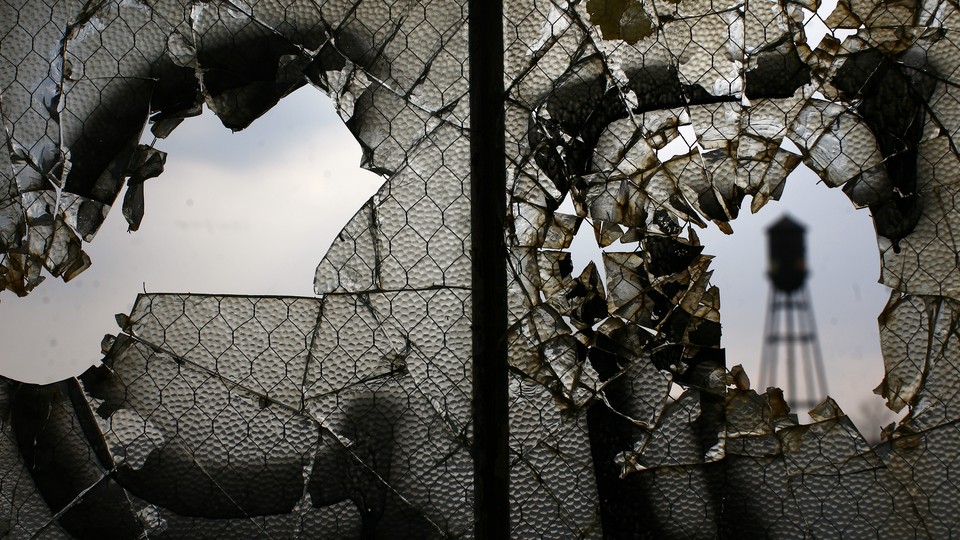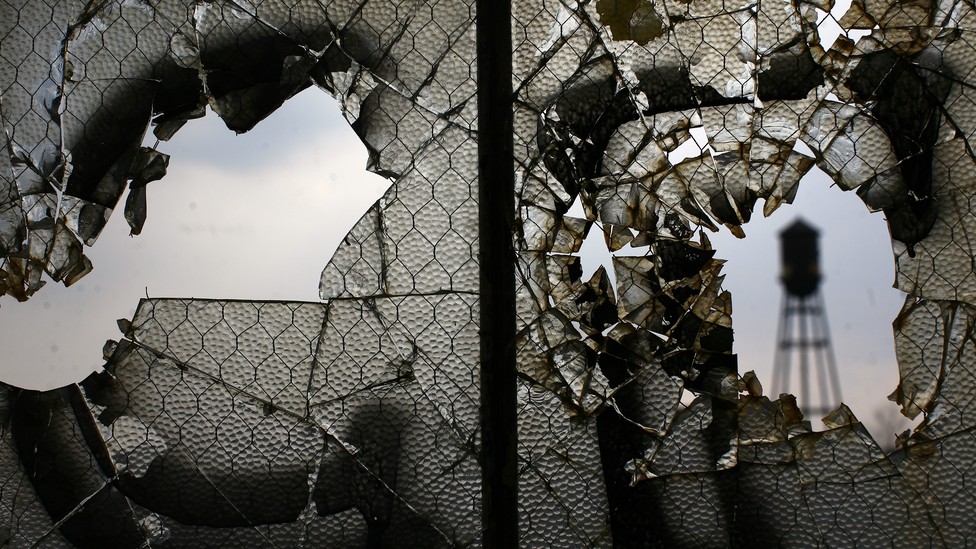 When the water trucks arrived near Arlyssa Heard's home on the west side of Detroit at the end of June, the 42-year-old single mother of two said it felt like the entire neighborhood was being taken over. "There were water trucks literally circling up and down blocks. I'd never seen so many in my life," she says. "It's like they were the police hunting down a criminal."
It may not have been a police crackdown, but what she witnessed was definitely a crackdown of a sort. Since last year, the Detroit Water and Sewerage Department has been turning off water at the homes of customers behind on their bills. The shut-off campaign comes at a time of crisis and hastened recovery for Detroit, which became the largest American city to ever file for bankruptcy last summer. The value of the bonds associated with the water department's debt comes to $5.7 billion, which constitutes almost one-third of the amount estimated to have pushed Detroit into bankruptcy.
The campaign to crack down on overdue bills—which is aimed at customers who are more than two months behind on their bills or who owe more than $150—has been described by activists and scholars alike as an effort, pushed by the city's emergency manager, Kevyn Orr, to get rid of the bad debt associated with the water department and prep the public entity for privatization.
In a city where the median household income is less than half the national average, 38 percent of residents live below the poverty line and 23 percent are unemployed, it comes as no surprise that at least 40 percent of customers are delinquent on their bills.
The water shut-offs have taken no prisoners. Since this year's shut-offs started at the end of March, at least 15,000 Detroit households have had their water turned off. But the campaign, a tactic designed to pressure Detroiters into paying their water bills, began with little or no publicity last year, when 24,000 homes had their water shut off, says Darryl Latimer, the deputy director of the water department.
The frequency of shut-offs gained momentum in the fall, shortly after the city's bankruptcy was filed, and just a few months after the city contracted shut-off services out to Homrich, a demolition company. The city agreed to pay Homrich at most $6 million for work over 730 calendar days. Delinquent customers were given a grace period in December for the winter months, with shut-offs resuming upon the arrival of spring.
With the city's average of just under three people per household, these numbers mean that roughly 100,000 Detroiters out of a total population that hovers just under 700,000 have already been affected by the shut-offs, with tens of thousands more awaiting their turn.
Clampdowns can seem to arrive out of the blue, as residents don't receive any formal notification that their services are to be shut off. Heard's bills, up until the last one, which was for $263.87, only contained a small "past due" notice at the end, informing her that she was behind on her payments and her service was "subject to disconnection."
Latimer says 60 percent of the department's customers show up to pay their bills within 24 hours of being shut off, and most of the rest pay up a couple of days after that. Latimer appears to take this as proof that customers can afford to pay, but are just being irresponsible citizens, taking advantage of the system as much as they can.
Latimer says revenue at the department is up. The department has seen an increase of 45 percent to 50 percent in collectables associated with individuals' accounts compared to previous years, Latimer says. "The campaign has been extremely effective."
But the stories of residents left without water suggest a scenario that's less clear-cut. Heard, who lost her job as a program manager in a welfare-to-work program five years ago and has been picking up odd community-based jobs since, was among those choosing to pay her bill immediately after her water was shut off—although she did have to wait five days before the water was eventually turned back on.
However, many of her neighbors who could not afford to settle their debts instead chose to pay a local handyman $30 to have their water turned back on illegally. Detroiters in neighborhoods across the city who cannot face their accumulated water debts—even with the department's offer to only collect 30 percent initially—are opting for the same solution.
"They do what they've got to do. What choice do they have?" says Roslyn Walker, a resident of northwest Detroit whose water was shut off in mid-June. Most of her neighbors have decided to risk it and go the illegal route, she says.
Walker, a 48-year-old single mother of two, lost her job as an in-home caregiver in 2010 and has since been cleaning and cooking in acquaintances' houses a couple of times a week to try and make ends meet. She had to borrow money from her mother to pay off her initial $300 water bill.
The rest of the money Walker owes to the water department will be added on to her future statements, meaning her monthly bills will be over $100 for the foreseeable future. This is an amount she cannot afford, she says. Another shut-off looms around the corner. "I'll pay when I have the money, but if I don't have the money, what can I do?" she asks.
Residents targeted by the shut-off campaign have been reluctant to speak up. Some have stayed quiet because they've resorted to illegally hiring plumbers, and others—who are without water and relying on neighbors and friends for drinking water and showers—are afraid child-protective services may intervene, as a lack of running water is grounds for social services to immediately take children out of parents' care.
Even those without children remain reticent. Some feel tarred by a general notion of shame and culpability for not being able to meet such a bare necessity as water. Last week, a headline in one of the local newspapers, The Detroit News, described delinquent customers as "water scofflaws."
This stigma is enhanced by the painting of blue lines in front of those houses that have just had their water turned off—lines painted by Homrich's employees after a job is completed. Streets to the south of Roslyn Walker's home showed blue line after blue line; among non-vacant houses, shut-off water was the norm.
Monica Lewis-Patrick, a community organizer who has been going door to door with fellow activists in order to raise awareness and distribute water, says she has come across old-age pensioners who—not knowing where to turn after their taps were closed off—have gone without running water for almost a year.
Information can travel slowly in this 139-square-mile city, which has more than 80,000 vacant structures and abandoned lots—many of which themselves have untended gushing pipes and leaks. Not everyone has the money for a car, and public transportation is severely lacking. Journeys across the city by bus can take up to three hours, depending on transit connections.
In response to the unraveling situation in Detroit, the United Nations issued a statement out of Geneva last month that said, "Disconnection of water services because of failure to pay due to lack of means constitutes a violation of the human right to water and other international human rights."
Just a week before the UN's statement was released, Detroit's city council approved a measure to increase the price of water by 8.7 percent. Latimer says the average monthly bill for a family of four is $75 in Detroit, almost double the national average. Invaluably, Detroit borders the Great Lakes, which together hold 21 percent of the world's surface freshwater.
The human right to water does not imply that it should be available for free, says Sharmila Murthy, an associate professor of law at Suffolk University and an associate fellow at Harvard's Kennedy School of Government. "The key element here is affordability," she says.
Even Detroiters who have fronted the money, such as Heard, cannot necessarily afford to do so, by any fair standard. While Heard said paying her water bill has now climbed to the top of her priority list, that has come at the expense of being able to make rent or pay her electricity and gas bills, she says.
"Water is not affordable if the person must give up another human right to pay for water and sanitation services—medicines and health-care costs, food, rent, school fees," says Patricia Jones, a senior program leader at the Unitarian Universalist Service Committee. Jones is particularly worried "for those for whom a water shut-off poses an extraordinary burden," including families with children below the age of six and low-income seniors over 65.
"This is a public-health emergency," says Peter Hammer, a law professor at Wayne State University and director of the school's Center for Civil Rights. But Hammer takes it further. Beyond the likely prepping of the water department for privatization, the law professor states these measures are just one part of a larger process of moving people out of neighborhoods the city wants to see emptied out. "They are also shutting water off not wishing people will pay necessarily, but implicitly hoping people will move," he says.
Geographical relocation is a controversial issue in a city like Detroit, which is 83 percent African-American and has a painful history of housing segregation. The Motor City's financial woes are also often associated with decades of white flight, which left its population depleted by almost two-thirds and its tax base in tatters.
The city's racial makeup plays a role in the way this is being dealt with too, Hammer says: "If this was not an impoverished African-American community that was getting the brunt of this, people would be up in arms."