The Only Job With an Industry Devoted to Helping People Quit
So many lawyers want out that there are consultants and coaches who specialize in getting them pointed in a new direction.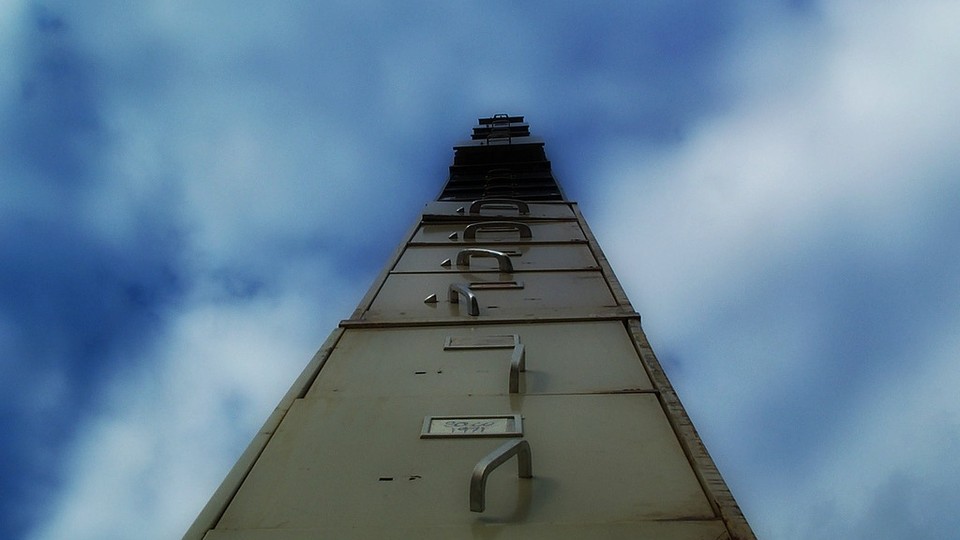 I went to law school because I didn't know what to do after college and I'm bad at math. Law school seemed like a safe, respectable path and gave me an easy answer to what I was going to do with my life. And, as part of the millennial generation obsessed with test scores and academic achievement, I relished the spoils of a high LSAT score, admission to an Ivy League law school, and a job offer from a fancy corporate law firm.
I spent my first year as lawyer holed up in a conference room sorting piles of documents wearing rubber covers on my fingertips that looked like tiny condoms. Eventually, I was trusted with more substantive tasks, writing briefs and taking depositions. But I had no appetite for conflict and found it hard to care about the interests I was serving. I realized I had never seriously considered whether I was cut out to be a lawyer, much less a corporate litigator. After a few years, I just wanted out, but I had no idea where to begin.
I knew that I was not alone. Law-firm associate consistently ranks at the top of unhappy-professions lists and despite starting salaries of $160,000, law firms experience significant yearly associate attrition. What I didn't realize was that the plight of burnt-out attorneys, particularly those at law firms, has recently spawned an industry of experts devoted to helping lawyers leave law. Attorneys now have their choice of specialized career counselors, blogs, books, and websites offering comfort and guidance to wannabe ex-Esqs.
"Law is the only career I know that has a sub-profession dedicated to helping people get out of it," says Liz Brown, author of the help manual, Life After Law: Finding Work You Love with the J.D. You Have, published last year.
This sub-profession has found a market among lawyers for whom the moment of desperation to get out of the law firm is the first time they have had to think critically about their careers.
The problem can begin with the choice to go to law school, which is often made for reasons having nothing to do with the actual practice of law and without diligence about whether the profession is really a fit. "I like to joke that I'm a Jewish kid who didn't like blood so I couldn't go to medical school, so I went to law school," says Casey Berman, a former attorney and founder of the blog Leave Law Behind, who admits, "I spent more time thinking about my iPhone purchase years later than a degree that was expensive and took three years out of my twenties."
Law school is very often the default choice of people who don't know what else to do, explains veteran New York City career consultant Eileen Wolkstein, who sees many unhappy attorneys in her practice. There's an assumption that the degree will easily open doors in many professions, and law school acts as a socially acceptable procrastination technique to delay more definitive career choices.
Once in law school, however, joining a law firm can seem like the only choice. "The types of people who go to law school seem to chase 'the best' like addicts," says Marc Luber, founder of J.D. Careers Out There, a website for lawyers in career transition. "They want the best grade, the most prestigious workplace, the highest salary."
Through formalized on-campus recruiting (particularly at top schools), the path to the law firm is so well-paved that students can navigate it on auto-pilot. "My law school made it so easy to get a job at a firm that I barely had to do any work at all to generate several associate position offers," says one of my former University of Pennsylvania Law School classmates. The appeal of the law firm is only enhanced by the reality of student loans. "Big law was really the only path I considered. With the level of debt I incurred by going to law school, taking the highest paying job felt like the only real, responsible choice," says another Ivy League grad.
While law schools are efficient at funneling students into law firms, much of the curriculum is based on theoretical analysis, and, as a result, there's a disconnect between the training students receive and the skills required in practice. "People graduate from law school not knowing what lawyers actually do," says Luber.
Though there are those who find it fulfilling, practicing at a law firm can be rough. Associates are expected to keep up a grueling schedule of billable hours and must be at the beck and call of partners and clients. These working conditions, Brown points out, can be at odds with the expectations of many millennials who feel that they should have more control over their lives.
Young lawyers are also often unprepared for the adversarial nature of practice. It's common for people to go into litigation because they write and speak well, but "they don't realize you have to go in and fight every day," says Berman. And many feel disappointment that there is not more social good in the work they do for corporate clients.
Faced with the realities of life in a law firm, discontented lawyers confront for the first time, often many years after they made the decision to go to law school, that law, or at least practicing in a law firm, may not have been the right choice for them. "Put someone who wasn't really chasing a specific path into a job that is very demanding and stressful and they eventually question why they're there," says Luber.
Attorneys often feel trapped, however, by what Brown terms the "twin bonds of money and status." Many lawyers start out in a firm job with the intention of paying-off loans (which, in 2012, averaged $140,000 for undergrad and law school combined), but quickly become accustomed to the lifestyle comforts their hefty paychecks afford. And for a type-A, trophy-collector lawyer, not being associated with an elite, if much maligned, profession is almost unthinkable. Then there's the guilt at walking away from a degree in which they've invested so many resources, says Kate Neville, founder of Neville Career Consulting, a Washington D.C.-based firm specializing in transitioning attorneys. Plus, lawyers are frequently operating in a bubble where there is very little recognition of the validity of alternative careers. "You can't just talk about quitting," says Brown. "That's crazy talk at a firm."
Given these stumbling blocks, many attorneys need hand-holding from outside sources in redirecting their careers. After seven years at a leading New York law firm and "realizing I had no life plan and having a slight breakdown about it, I decided to go to a career therapist," explains one client of Dr. Wolkstein's. It's not uncommon, Dr. Wolkstein told me, for lawyers who've been at firms for years to come to her feeling "so beaten down that they need help to regain their sense of themselves."
This help often begins with circling back to the questions these attorneys failed to ask themselves before they went to law school. "I advise everyone that the first step of finding the right path is to figure out who you are, what you want, and what you're good at," says Luber, who provides any visitor to his site J.D. Careers Out There with The Career Mirror: Reflection Questions for your Job Search. Meant to aid the introspection, the questionnaire asks lawyers to ponder, "what does 'success' mean to you?" and "if you won the lottery how would you want to spend your time?" For membership fees of $24.97 per month or $199 per year, lawyers can also gain access to Luber's trove of career advice videos, and for additional fees, enlist Luber as a private career coach. In Brown's book, Life After Law, she provides advice and inspiration in the form of real-world stories of former J.D.s who've found happiness in careers ranging from media consultant to acupuncturist to rabbi.
Of course, transitioning lawyers must not only engage in soul-searching, but also figure out concrete strategies for breaking into a new field, a task that might seem daunting to those who went the law-school-straight-to-law-firm route. "Law school doesn't teach you how to market yourself," explains Neville, who coaches clients in networking skills and articulating and reframing their abilities for prospective non-legal employers. Wolkstein's work with clients often includes assigning homework in the form of putting together lists of potential networking contacts, sending out emails to university alumni, and attending industry events.
"For the first couple months, I barely did what she suggested at all because it seemed too time consuming," says a former big law attorney who enlisted Wolkstein's help in transitioning to an in-house position at a media company. But after realizing "I didn't have much of a choice if I wanted to find a new job, I slowly started to follow her instructions, and began to see results shortly thereafter."
Attorneys who want to break into entirely new fields must sometimes also engage in additional education or at least lengthy volunteer or intern experience. For lawyers used to excelling and collecting accolades, as well as the cushy perks of having secretaries, firm-provided meals, and town cars, starting low on the totem pole can be a bitter pill to swallow. "It's a long and hard journey that requires the person to be persistent," says Wolkstein.
The good news is that for those who do persevere, the change can be incredibly rewarding. "I have not met a single former lawyer who regrets changing professions," writes Brown in Life After Law. "Most wish they had done it sooner." And whether a lawyer goes into government or starts a business or becomes or a Lego sculpture artist, the skills learned as attorneys, such as hard work, attention to detail, and thinking strategically become assets in new professions. "You always use the analytical skills and writing skills," says Don Shacknai, a former lawyer who now the holds the title of first deputy commissioner at New York City's Housing Preservation & Development agency.
Following the financial crisis, which saw the implosion of several major law firms, the grassroots alternative career movement is gaining traction in the broader legal world. "The bar is starting to realize that every law school is not going to be able to place students in law firms the way they used to, so there have to be other avenues," says Amy Impellizzeri, author of the forthcoming Lawyer Interrupted, a guide for lawyers looking to make career changes within or outside the law, to be published next year by the big daddy of the legal establishment, the American Bar Association. And law-school career centers are now occasionally referring students to sites like J.D. Careers Out There.
While for some the corner partner office may still represent the pinnacle of legal achievement, the expectations for a successful career are changing and there are now ever-expanding resources for J.D.s who want out of the law. For those of us who still get flashbacks of that conference room full of documents, that's a good thing.