The Growing Market for Getting Paid to Wait in Line
As with all things, you either pay in money or you pay in time.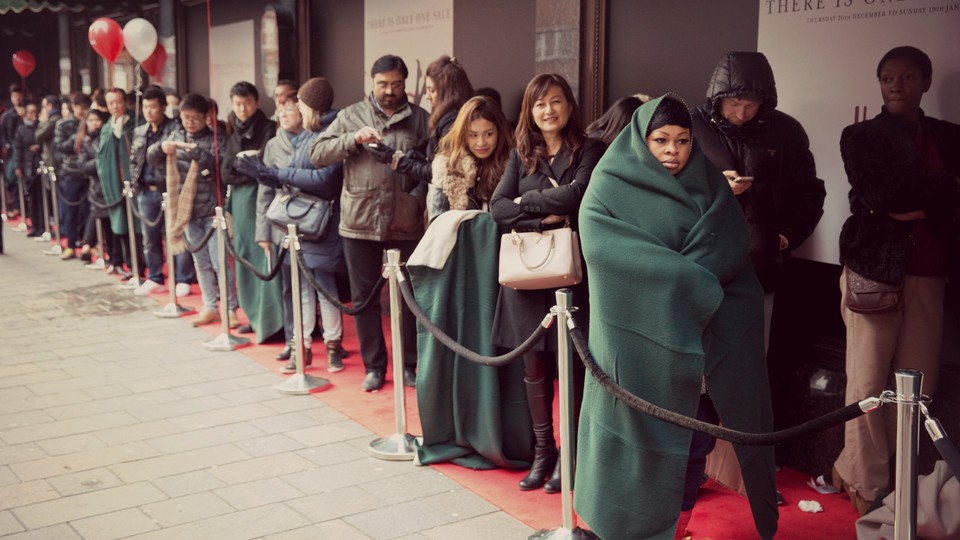 Those visiting New York for the first time wouldn't be completely incorrect if they figured that at its core, the city is just one long line. When I spent a summer there a couple years ago, I waited outside Lincoln Center to see some of Christian Marclay's mesmerizing video The Clock. I tried to minimize my wait by scheduling my queueing for the off-peak time of 3 a.m., and even then, I stood by for two or three hours. Had I been there for later summers, I'm sure I would've found myself biding my time in anticipation of other things, like the MoMA's "Rain Room" or, more shamefully, a cronut.
Now there's a company to ease the impatience of New Yorkers and urbanites around the world. SOLD Inc., whose name is an acronym for "Same Ole Line Dudes," will, at a cost of $25 for the first hour and $10 for each subsequent 30-minute period, wait in line for you. The New York company's services are aimed at buzzed-about lines, like those for the Cronut, as well as more mundanely numbing queues, like the DMV's.
Business Insider profiled the company's founder, Robert Samuel, earlier this week. Samuel, who can bring in up to $1,000 per week, started the firm after someone on Craigslist took up his offer to wait in line for the iPhone 5 in exchange for $100. The company has since expanded to include about a dozen of Samuel's friends—including one who was subjected to a grueling 43-hour wait for an audition on the TV show Shark Tank. Samuel says his employees are doing "a great job," though it remains unclear exactly how one could do poorly at standing in line.
It didn't used to be the case that there was appreciable demand for professional line-waiters, but Samuel's company competes with people from the likes of Task Rabbit, a website for hiring strangers to do odd jobs, and Craigslist, a website for hiring strangers to do odder jobs. His response, then, has been to turn to branding. He'll show up at long lines just to hand out business cards, and he'll write his company's name in chalk on the city's sidewalks.
Executive assistants used to be the province of the wealthy, and the fixed cost of taking the time to seek out someone to do your laundry or buy your groceries every once in a while was too high for most people. But sites like Task Rabbit have streamlined this process to the point where anyone willing to pay $20 an hour can have an executive assistant whenever they'd like.
Of course, unsavory things can happen when people pay others to exempt themselves from mundane tribulations, and maybe not all lines are in need of professional waiters, but companies like SOLD have brought to the middle class banal services previously available only to the wealthy. Samuel's experience with SOLD attests to this; when Business Insider asked him about his clientele, he described them as "everyday people."
Task Rabbit and Craigslist have presented middle-class people with their very own errand-runners, and their success in doing so has suggested there's untapped demand for services that do trivial but pesky tasks. As a result, there are now a number of new companies that have formed to accommodate this demand: They'll do your laundry or assemble your Ikea furniture. But whereas Craigslist is a peer-to-peer platform—which is a relatively new concept—these companies market their services in a traditional, business-to-consumer manner. In this way, companies like Samuel's, which trade the risk that comes with hiring a stranger for the trust that can be built by a brand (a risk that still lingers even considering the user reviews that Task Rabbit compiles), represent a decidedly old-school response to Craigslist and Task Rabbit, two uniquely modern developments.