Portraits of a World Slipping Away
More than a decade ago, the show Radio Diaries captured the stories of New Yorkers working jobs in dying industries. Today, their voices remind us of a city and a time that no longer exists.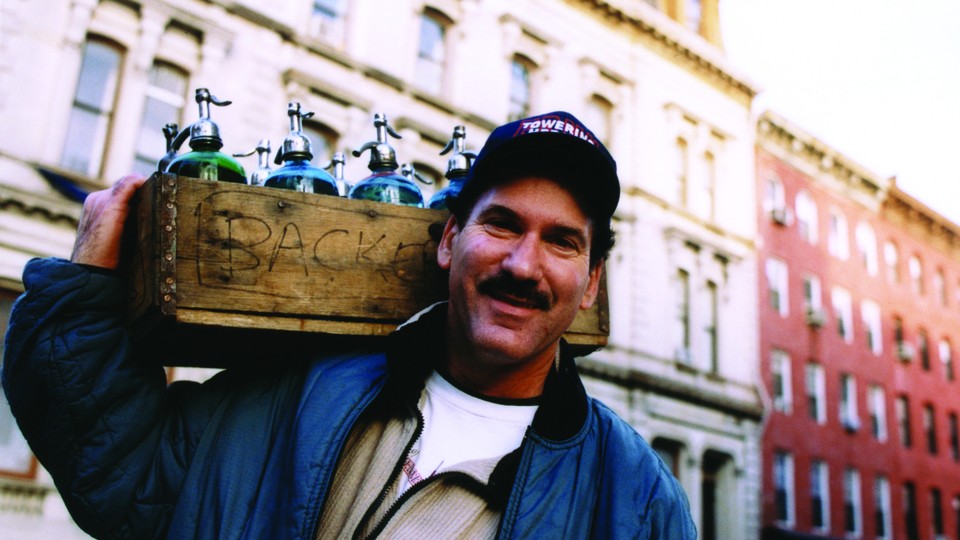 New York City, when Joe Richman arrived there in 1989, was a different city than it is today.
"It was this special time, when you were sort of seeing the last of a lot of things—the last of a certain kind of business ... a certain kind of New York," he said to me.
A bit more than a decade later, in 2002, Richman, of Radio Diaries, and his colleagues, Emily Botein of WNYC and independent producer Ben Shapiro, decided to try and capture what remained of that era. They tracked down New Yorkers who were among the last—and in some cases, the very last—to hold jobs in industries that were dying. "We were just trying to look at jobs that were disappearing, ways of life that were disappearing," says Richman.
They came up with seven people—a Brooklyn fisherman, a water-tower builder, a cowbell maker, a knife-and-scissor grinder, a lighthouse keeper, an old-fashioned bra fitter, and a seltzer man—each more charming and quirky than the last. They talked to them, heard their stories, and created a series, "New York Works," which aired on WNYC's The Next Big Thing and on NPR's All Things Considered. In the years since, several of the subjects have passed away.
That includes Frank Schubert, the last civilian lighthouse keeper in the United States. Schubert was 85 when Richman and Botein spoke with him; he passed away in 2003.
Schubert was, Richman says, "a wonderfully crotchety character."
Schubert's job was to keep the light running, but, much to his dismay, he also got stuck dealing with "lighthouse bugs," people who like to visit lighthouses for fun. Schubert just could not stand them, could not understand why they wanted to spend their time at a lighthouse. "He was totally the least romantic guy about lighthouses ever," Richman says.
Here's Schubert on lighthouses:
I love each of these stories, but my favorite by far, and the reason I was originally captivated by the series, is the portrait of Walter the Seltzer Man, featuring, in a supporting role, the delightful Mildred Blitz. Richman says that when he teaches journalism, he often uses the story of Walter to demonstrate the importance of luck in a good story, and, in this case, Richman's luck was coming across Mrs. Blitz. "We had no idea how good she was going to be," he told me. "You imagine that story without her and it's fine, but you throw her in there and it's something totally different."
Here's Walter and Mrs. Blitz:
Richman says he thinks of the series as "obituaries for jobs that were disappearing."
"In a lot of the work that we do, I look at it as kind of living obituaries, the idea of documenting people and histories while there are still people to talk about them."
In the upcoming year or two, Richman says that Radio Diaries plans to return to this project and update the series. Even though that earlier New York is gone, he says, there's always another one waiting.
"No matter how much you think things have disappeared, there's always this other thing that is still there, still hidden, still the last of something. I do think that everyone comes to New York and feels like they are at the tail-end of this other era. I think that's true anywhere, but especially in New York, because there are layers on layers on layers, and you scratch one layer and there's another layer underneath."
You can listen to all seven of the "New York Works" profiles on the Radio Diaries website here.