When You're Poor, Money Is Expensive
For tens of millions of Americans without a bank account, paying a bill isn't just an odyssey. It's a part-time job.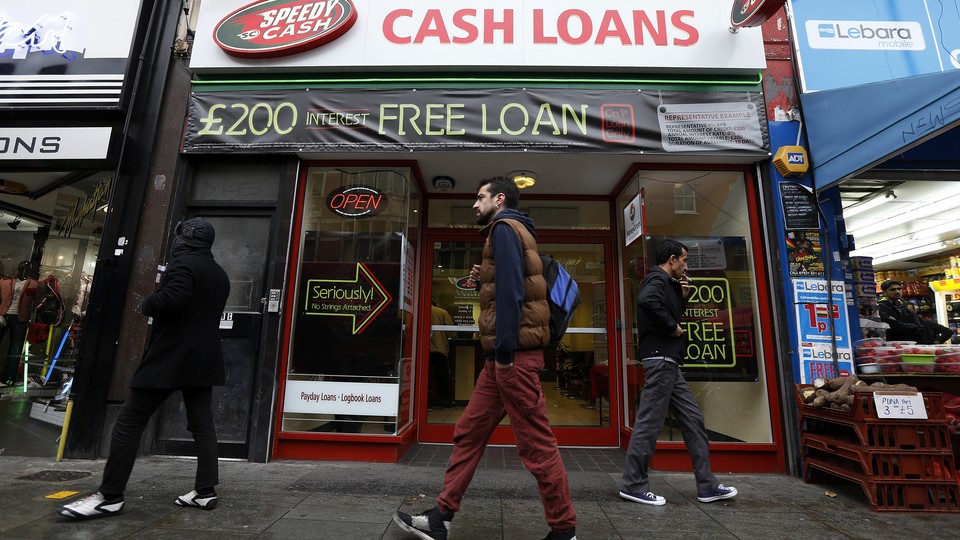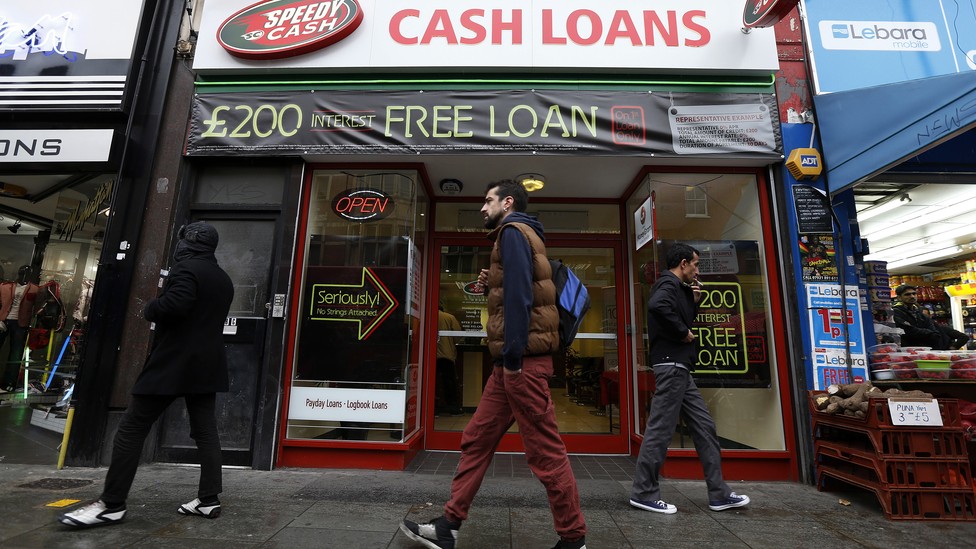 Alex was doing the thing he loved most, singing and playing his acoustic guitar onstage when, after one show, he met Melissa. "We kinda hit it off," Melissa said. "No kinda about it." Alex corrected. "We just hit it off." He proposed ten weeks after their first date. They moved into a house in Scituate, Rhode Island, and had two kids, whom they raised comfortably on two incomes.
In a flash, their lives changed dramatically. Alex was diagnosed with multiple sclerosis and had to quit his job. Now he walks with a cane. A few weeks later, their young son Jonah was diagnosed with severe autism. Their medical costs suddenly soared as their incomes dwindled. To manage their finances as responsibly as they knew how, Alex and Melissa chose to live on cash. But they weren't making enough money to meet their bills. Without a credit history, they couldn't qualify for a bank loan. Desperate for something to tide them over, Melissa visited a payday lender.
"In the moment that we needed it, I was glad that it was there," she said. But soon, they were both trapped in a cycle of dependency that wracked up more than $1,700 in fees. With one diminished salary and rising medical costs, they couldn't make it alone. They needed the help of their neighbors to pay off the original loan.
The amount of that original loan?Just $450.
***
One of the fundamental principles of progressive economics is that a rich country should do what is reasonable to make life for the poor feel easier—even cheaper.
What does that mean? Medical care should feel cheaper, so we invented and expanded Medicaid. Food should feel cheaper, so we have food stamps. Mortgages should be cheaper, so banks offer mortgage write-downs for struggling households. Children should feel cheaper, so we offer tax credits for kids that phase out as income rises. Being unemployed should feel cheaper, so low-income workers receive a larger share of their pre-unemployment income. Going to college should feel cheaper, so many families don't pay the full sticker price. Working should feel cheaper, so the money you earn under $10,000 is taxed less than the money you earn over $100,000.
But by other important measures, it's awfully expensive to be poor. As Barbara Ehrenreich wrote in her book Nickel and Dimed, many entry-level jobs pay next to nothing with unpredictable schedules. This makes savings, second jobs, affordable loans, and child care all but impossible to arrange. Inescapable poverty changes the way we think about money and time, as short-term concerns glare so blindly that it's almost impossible to make long-term plans.
It's expensive to be poor, Ehrenreich says. It's true. In fact, when you don't have enough money, money itself is expensive.
***
Alex and Melissa aren't unique. Middle-class families falling on hard times and grappling outside the traditional banking system are alarmingly common. Approximately 70 million Americans don't have a bank account or access to traditional financial services. That's more people than live in California, New York, and Maryland combined. It's more than the number who voted for Barack Obama (or Mitt Romney) in the 2012 election.
Instead of direct deposit, many rely on physical pay stubs. Instead of checking accounts, they have to drive to check-cashing services, like Pay-O-Matic. Instead of automatic payments, they drive again across the suburbs to pay utility bills in person. In lieu of a credit history that qualifies them for bank loans, they have a history of cash that is disqualifying. Instead of low-interest loans, they rely on payday lenders whose services can ultimately cost three- or four-times the original loan. And so, replacing the services of a bank on your own becomes a second part-time job, an odyssey of stripmalls, check-cashing storefronts, money orders, prepaid cards, and miles and miles on the road.
Ron Brownstein has called it the "archipelago of alternative finance."
This is Melissa and Alex's story, and it's one of many stories of underbanked Americans told with impressive authority and tenderness in Spent: Looking For Change, a digital documentary produced by American Express that aired at the Aspen Ideas Festival in June. "Turning to pawn shops, check cashing services, and using payday loans to meet basic financial needs can be costly for many of us, with $89 billion a year going to fees and interest for using these types of alternative financial services," they write. Unbanked families spend 10 percent of their money replacing traditional banking services. That's as much as most families spend on food.
This represents a clarion call for financial education to steer families on the ropes away from institutions that offer quick fixes upfront and charge usurious rates on the back end. It's a siren for cities across the south to work harder to ban payday lending.
But it's also a opportunity for technology. It doesn't have to be so terrible to spend the money we earn. There are many ways that mobile apps can begin to replace the infrastructure of banks, allowing us to send money to friends, family, and businesses, and manage the sum that's left over. Digital prepaid accounts that allow online payment can turn paychecks into bill payments without aggressive fees or hours of traveling the archipelago of alt-finance. To spare individuals from the clutches of payday lenders, banks can find ways to measure trustworthiness in ways that go beyond official credit reports.
Ultimately, the solution to this problem will require the financial tech community to adopt a familiar economic philosophy. Poverty is painful, and it's the responsibility of a fair society to make it feel easier.