How Cash-Strapped Towns Are Saving Fourth of July Fireworks
Independence Day celebrations are an economic boost for communities. And with budgets tight, there are several ways towns can avoid canceling their shows.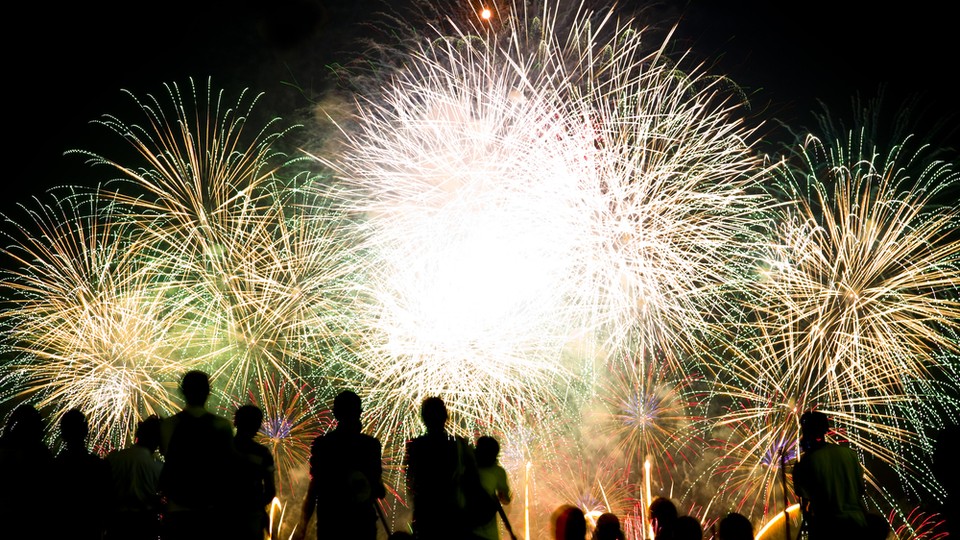 The night sky will be dark this Fourth of July for many towns across the country.
In recent years, several towns — small and large — on tight budgets have canceled their fireworks shows for the Fourth of July. But it might not be the smartest way of saving money, especially considering the economic booms the shows create, and the fundraising options out there for these struggling towns.
For places like Michigan City, Ind., Tewksbury, Mass., and Marion, Mass., there simply wasn't enough money to put on a fireworks show this year, as they saw it. Which, on its face, makes sense: A show for even a small town can cost $10,000.
Ron Meer, the mayor of Michigan City, explained to local media that he has "a Vietnam veterans memorial on the lakefront that needs refurbishing and I have [a] Michigan City lighthouse that needs structural repair and a paint job." With budgets tight, some towns see fireworks displays as a good place to cut back.
But that's not the way David Karem, the president of the Louisville Waterfront Development Corporation, looks at it. Because the Kentucky Legislature cut $420,000 out of his department's budget, he had to cancel Louisville's two-day Independence Festival this year. The celebration had been a local mainstay since 1998, and included a free concert and two nights of fireworks, and drew 150,000 people.
"These events are not luxuries. These events are not frills. These events are important to get communities together. These events are a healing to differences that exist," Karem says. "It is a big, significant mistake on the part of the people who fund these events to cut back on them."
That impact goes beyond tradition and entertainment. It's also about the economy. More spectators bring in more money for local businesses. Julie Heckman, the executive director for American Pyrotechnics Association, cites several examples from independent studies.
In the small town of Tipton, Pa., DelGrosso's Amusement Park brings in 5,000 guests on a normal day. During its Summer Thunder fireworks show, more than 20,000 people come to the park, with an additional 30,000 spectators parked in the surrounding area. In Addison, Texas, Kaboom Town brings in $2.5 million in restaurant revenue. Red, White & Boom in Columbus, Ohio, has an $11 million impact on the city. San Diego's Big Bay Boom fireworks bring in $10.6 million.
Heckman says that there is a shift happening across the country from towns canceling fireworks displays because they are too expensive to now finding other ways to pay for a show.
One option is to seek outside sponsorship. Seattle was on the verge of canceling its fireworks celebration last year over Lake Union until several corporations, including Microsoft and Amazon, sponsored the show.
There are also several national contests. Destination America's Red, White & You contest this year awarded five towns $4,000 for a fireworks show. One of those towns is Prescott, Ariz., which lost 19 firefighters battling wildfires last year. At the height of the Great Recession in 2010, Liberty Mutual sponsored a similar event called Bring Back the 4th for 10 cities and towns across the country.
Some towns have partnered to save money and offer bigger shows for more people. In Chicagoland, several towns got together to form the Northwest Fourth-Fest for a collaborative celebration to save money. Elgin, one of the participating towns, spent $65,000 back when it did its own fireworks show. As of 2012, the town spent had $22,000 through the new partnership.
And fundraising can be as simple as using collection jars in front of a retail store or charging parking fees.
"I really do hope that communities that are cash-strapped and struggling think creatively to bring these shows back to their community," Heckman says. "What other holiday does the community really come together, regardless of religion and regardless of political beliefs? Everybody wants to celebrate the Fourth of July. If the skies are dark, it has a huge impact on the community."
While the economy continues to improve, fewer towns will have to cancel their fireworks celebrations for Independence Day this year. But for those that are still in the red, there may be some options to make sure fireworks remain synonymous with the Fourth of July.