Dov Charney's Redeeming Quality
Reconciling the American Apparel CEO's controversial reputation with his advocacy for sweatshop-free manufacturing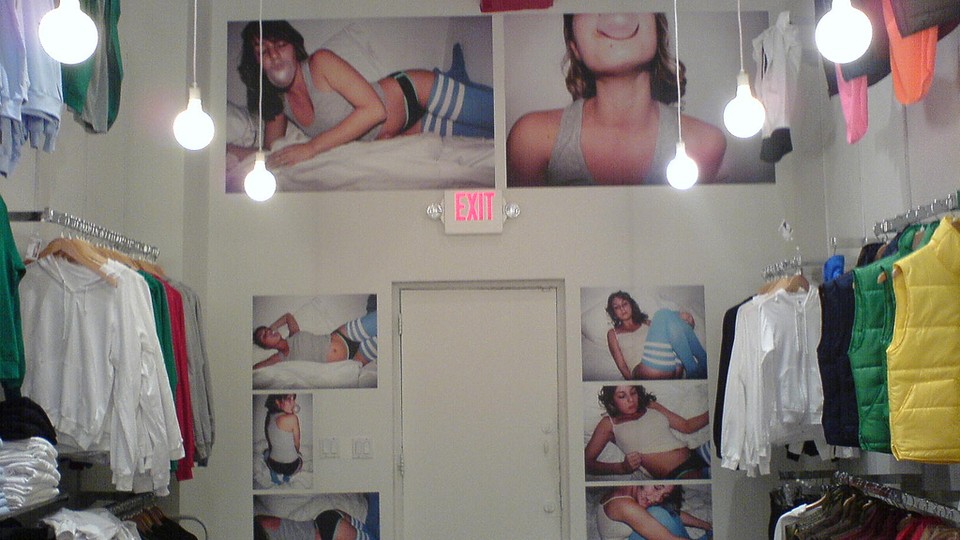 This week Dov Charney upped his ownership stake in American Apparel to 43 percent, raising his chances of regaining control of the company he founded.
I hope he fails. Given Charney's well-known track record of sexual harassment and financial mismanagement, my only question to American Apparel's board about their firing him was why it took them so long.
But Charney has demonstrated one redeeming quality that makes me sad to see him go: his outspoken support for sweatshop-free manufacturing.
Charney made it clear from the beginning that manufacturing in the U.S. is a core element of his business model, giving him more control over quality and shipping costs and a clearer line of sight into labor practices. Many American Apparel shops I've seen have a sign prominently placed in the window proclaiming their goods sweatshop-free. Which should make all of us ask other retailers: Where's your sign?
The rest of the apparel industry now manufactures predominantly in countries like Bangladesh, where brands have determined that the wage discount is enough to compensate for additional transportation and other costs.
But as the 2013 Rana Plaza factory collapse which killed over 1100 garment workers tragically demonstrated, corporate balance sheets fail to capture the true price of outsourcing.
In an interview with VICE media last year after the Rana Plaza tragedy, Charney tore into fast fashion as being made "on the backs of other people," "basically stolen goods" that are "made in a slave-like setting." He ranted about an H&M ad he'd seen selling $4.99 bikinis: "$4.99 doesn't exist unless you're screwing someone," and challenged consumers to be as wary as if someone said, "Hey, we've got a hamburger for 10 cents?! It costs money to make things."
H&M has actually been one of the few other companies to stand up in support of a living wage and commit to longer-term contracts with suppliers, but Charney's point about the hidden costs of fast fashion is a valuable one.
Not that American Apparel's factories have been problem-free: In 2009, 1,800 of its employees in downtown Los Angeles were fired for irregularities in their immigration documents. But the labor abuses rampant in factories around the world—unpaid wages and overtime, child and forced labor, lack of functioning safety equipment, physical abuse—do not appear to have had a home at American Apparel. (Although I suspect no auditor would give a factory a passing grade if the owner was walking the floor in his underwear, as Charney is known to have done.)
The loss of those 1,800 employees caused production delays and cost overruns as the company had to replace them—one of the first clear signs of the company's financial downturn. But American Apparel's economic woes don't seem to be linked to its commitment to higher wages, but rather to lenders skittish about Charney's temperament and poor financial skills.
In the VICE interview, Charney specifically called out the problem of brands' reliance on short-term contracts, which sticks the factories with the goods if they miss a deadline and provides no support for equipment and infrastructure upgrades: "All the contracts are short-term—that's one of the things that keeps sweatshops sweatshops," Charney said. The morning of the Rana Plaza building collapse, workers had resisted going in because they knew it was unsafe; Charney asserted, "You can be sure they were hustling everybody back into the building because of deadlines."
Charney called on brands to insert clauses in their purchase orders that if a supplier can't meet a deadline due to what he called "human hardship," they'll assess the situation and see about getting them an extension.
That idea comports with recommendations from NYU's Center for Business and Human Rights, which recently published a report on supply chains and sourcing after Rana Plaza. The report advocates for companies to move toward a more transparent and direct sourcing model: "When problems arise—production delays, cost overruns, social or environmental non-compliance—the buyer and the supplier communicate transparently about the problem and take steps to remediate the root cause of the problem, including adjusting sourcing practices by the buyer."
At the end of the VICE interview Charney was asked what he would say to young people today. He said: "Think about where things are coming from, and also think about how you want to construct your own life and what impact you might want to make when you own your own business or work in another company." He concluded, "Forget about the bottom line sometimes: Just focus on making sure that everyone touched by the business process has a positive experience."
Charney forgot about the bottom line alright, but otherwise failed to heed his own counsel. It's a shame: The world needs more corporate leaders who stand up for the workers in their supply chains. But, then again, they need to be wearing clothes when they do.