Coming Soon: A Milwaukee-Area Mattress Store With No Salespeople
It'll be like a vending machine—but for mattresses.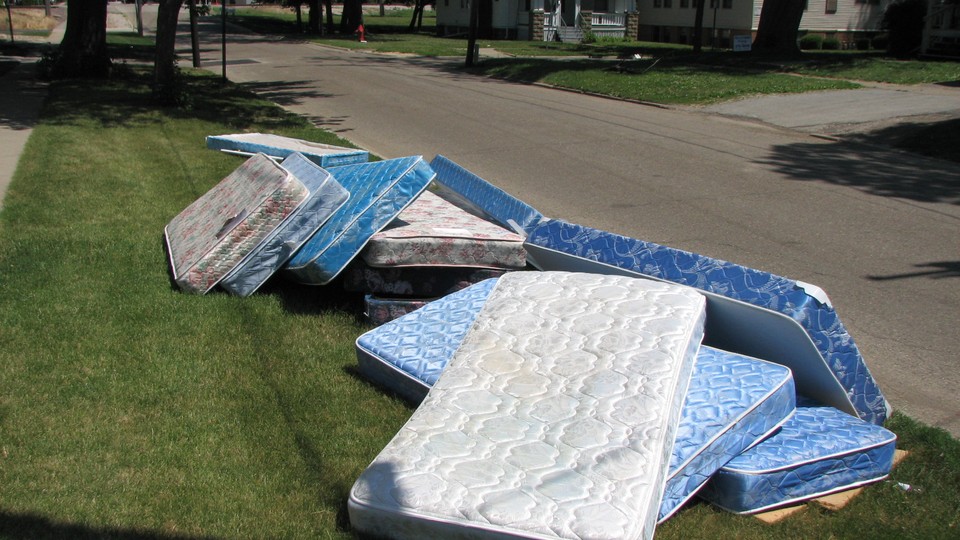 The unwritten contract between customer and retailer is fairly straightforward: A store will have merchandise, salespeople, and a somewhat orderly checkout process. If everyone's feeling classy, there might even be clean floors and a not-terrible scent.
Brookfield, Wisconsin, is one of three towns in the greater Milwaukee area that might soon have a store that forgoes one of those agreed-upon features. Operated by the owners of a local chain of furniture stores called Penny Mustard, the proposed venue would have an array of mattresses for prodding and testing, but it won't have any staff. The stores would open and close electronically, and would be presided over only by security cameras and a lone computer. (Applications for the stores have been submitted to Brookfield's zoning administrator, and it was recently reported that officials would be moving forward with the plans.)
A store without a staff is an idea that, at least at its core, might have some merit: "I think that their concept, that people only want help when they're ready for help, and don't want to be hovered over, is absolutely true," says Kevin Mullaney, president of the retail consulting firm The Grayson Company, which helped Tempur-Pedic launch its own retail stores. The appeal of the new Penny Mustard store would in part come from its simulation of the pressure-free home-shopping experience many have come to prefer.
Mullaney isn't convinced by the concept, though. "I think the idea of an unattended store…is dangerous," he says. With only security cameras to deter them, patrons (not to mention thieves) could theoretically run wild. "Bad things happen in unsupervised areas," says Mullaney, "especially if there's a bed there," declining to elaborate for a probably pretty good reason.
The mattress industry has recently seen only modest growth, and this could be because buying a mattress isn't all that pleasant. Mullaney recently visited some 50 mattress stores to research the market. He likened their salespeople to used-car dealers. "The vast majority of the people who worked in the stores smelled like they had just had a cigarette," he says. "The experience of buying a mattress in the traditional venue is about as awful as it could be."
Penny Mustard's salespeople-free store, whether or not it succeeds, speaks to a larger question that retailers are sorting out: What dictates when a customer should be presented with a digital interface, a physical space, or a human (or some combination)? Bonobos, an online clothing company aimed at male twentysomethings, operates a number of "guideshops," small retail spaces where customers can try clothing on before later ordering online. Warby Parker, another millennial-oriented brand, has also set up brick-and-mortar stores so people can try out the company's eyewear.
These kinds of stores are often talked about in the context of what's called "showrooming"—testing out products in stores and then ordering them online. While the practice is common, it has, surprisingly, become less so: In 2012, nearly 50 percent of online purchases resulted from showrooming, but that dropped to 30 percent in 2013, according to IBM.
One way retailers have conveyed the perks of online shopping to physical spaces is with vending machines. Best Buy, for instance, uses automatic kiosks to sell electronics, and a number of start-ups make machines that sell everything from burritos to high-end jewelry. The vending-machine industry, the Los Angeles Times reports, is expected to see its revenues rise from $7.2 billion to $7.7 billion between this year and 2019. That figure likely doesn't take into account unstaffed shops, but maybe it should: After all, what is Penny Mustard's store but a vending machine that's large enough to dispense mattresses?