Argentina's Stock Exchange Is Down After World Cup Loss
And Germany's stock exchanged closed up. Coincidence?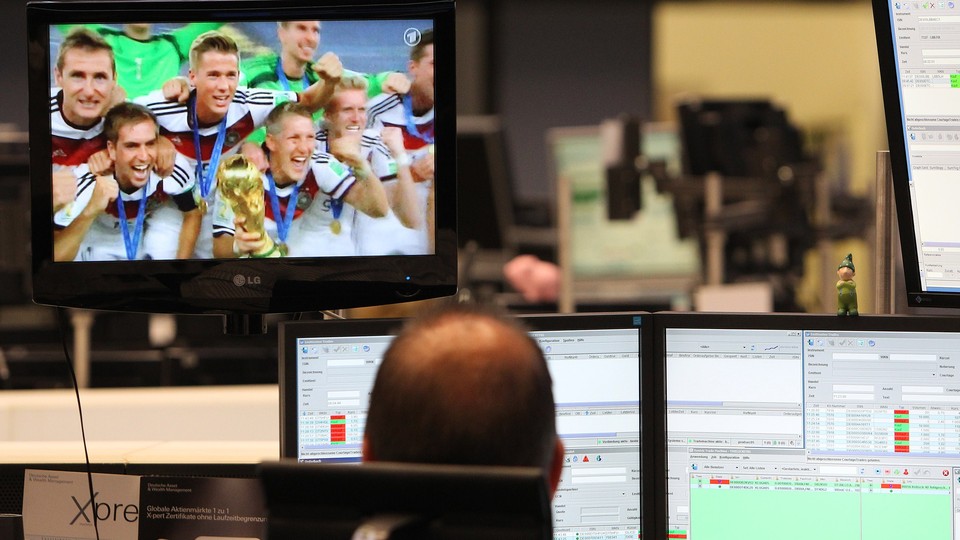 After its soccer team lost the World Cup final, tears weren't the only things falling in Argentina. So, too, was its stock exchange.
On Friday, we wrote about the historic correlation between defeats in major soccer matches and subsequent dips in the losing team's national stock exchange. It seems that the trend continued following Argentina's loss to Germany on Sunday.
As of 1 p.m. Eastern ti,me, the Buenos Aires Stock Exchange Merval Index was down by 0.82 percent at 8,949.75, a loss of 72.33 points.
With his goal in the 113th minute, Mario Gotze not only lifted Germany to a World Cup victory but he might have also lifted his country's stock exchange.
While a win in a major international game doesn't always mean a large boost in that country's stock exchange, investor moods were up in Germany on Monday, as the DAX, Germany's stock index, closed up 1.2 percent at 9,783.04.
But fret not, Argentine investors, at least you didn't lose by 6 goals.