35,000 Lawsuits Against Soldiers Struggling to Pay Their Bills
A new report from ProPublica highlights three companies that have made a business out of suing service members.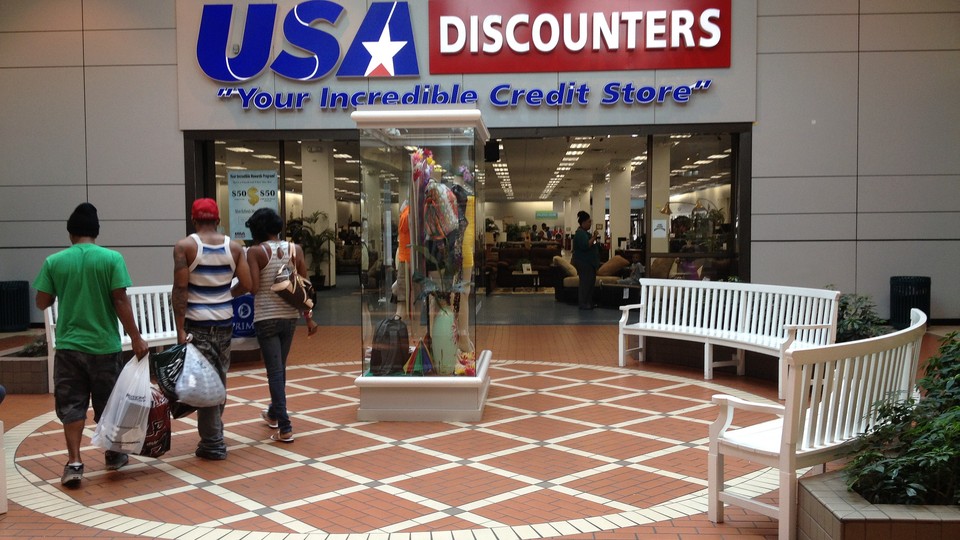 Well, here is a clever new business strategy: Offer service members around the country and around the world financing for their appliances, furniture, and electronics, and then, when they fall behind on their loans, sue them in courts they can't get to to represent themselves.
Turns out: effective! Also: legal.
These are the conclusions of a new report jointly published by ProPublica and The Washington Post that looks at the financial "innovation" of USA Discounters and two other companies, Freedom Furniture and Electronics and Military Credit Services, that sell goods to service members on credit and then, if they fall behind, go after them in Virginia courts, regardless of where the service members are based. Together the three companies have filed 35,000 lawsuits in a little under a decade.
As Paul Kiel of ProPublica explains:
The federal Servicemembers Civil Relief Act, or SCRA, was designed to give active-duty members of the armed forces every opportunity to defend themselves against lawsuits. But the law has a loophole; it doesn't address where plaintiffs can sue. That's allowed USA Discounters to sue out-of-state borrowers in Virginia, where companies can file suit as long as some aspect of the business was transacted in the state.
For service members who don't appear in Virginia, a lawyer is appointed on their behalf. "But," Kiel writes, "the law does not specify what that lawyer must do." ProPublica found that in each of the 11 cases it examined, the same lawyer was selected as the defendant's representative, and he seems to have made minimal efforts on his clients' behalf. USA Discounters denied any "business relationship" with the attorney.
That USA Discounters' strategy lines up so perfectly with the SCRA loophole is, presumably, no accident. As John Odom, whom Kiel identifies as an expert on the SCRA, observes, "This looks like somebody who has really, really researched the best way to get around the entire intent of the SCRA."
When USA Discounters wins a judgment, which ProPublica says has been the case in 89 percent of the lawsuits, "the company can begin the process of garnishing the service member's pay."
"USA Discounters seizes the pay of more active-duty military than any company in the country," Kiel adds. In January of this year, "230 service members were involuntarily paying USA Discounters a portion of their pay," the total of which ran over $1.4 million.
Part of the reason for the extremely high total is the expensive nature of USA Discounters' credit. To begin with, ProPublica reports, despite its branding, USA Discounters often charges far more than typical retail prices for its goods. "An iPad Mini, for example, last year sold at USA Discounters for $699 when Apple's retail price was $329." One soldier, Army Pvt. Jeramie Mays, bought a $650 laptop for $1,799, plus "$458 in add-ons." By the time he would have paid off his two-year contract, that $650 laptop would have cost him nearly $3,000.
Then, while he was in Iraq, the computer broke (of course). He stopped making his payments. And then this is what happened:
USA Discounters brought suit against him while he was in Germany. After winning a judgment, he said, the company sought to seize both his pay and funds in his credit union account. The action froze his account for several weeks, Mays said.

Mays, currently based at Joint Base Lewis-McChord in Washington state, said that for most of last January, he could not withdraw funds. "Trying to take care of two kids and my mother and myself on nothing doesn't help," he said. Around the same time, he finally filed for bankruptcy. His debt with USA Discounters was discharged last March, protecting any assets from seizure.
As with any sort of credit, if you don't pay your bills, you're going to find yourself in a mess. What's troubling about USA Discounters' model is the absence of meaningful legal recourse available to these service members. As Carolyn Carter of the National Consumer Law Center tells Kiel, it's "designed to obtain default judgments against consumers without giving them any real opportunity to defend themselves."
---
Update: USA Discounters has issued a statement responding to ProPublica's report.