Your Retirement Years Will Not Look Like a 'Golden Girls' Episode
Americans will live longer and need much more saved wealth in order to truly retire. Most of us are utterly unprepared.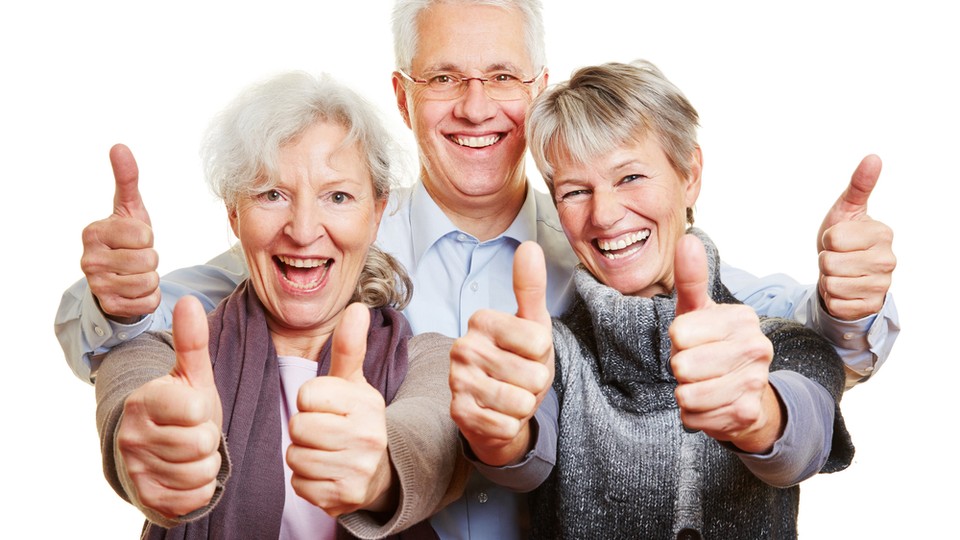 For millions of Americans, including baby boomers, Generation X-ers, and millennials, the golden age of retirement may turn out to be less cushy and financially comfortable than their working years.
Blame it on a perfect economic storm after the Great Recession: Roughly half of Americans do not have access to an employer-sponsored 401(k) savings plan (to say nothing of the decline in company pensions). Social Security faces long-term funding challenges, particularly after 2033. Americans now live longer and will need more cash to sustain them in their old age. And then there are the unexpected threats to late-in-life financial security, such as a sudden job loss or a huge medical bill, both of which can upend even the savviest planner.
All this adds up to the terrifying possibility that the next three successive generations are at risk of moving down the socioeconomic ladder as they age. A 2013 analysis by the Center for Retirement Research at Boston College shows that half of all American households are at risk of experiencing a lower standard of living in retirement. "People in the baby-boom generation will have a harder time with retirement compared to the generation before," says Olivia Mitchell, a professor of business economics and public policy at the Wharton School of the University of Pennsylvania. "Whether or not you call it a crisis depends on your definition. My preferred recommendation is to tell people to work longer."
Working longer and saving a greater share of one's salary will become two hallmarks of this era of retirement. Another defining feature will be workers' own responsibility to manage their portfolios and retirement savings — with little guidance, so far, from the federal government, employers, or the private sector. "This is the bigger issue looking down the road, because you'll have people relying more on their private savings, and we know there is a problem in this country with savings," says Gary Koenig, vice president of economic and consumer security within AARP's Public Policy Institute.
The final defining feature will be the growing gap in the retirement outlook for low-income people versus the well-off; it's yet another variation of the country's growing two-track economy, which favors people with resources over those without. "What you end up finding is that, in the top 25 percent of the socioeconomic range, most retirees will be fine," says Dallas Salisbury, president and CEO of the Employee Benefit Research Institute. "For those in the bottom 25 percent, there has always been a crisis in retirement, particularly if the measurement is whether they have enough money to cover expenses for the balance of their lifetime." New research — conducted by the firm Oxford Economics and funded by AARP, the U.S. Chamber of Commerce, and various financial-services companies — shows that Americans in the bottom quartile of the income ladder need to save about 21 percent more pretax income than they currently do, compared with just 0.15 percent for those in the top 25 percent.
That's certainly the case for Antonio Sueiras, a 59-year-old unemployed Army veteran who resides in low-income housing in Homestead, Fla. He lives day to day off the savings he accumulated from his last job as a telephone-switchboard operator and the roughly $190 in food stamps he receives each month. Asked about his plans for retirement, he just laughs. "I need something coming in now," he says. "I still have a stretch there before retirement, so I hope I can get someone to hire me." Armed with just a high school degree and a certificate in automotive mechanics, Sueiras has been looking for work for the past several months after he lost two jobs back to back.
Other Americans, such as Dorry Clay, did not anticipate the way an emergency would upend their retirement plans. In 2008, the 54-year-old resident of Stonington, Conn., lost her job as an artist and Web designer at a small advertising company. Two years later, she received a diagnosis of breast cancer. Treating it restored her health but also cost her her life savings. Now Clay lives off Social Security disability checks and says that her standard of living could easily deteriorate as she ages. "I don't know how it will play out," she says by phone from Connecticut. "You just cut back on everything you can possibly cut back on and scramble to pay your bills."
Academics and economists predict that the slow-burn retirement crisis may not fully hit until future generations, such as Generation X or the millennials, attempt to stop working. Members of Generation X, defined as those born between 1966 and 1975, lost 45 percent of their median net worth in the recession, according to an analysis by the Pew Charitable Trusts. More than one-third of them also did not own homes by 2010, so they never benefited from the rise in home prices and home equity following the last decade's housing bubble, another blow to their overall wealth.
Mitchell, a longtime student of retirement issues, also worries about the millennial generation, many of whom graduated from college with steep student debt and few job prospects in this tight labor market. "If you take seriously the forecasts that twentysomethings will live to be 100 and that equity markets will not perform as well, then the implication is that they need to be saving at least 20 percent of their income," she says. That's a tough suggestion to make to a 22-year-old in an entry-level job, with student loans, car payments, and possibly credit-card debt.
Still, few economists believe that a majority of Americans will suddenly plunge into dire poverty in retirement. The concerns are more nuanced than that. "We're not heading back to the days of one-third of all seniors living in poverty," Koenig of AARP says, in reference to the harsh reality of retirement before the federal government created the safety net of Social Security.
Instead, the fear is that Americans are not adequately prepared to think through the changing nature of saving for old age: from the savings they'll need to accumulate to the potential for unexpected economic hiccups like a job loss or medical emergency. Americans will need to sort through these questions, as we simultaneously live longer than ever before. The only certainty now is that the days when the majority of workers retired in their early 60s, moved someplace warm, and lived off pensions or dividends are gone. Old age will look much different moving forward.