This Urban Research University Is Also an Economic Powerhouse
Resources for entrepreneurs and industry partnerships have made it easier than ever for University of Minnesota inventions to hit the market.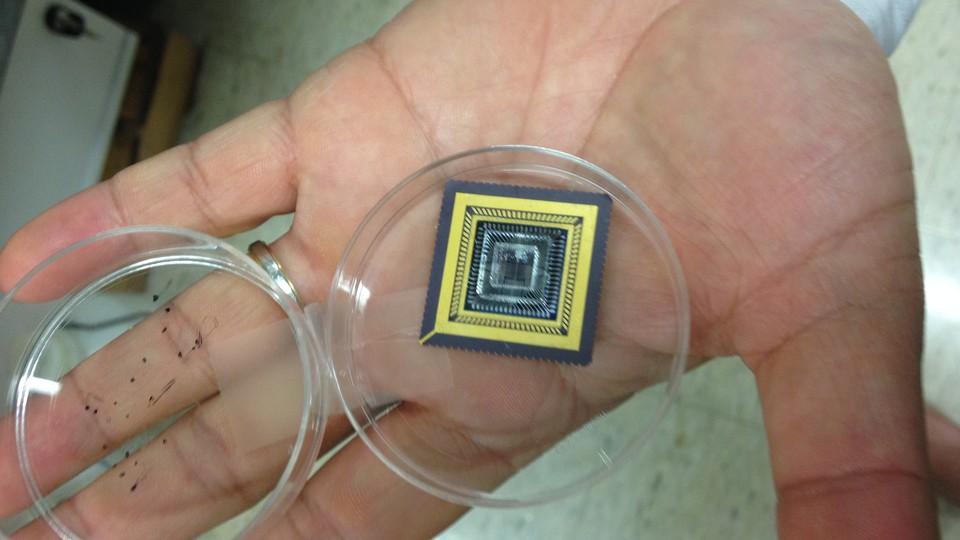 This article is part of an America 360 series on Minneapolis.
MINNEAPOLIS — Jian-Ping Wang doesn't like running companies, but he's already started two, and a third is under way. Wang has also filed 39 patents. "I don't like to be driven by money, by any other people," says the University of Minnesota engineering professor. "I like working on something I figure is really interesting, fundamentally difficult." But Wang also thinks about how his work could be applied beyond the lab.
Over the past decade, the University of Minnesota has overhauled its process for commercializing research discoveries. It's become easier for university entrepreneurs to start companies, and for existing companies to license and sell technology produced by university professors and students. The push to get innovation out of the lab and into the marketplace could amplify the university's already big impact on the Twin Cities' economy.
There are about 48,000 students enrolled at the University of Minnesota, Twin Cities, making it one of the largest public-research universities in the country. In 2012, UMTC ranked 14th nationally in higher-education research-and-development spending, putting it above MIT. The U (as the Twin Cities campus is known locally) has an $8 billion economic impact on the metropolitan area each year, according to university officials. That calculation doesn't include the impact of research discoveries. But here are some statistics: Since 2007, 65 companies have come out of university research. Last year, the university filed 148 patents on behalf of Minnesota professors and students. According to the Brookings Institution, cities with high patenting rates tend to have lower unemployment rates.
Wang, with his three companies and 39 patents, is unusual even by top research university standards. Wang was born in China, and has worked at Minnesota since 2002 as a member of the electrical- and computer-engineering department. His enthusiasm for his subject is infectious. Most entrepreneurs have a story about working night and day to launch a business. Wang's story is about working night and day to build a machine that turns disks of iron silicon or iron cobalt into impossibly tiny, magnetic particles. The machine, which fills most of a room in Wang's lab, looks like a metal cylinder exploding.
The idea for his second start-up came when his father died of cancer. "I figured there must be something that an engineer can do," Wang says. Other rooms in Wang's lab house testing equipment — circuit boards, a vial of clear liquid that may have contained human antibodies — that he and his students used to create a technology called "magnetic nanobiochips." The ultrasensitive chips can detect proteins and DNA that signal the early stages of cancer.
When Wang makes a discovery, he can walk across campus to the Office for Technology Commercialization to see if the technology is new enough — and has enough commercial promise — to make it worthwhile to make an intellectual-property disclosure or file a patent. Most research universities these days have an office that helps researchers file patents, find companies to license patents, and start companies.
Minnesota's office is particularly effective. It's headed by Jay Schrankler, a former manufacturing executive. "Everyone in our office has come from industry, which is unique. And we run this like a company," Schrankler says. By hiring people who understood how both businesspeople and scientists think, the university has developed better relationships among companies, investors, and academics like Wang.
OTC helped Wang patent his technology, and funded his efforts to turn the chips into a product. Wang designed some handheld devices and a desktop system that include the chips. All doctors or patients have to do is add a urine sample and the nanobiochip does its work.
OTC also has a business unit called the Venture Center that serves as a startup incubator. Understanding that researchers like Wang have no interest in giving up their day jobs, OTC recruits a 'CEO-in-residence' — an executive willing to take over the nascent company. Wang's research became a company called Zepto Life Technology, now based in the Twin Cities area. One of Wang's former students is the research and development director. Wang himself has an advisory role and a small equity stake.
"We talk a lot about start-up companies, but that's only about 10 percent of our activity here. The other 90 percent are other existing companies that license our technology," Schrankler says. The university's latest innovation in licensing is a program called Minnesota Innovation Partnerships — MN-IP, for short. Companies seeking to sponsor university research can pay more money upfront to get exclusive, worldwide rights to any resulting intellectual property. There were 41 such partnerships last year, and they're actually a pretty good deal for the university. Most of the time, when a company approaches a university for help with a research problem, it's looking to investigate an early stage idea. There's no guarantee the grant or partnership will lead to a discovery, and more often than not, the research doesn't result in a patent.
When Schrankler arrived at UMTC in 2007, there were 193 invention disclosures (the step that usually precedes patent applications), he says. In 2013, there were 331. He attributes the surge to the Office of Technology Commercialization's initiatives. But the productivity has been shaped by forces beyond the university, too.
Some federal grants require researchers to state how they would commercialize any technology resulting from the funded research. The University of Minnesota has to reach a target number of invention disclosures each year, or the state Legislature will withhold 1 to 2 percent of the university's base budget. Although federal grants still make up about 70 percent of the university's research awards, lagging federal spending has led the university to seek out more corporate partnerships, and those tend to involve applied research.
Commercialized research can create jobs, businesses, even whole new industries. A top-flight research university that can jumpstart new industries — as well as support existing strengths, like the Twin Cities' medical devices sector — can be an invaluable driver of economic growth.
Correction: An earlier version of this article misstated the size of the University of Minnesota's economic impact on the Twin Cities.