These Detroit Expats Have a New Idea to Save Their City From the Outside
The Detroit XPAC will raise money from ex-Michiganders and endorse candidates at the federal, state, and local levels who they think can rebuild the Motor City.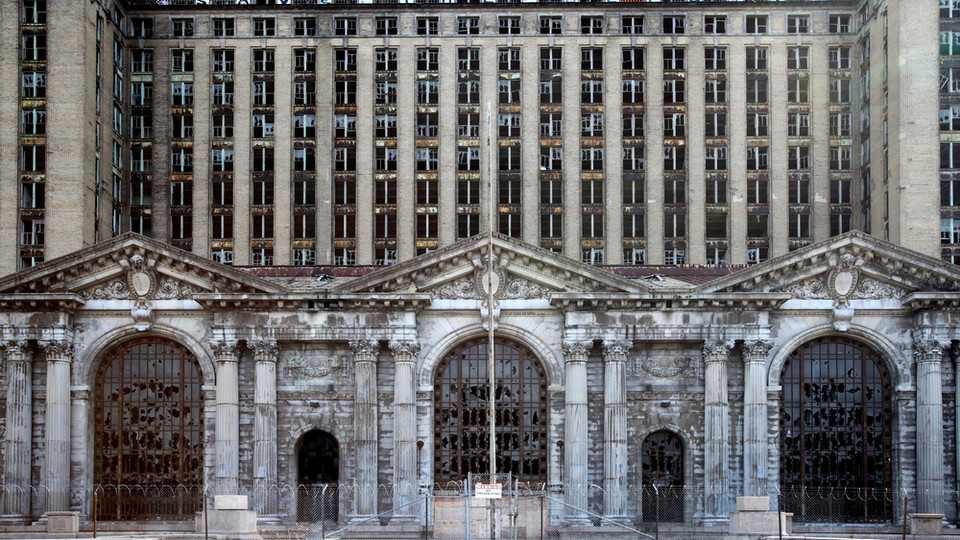 Julia Farber, like countless people who moved from Detroit years ago, watches the city where she grew up being humiliated from hundreds of miles away.
Detroit has gone though decades of political corruption, economic decline, and population exodus. But while Farber can't be there to help lead the Motor City's comeback, she has a plan from her new home in Washington. She is a cofounder of a political action committee that relies on the money and guidance of Detroit expatriates from around the country. It's fittingly called Detroit XPAC, and its leaders hope to save their old home.
The PAC, registered at both the federal and state levels, will use contributions from those in the diaspora to endorse progressive candidates who they think can help Detroit rebuild its urban and economic landscapes in an environmentally sustainable way.
"We are just a bunch of people from Michigan, from Detroit, who really love this city and want to see it doing well," Farber says. "It can be amazing. And it's getting there again."
Detroit has come a long way since its height in the 1950s, when its population reached 1.8 million people. Today, the city has little more than 700,000 people. But many of its former residents still display the Detroit banner proudly. The idea, then, is to use those people who consider growing up in Michigan "as the best part of their life," Farber says, and who can reach into their pockets to help out.
There is something inherently uncomfortable about a group of people who do not live in Detroit attempting to sway local elections. Farber recognizes this criticism but says that in the several cities where she's lived, there's an untapped energy around young, ex-Michiganders who want to do something for Detroit and deserve to have a voice.
"There's money out there that people wanted to spend on helping the city," says Farber, who grew up in suburban Oak Park and Royal Oak. "Part of the reason we thought we should tap into the expats is because it's a community that isn't being focused on, and yet we're all over the country. We wanted to prove that the borders of Michigan don't stop people's love for the state or where they grew up."
Detroit XPAC is a small operation right now, with a small national advisory board and a local Capitol Beltway advisory board. Most of the people involved are young professionals who work in urban design and on environmental issues and are volunteering their time. The PAC plans to launch similar local advisory boards in Chicago, New York City, San Francisco, Denver, Los Angeles, and Florida, where expats there could fundraise and host events.
"We wanted to prove that the borders of Michigan don't stop people's love for the state or where they grew up."
The PAC is currently looking at four or five races — federal, state and local — where members feel they can make a distance. The group is eying the race to succeed retiring Sen. Carl Levin and a few House contests, in addition to the Michigan gubernatorial election and some other state races. It hasn't decided which races to endorse yet. For Detroit XPAC, this cycle is a trial run for the larger test in 2016. Soon, the group will send out questionnaires to different candidates in races in which the PAC plans to endorse. From there, the national advisory board will make its endorsement and decide which campaign to contribute money to.
While the economy there has shown recent signs of progress — through the auto industry, a booming start-up culture, and promises from corporations to invest in the city — there's still more to the recovery equation. The city's bounce-back is highly dependent on leadership, which Detroit has historically lacked, considering the countless politicians — from city counselors to mayors — sent to jail on corruption changes. And with a city that still struggles to fulfill the basic promises of a municipality, like turning on city lights and plowing roads, leadership is a fundamental need.
"In the local races, smaller donations can make a lot of difference," Farber says. Good governance and smarter zoning decisions, the group notes, are the next steps to recovery.
But while the group claims to be nonpartisan, Farber admits that the group is likely to endorse more Democrats than Republicans. That just comes down to the progressive core of the group. She has no problem endorsing a moderate Republican, should the situation arise.
Much of the vision for the PAC comes from the other cofounder, Michael Dorsey, who has known Farber professionally for several years. Dorsey served three presidents in different capacities as an environmental adviser, and he taught at Dartmouth and Wesleyan. Born in Detroit, Dorsey does not hide his frustrations with the state and national dialogue surrounding Detroit.
"There are people on the wrong side of the aisle who think you can defund Detroit, you can cut off its resources, you can ignore it, you can pretend it doesn't exist," Dorsey says. "We believe that we must have people who are thinking through how to deliver for the economy in the best interests of citizens of Detroit and to protect the environment."
This is the kind of zeal that people from Michigan, especially those from the Detroit area, have. Detroit expats have enormous enthusiasm for their city, which if tapped into, could be a powerful political weapon.