"Where are the jobs?" is a complicated question. But there are plenty of numbers out there that provide clues. One of them is overall employment.
This week, the Bureau of Labor and Statistics released new numbers showing the number of employed people in each of the country's largest 334 counties. A large county, as classified by the bureau, has an average annual employment level of 75,000 people or more.
Overall, the United States gained 2.3 million jobs from December 2012 to December 2013, increasing employment by 1.8 percent to 136.1 million jobs. But in that time, a few counties stood out for above-average gains in the number of people working.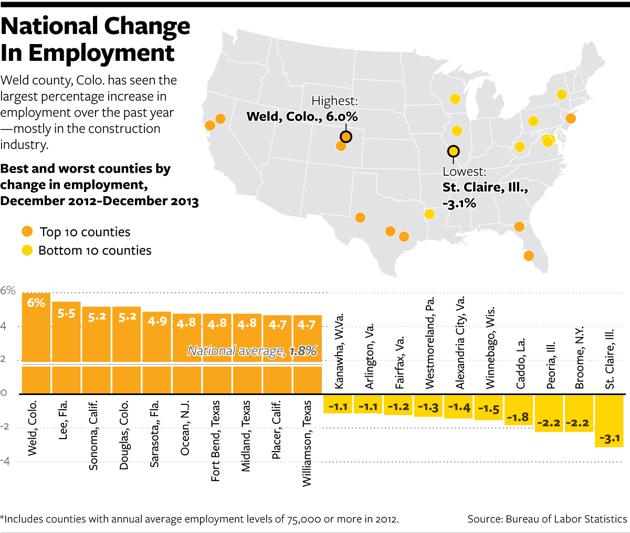 The top county, Weld, Colo., saw such a large gain because of an increase in construction, with more than 1,864 jobs gained over the year. St. Clair County, Ill., which contains East St. Louis, had the largest decline in the number of people working in 2013.
Beyond the counties that had the highest percentage change in 2013, the 10 largest counties in the nation each saw an increase in the number of employed people. King County, Wash., which contains Seattle, had a 3.5 percent gain in employment.
The unemployment rate is still the best measure for the size of the workforce. But keeping track of the raw number of people working in different counties helps municipal governments collect and cover their tax base.