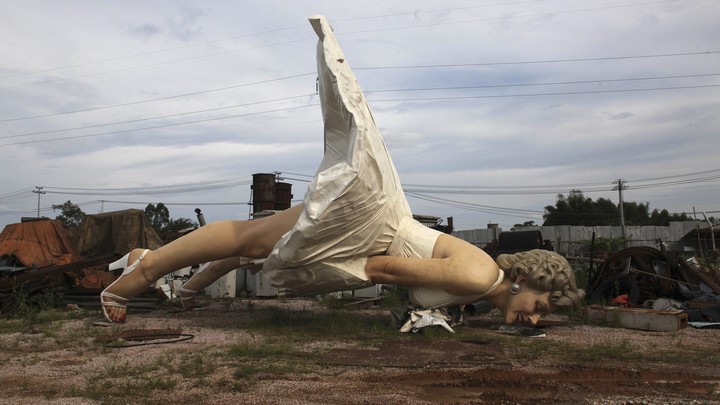 A harvest of items worth attention:
1) Media Decline Watch, public radio edition. Anyone who has spent time in Seattle knows the voice and sensibility of Steve Scher. He has been a long-time urbane host and interviewer on the public radio station KUOW. He has made a place in the public awareness similar to that of Michael Krasny on KQED in San Francisco, or Diane Rehm on WAMU in Washington, or Larry Mantle on KPCC in Southern California, or their mainstay counterparts across the country. I was on the show sometimes, and listened to it frequently, in the years we lived in Seattle.
This story by David Brewster, himself a stalwart of Seattle journalism, on the regional news site Crosscut is a sobering account of why Scher decided to take himself out of the radio business. You can read the story yourself, but it helps illustrate public radio's version of what I think of as the modern "New York Times paradox."
The paradox is that digital technology has made the NYT more influential worldwide than it has ever been before, and more than any other single news organization in history. And that same technology has put the Times in terrible economic straits. In the Times's case, I've always assumed that this paradox will be resolved in its favor. It will find a way to convert its global brand into some kind of sustainable business.
The Scher story is a reminder that there may be a comparable "public radio paradox." In influence, public radio in all its incarnations is more important than ever. (The incarnations include the mother-ship NPR, PRI, APM (host of our American Futures-partner Marketplace), the numerous local stations, some state and regional alliances, and others.)  And yet NPR layoffs and cutbacks are always in the news, and many other parts of the public radio ecosystem are in financial trouble. This paradox will be harder to resolve than the NYT's, for a variety of reasons: because there are so many players, because there are rivalries among some of them, because they're not run as normal businesses, and because their governing structure is more cumbersome than that of a family business. But it's in everyone's interest that they succeed.
2) A walk on the Aussie side, Baffler edition. On first exposure to Australia, many Americans think, "Hey, it's a nicer version of home." In many (pleasant) visits over the years, I've come to think that—both to its credit and not—Australia is a very deeply different place from the United States. In The Baffler, Sarah Burnside, an Aussie, explains some of the reasons why.
3) Oh calm down, Boomer-finances edition. Scare-mongering is one of our national pastimes, in realms from aviation safety ("My plane almost crashed!") to China's rise or budget deficits. In the American Scholar, my friend Lincoln Caplan debunks a fiscal version of scare-talk: the idea that Boomer-era retirement and medical demands will bankrupt us all. Calm down, he says:
A demographic tool has become an economic one, treating a demographic challenge as both an economic crisis and a basis for pessimism justifying drastic reductions in bedrock government programs, including those supporting children and the poor. Even at state and local levels, the aging boomer demographic is repeatedly blamed for our economic difficulties. That is a lamentable mistake... 

The dependency ratio does not justify the solutions that the alarmists propose. Just as important, perhaps, it fails to account for the striking benefits accruing from the dramatic increase in life expectancy in the United States during the 20th century—what the MacArthur Foundation's Research Network on an Aging Society called "one of the greatest cultural and scientific advances in our history."
4) Seriously, why are we still hearing from Cheney, Kristol, et al? After the Exxon Valdez, cable news wasn't bringing us Captain Hazelwood as expert commentator on maritime safety. After the next big air disaster, we're not going have the Malaysian aviation authorities on to offer advice. But when it comes to foreign policy, the analysts who have always been wrong and the officials who put wrong policy into effect keep commanding air time. Today, incredibly, ABC gave Dick Cheney an extended platform on This Week with more deferential questioning than Megyn Kelly had applied on Fox News.  
Why? Why? If TV is not serving up Hazelwood or the Malaysian savants, or O.J. on managing a post-sports career, why are they bringing us Kristol and Cheney? In Foreign Policy, Stephen Walt offers not excuses but diagnostic-style explanations. You can see them here. 
5) Sports news, throwing department. For background on the "Throwing Like a Girl" concept, please see this original article and follow-ups like this and this.
The last of these links takes you to a slo-mo video of the Giants' Tim Lincecum throwing. Tim Heffernan suggests points to an incredible GIF of the Dodgers' Clayton Kershaw and says we need a new category, "throwing like a machine." I can't embed it, but you can see it here. 
6) OK, what about Marilyn Monroe? My friend Adam Minter, author of Junkyard Planet, says that the standard outside reaction to photos of the statue in a Chinese scrap yard, has been some variation on: Oh, those wacky Chinese! To the contrary, Adam says. He explains why here.
We want to hear what you think about this article. Submit a letter to the editor or write to letters@theatlantic.com.
James Fallows
is a staff writer at
The Atlantic
and has written for the magazine since the late 1970s. He has reported extensively from outside the United States and once worked as President Jimmy Carter's chief speechwriter. He and his wife,
Deborah Fallows
, are the authors of the 2018 book
Our Towns: A 100,000-Mile Journey Into the Heart of America
, which was a national best seller and is the basis of a forthcoming HBO documentary.